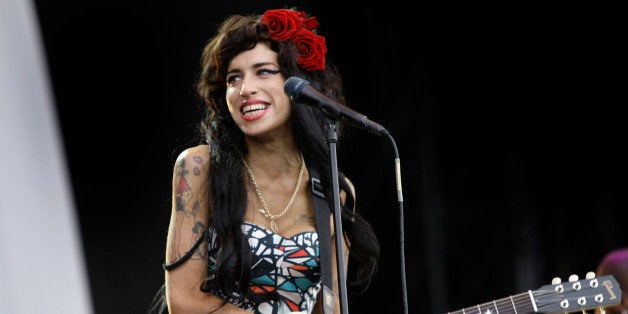 The following article is provided by Rolling Stone.
About two years ago, documentary filmmaker Asif Kapadia began interviewing Amy Winehouse's friends, collaborators and family members in a darkened studio in London. Winehouse had died less than two years earlier, and emotions were still raw. So Kapadia set his camera aside and used only an audio recorder to make them feel more comfortable. "They were very nervous, and there was a lot of guilt," he says. "It became a bit like therapy. They opened up and talked about things they hadn't really spoken about to anyone before."
Kapadia's film, Amy — which premiered at Cannes in May to rave reviews and begins rolling out across America in early July — tells the story of the troubled singer in unprecedented depth. Kapadia used unseen archival footage and more than 100 newly recorded interviews to document her talent and her painful unraveling, which culminated with her death at age 27 due to alcohol toxicity.
A British filmmaker best known for Senna, his 2010 film about a Brazilian racing champion, Kapadia says he knew little about Winehouse when he took on the project. "What I learned was what a creative, intelligent, funny human being she was," he says. "I didn't know any of that. I don't know if anyone did."
As he slowly won the trust of those close to Winehouse — including her best friend, her manager and Blake Fielder-Civil, her ex-husband — they began handing over the rare photos and video clips that make up much of the film. Early scenes, like a teenage Winehouse belting "Happy Birthday" at a friend's 14th birthday party, reveal the singer's natural talent, while the latter half of the film documents her agonizing drug problems. Less well-known to the public is her struggle with bulimia, which likely played a significant role in her early death by weakening her heart. "She'd have meetings in restaurants and be eating and eating, but she didn't have anything to her body mass," Kapadia says.
One powerful scene shows Winehouse laying down vocals for "Back to Black" with producer Mark Ronson. "That came to us purely by chance," says Kapadia. "We heard a rumor that someone was filming during the session, and we eventually found it."
The film repeatedly shows swarms of aggressive paparazzi stalking the frail singer wherever she went, even as she attempted to enter rehab and fix up her life. "It's quite visceral," says Kapadia. "Through the tabloids, her life became a joke, and she was a sensitive soul. She wasn't confident enough to deal with these issues."
Amy's father, Mitch Winehouse, a London cabdriver who began releasing his own music after her career took off, granted Kapadia extensive interviews, and is seen in much of the archival footage — at one point even showing up to visit his daughter on a Caribbean vacation, though she had no idea he'd arrive with a film crew in tow. The overall portrait is of a deeply devoted parent who was also very interested in maximizing his child's earning potential, even as her health declined. Mitch was extremely upset with the final cut of the movie. "They are trying to portray me in the worst possible light," he told The Guardian in May. (Mitch Winehouse declined to speak with Rolling Stone for this story.)
Winehouse's father has objected to a scene that shows him suggesting his daughter did not need rehab; he said that he meant only that she didn't need rehab in 2005, and that he later supported the idea as her condition worsened. Kapadia stands by his portrayal. "We're telling the story in the present," he says. "At that moment in time, that's what happened."
The final scenes, in which an ailing Winehouse is barely able to sing onstage, can be difficult to watch, as is the moment when authorities emerge from her London apartment with a body bag. "Part of the intention of the ending is to ask, 'How did we let this happen?' " Kapadia says. "How did we let this thing go on, and nobody stepped in and stopped it?"
Calling all HuffPost superfans!
Sign up for membership to become a founding member and help shape HuffPost's next chapter
BEFORE YOU GO
PHOTO GALLERY
Amy Winehouse