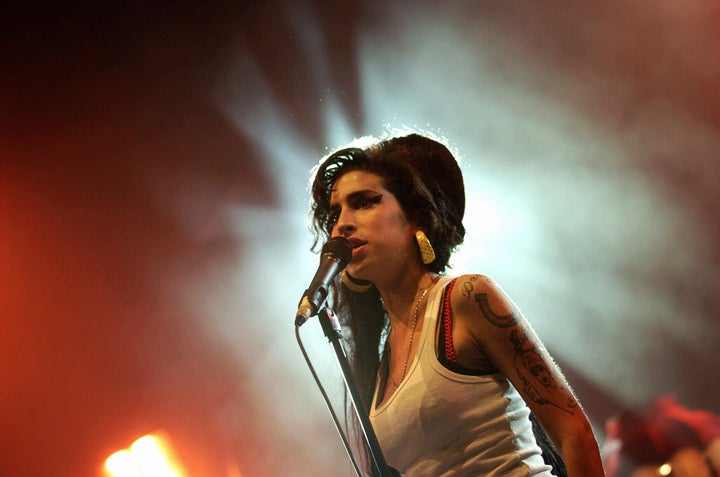 Amy Winehouse's family is hoping she may be remembered for more than self-destructive behavior and tabloid headlines. In the wake of the singer's tragic death, they're establishing a namesake charitable organization in her honor.
Mitch Winehouse, Amy's father, announced at her funeral in London Tuesday that he plans to create the Amy Winehouse Foundation, according to the Daily Mail.
The organization will provide support for those dealing with substance abuse and possibly also include a rehabilitation center. The foundation will also benefit children and horses, two things she was extremely passionate about.
Mitch Winehouse had been in New York with a relative when he heard of Any's death, the Daily Mail reports. At that very moment, he knew what he needed to do:
"I was with my cousin Michael when I heard and straight away I said I wanted an Amy Winehouse Foundation, something to help the things she loved - children, horses, but also to help those struggling with substance abuse."
He added that his plans for the Amy Winehouse Foundation are rooted in hope of systemic change.
"In this country, if you cannot afford a private rehabilitation clinic, there is a two-year waiting list for help. With the help of Keith Vaz MP, we are trying to change that."
Amy Winehouse herself has supported a number of causes, including foundations committed to raising awareness about climate change, hearing loss and HIV. In 2010, Winehouse donated her song "Back To Black" to the Global Fund's "Born HIV Free" campaign, according to Look To The Stars.
She had also expressed interest in supporting budding musicians in St. Lucia, where she lived and vacationed. Breaking Travel News reports that Senator Chastanet of St. Lucia remembered her with gratitude in a statement:
"We were fortunate to see another side of Amy, and will be forever grateful for the acts of kindness and compassion she extended to less fortunate Saint Lucians during her visits with us."
Winehouse's funeral took place at Edwarebury Cemetery in London. Besides announcing her foundation, Mitch Winehouse also told the crowd that Amy had kicked her drug habit three years ago, despite even her doctors disbelief in her ability to overcome her addiction, according to the International Business Times. He recalled an earlier statement she had made:
"She said, 'Dad I've had enough, I can't stand the look on your and the family's faces anymore.' She was not depressed... She was the happiest she has been for years."
The cause of death is still under investigation.
Winehouse's body was cremated later in the day Tuesday. According to the International Business Times, Mitch Winehouse's last words to his daughter were:
"Goodnight my angel. Sleep tight. Mummy and Daddy love you ever so much."
Watch Related Raw Video: Amy Winehouse's parents meet mourners
REAL LIFE. REAL NEWS. REAL VOICES.
Help us tell more of the stories that matter from voices that too often remain unheard.