Amy Winehouse died four years ago today, July 23, at the age of 27. Winehouse may have had her struggles -- she claimed that even at a young age she was kicked out of school for piercing her nose along with "general slackeritude" -- but she represents a persona the world continues to be captivated by. The woman successfully realized her dreams in the only way she knew how.
In remembering the late singer, Lady Gaga once said, "I always felt like Amy had opened a door for girls like me who didn't fit that exact real pop mold..." Winehouse's talents were one of a generation and she is sorely missed.
To Amy Winehouse, 1983 - 2011.
1. Growing up, Amy Winehouse was in a Salt-n-Pepa inspired rap duo called Sweet 'N' Sour.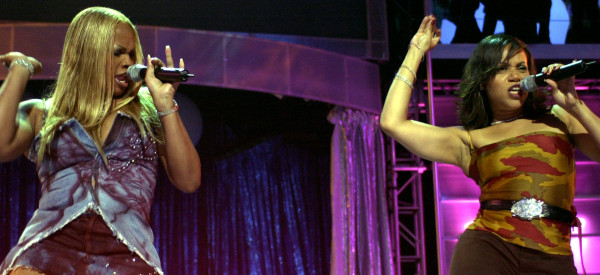 At the age of 10, Amy Winehouse formed the rap group with her best friend, Juliette Ashby. Winehouse described Sweet 'N' Sour as being the "little white Jewish Salt-n-Pepa" and that she was "Sour."
The duo also recorded songs titled, "Glam Chicks," "Spindarella" and "Boys... Who Needs Them."
2. Amy Winehouse didn't initially want to be a musician.
Rolling Stone's 2007 cover story of the singer revealed, "She didn't aspire to be a musician, though; instead, she fantasized about being a roller-skating waitress like the ones she'd seen in 'American Graffiti.'" A waitress from that film is shown in the image above.
3. Amy Winehouse once carved her fiancé's name into her stomach with a glass shard, in front of a reporter.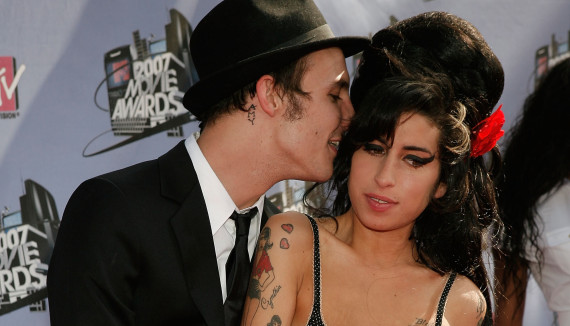 During a photo shoot with Terry Richardson, Amy Winehouse took a glass shard that was meant to be used as a prop and carved "i love Blake" into her stomach. Blake Fielder-Civil was her fiancé of two weeks at the time and was also appearing in the Richardson photographs with Winehouse. In the cover story for Spin, writer Steve Kandell wrote about the incident, "don't be worried for Amy Winehouse. Be happy. She's earned this."
Fielder-Civil and Winehouse ended up marrying, but divorced in 2009. Apparently, this relationship is what introduced Winehouse to crack and heroin. Before 2007, the two would allegedly cut themselves together to ease the pain of withdrawal.
4. Animals were a big part of Amy Winehouse's life, she even befriended a monkey in Barbados.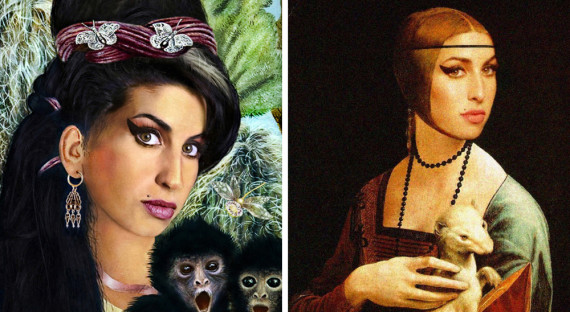 Amy Winehouse had as many as 11 cats at one time. An unnamed source even told the Daily Mirror "Amy often claimed she wanted to leave all her money to a cats' home as an ultimate sign of rebellion."
While visiting Barbados in 2010, Winehouse was apparently followed around by a monkey for a whole week. She fell in love with the primate and reportedly wished to bring him back to the United Kingdom with her.
5. Amy Winehouse's dream super power was "super sexuality."
The Guardian had a lengthy Q&A with Amy Winehouse in 2007 where one of the questions was "what would your super power be?" Winehouse answered, "super sexuality." In the same interview, the singer also said "sex" was how she relaxed and that "more sex and more gym" would be the single thing that'd improve the quality of her life.
Her favorite word? "Fuckery."
BONUS: This was what she deemed the most important life lesson she ever learned...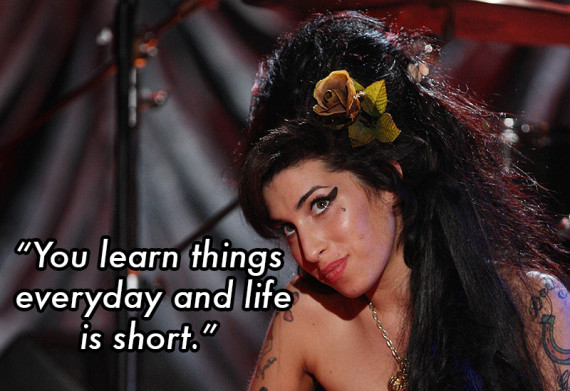 That quote also comes from the 2007 interview with The Guardian. Right before that question was also an answer of note:
How would you like to be remembered?

[Winehouse:] As genuine.
All images Getty unless otherwise noted.
Calling all HuffPost superfans!
Sign up for membership to become a founding member and help shape HuffPost's next chapter
BEFORE YOU GO
PHOTO GALLERY
Amy Winehouse