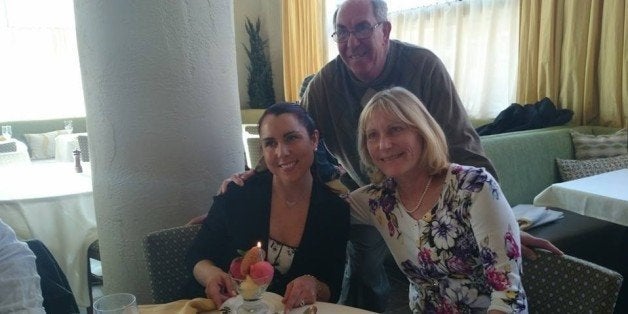 BOSTON -- Mike and Beth Bourgault haven't returned to Boylston Street since the day two homemade pressure cooker bombs ripped through the Boston Marathon finish line crowds, killing three people and injuring 264.
The Bourgaults were among those hurt, and the wounds they suffered forever changed their lives. Now, they are ready to return.
The retired couple from Lynn, Massachusetts, will again stand along the finish line at the April 20 race -- two years after the bombing -- to root for their 33-year-old daughter as she attempts the marathon for the first time.
As AmyBeth Bourgault prepares for the big run, she talked to HuffPost about watching the April 15, 2013, madness unfold on TV, as she frantically talked on the phone with her brother, fearing the worst.
"Knowing where my parents were standing and looking at the chaos with the blood everywhere and the people on the ground -- I thought that they were dead," she said.
The first bomb burst Mike Bourgault's eardrums and left him with cuts and burns. The 62-year-old ex-water treatment operator told his daughter that, to this day, he hears everything as if he were underwater.
His 60-year-old wife, a former paralegal and avid sportswoman, emerged in worse shape. The explosion punctured her eardrums, too, but also tore through the calf muscle on her left leg. Multiple surgeries allowed her to avoid amputation, but she cannot escape persistent pain.
"It was a wakeup call about how precious life is, and how quickly it can be taken away from you," AmyBeth said. "It's changed my relationship with my parents. We're a lot closer now than we ever have been and talk almost every day."
The Bourgault family has avoided the trial of Dzhokhar Tsarnaev, the 21-year-old convicted last week in one of the worst terrorist incidents on U.S. soil. The graphic evidence and emotional testimony was "just too much to deal with," AmyBeth said. Her parents declined to be interviewed because they're uncomfortable talking with the media.
With the penalty phase of the trial set to begin next week -- to determine whether the defendant will be sent to death row -- victims' loved ones are steeling themselves for more brutal testimony. But in the meantime, many will return to the marathon -- either as participants or spectators -- in a symbolic victory for a city that suffered.
The Bourgaults missed last year's marathon. Their absence was proof that things weren't back to normal, said AmyBeth, because her parents had attended the race every year. Her parents brought AmyBeth and her brother when they were growing up.
Crowds still rattle their nerves, AmyBeth said. But that won't thwart them from resurrecting the annual outing by watching her run.
"They are gung-ho and really won't accept anything else but being at the finish line to see me finish," AmyBeth told The Huffington Post inside the duplex in Brookline, Massachusetts, where she and her boyfriend live. "They're going to be okay. It's nice to see how far they've come."
Preparing for the marathon helped AmyBeth, a nanny for two brothers, deal with her own anxieties. First, there was the frantic search to find her parents in the immediate aftermath. Each unanswered call to their cellphone plunged her deeper into "complete panic mode," she said.
That fear left its mark even after AmyBeth reached her father. A second wave of anxiety crept up on her over months. Her parents were now hearing-impaired, and her mother's mobility was limited. Caring for them as they healed was AmyBeth's responsibility.
Running turned out to be her stress relief.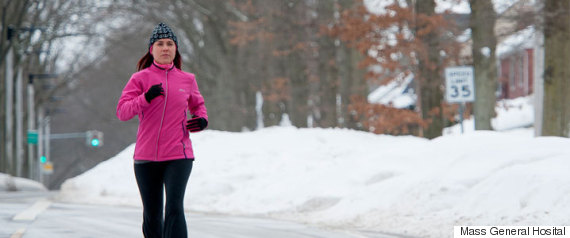 AmyBeth Bourgault training for the Boston Marathon despite the record-setting snow accumulation this winter.

The challenges AmyBeth has faced over the past two years has helped her confront a greater issue, anorexia, an eating disorder that has gripped her since adolescence.
"Running has boosted my self-esteem and gave me a sense of purpose," she said. "It's something that makes me proud of myself."
While her mom favored hiking, running and most outdoor activities, AmyBeth dedicated herself during childhood to dancing in styles ranging from from ballet to hip hop.
That atmosphere idealizes a lean physique and it released AmyBeth's insecurities. By her early teens, she had an eating disorder.
"I've had to deal with it for so long. It's almost like I can't remember not having it. i'm sure a lot of it had to do with the culture I was in, being a dancer and being involved in activities where thinness was so valued."
The eating disorder caused other health concerns. Her body lacked sufficient vitamins and nutrients. At times, she was anemic and had low bone density. Her kidneys showed signs of malfunctioning.
She'd gotten over the worst of it prior to catching the running bug last year. A doctor and a nutritionist kept tabs on her with regular appointments, but there were areas for obvious improvement. Oatmeal and salads were the cornerstones of her imbalanced diets.
Running four days a week increased her appetite and eliminated mental aversions to heartier foods like eggs, cheese and bread. Her health has never looked so promising, she said.
Other enthusiastic newcomers to running like Bourgault are attracted to the marathon. The Boston Athletic Association, which organizes the elite foot race, increased the entrants to 30,000 this year from 27,000 in 2013, according to spokesman Marc Davis.
'TAKE BACK THE FINISH LINE'
The BAA reserves 80 percent of the entries for runners who qualify by running in other races. Charities form teams and distribute the rest of the slots. AmyBeth joined the Massachusetts General Hospital Emergency Response Team. Members raise money for emergency care and preparations at the hospital.
Her 40 teammates know her as a vocal motivator.
'You like to have those people who stand out and push everybody else," said Kelly Sarno, a team leader. "She can really do that."
Runners, imbued with Boston pride, want to show solidarity with the city, said Dave Fortier, 50, whose hearing was damaged as a runner in the 2013 race.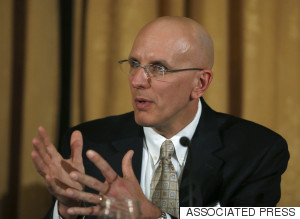 "This is a way to take back the finish line," said Fortier (pictured), a consultant in Newburyport, Massachusetts, who co-founded 4.15 Strong, which includes 25 bombing survivors running in the marathon. "Some people feel like they are righting a wrong."
Not everyone needs to lace up and hit the pavement to honor the victims. Events marking the second anniversary of the bombing are scheduled around Boston on Wednesday, including a moment of silence beginning at 2:49 p.m., when the first bomb blew up.
A contingent of survivors will head to Fenway Park to watch the Red Sox play the Washington Nationals.
"It's always kind of hard to anticipate how I'm going to feel. But it'll be nice to be with them again," said Heather Abbott, 40, a spectator who lost her leg in the bombing. "It's an opportunity to have an experience that only we share."
Mayor Marty Walsh declared April 15 as "One Boston Day" and urged people to perform good deeds
That can be difficult for some, because the anniversary comes amid gavel-to-gavel coverage of Tsarnaev's trial. A federal jury convicted Tsarnaev, 21, on April 8 and trial will resume on April 21, the day after the marathon.
That overlap may create a tumultuous stretch for many people, according to a Boston Public Health Commission official.
"This has added a whole new level of trauma," said Donna Ruscavage, director of the family assistance center. "For some people, it's helpful to open the newspaper and read what's going on. For other people, it just triggers back the events of that day."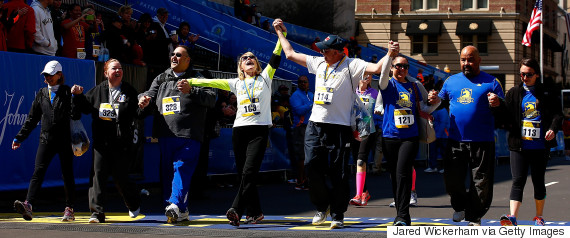 Beth and Michael Bourgault react after crossing the Boston Marathon finish line with friends and family during the Boston Athletic Association Tribute Run on April 19, 2014, in Boston. (Photo by Jared Wickerham/Getty Images)
Beth and Mike Bourgault are skittish, but they've battled back. Last year, they finished the 5K event on the Saturday before the marathon and they'll participate in it again with AmyBeth.
Calling all HuffPost superfans!
Sign up for membership to become a founding member and help shape HuffPost's next chapter