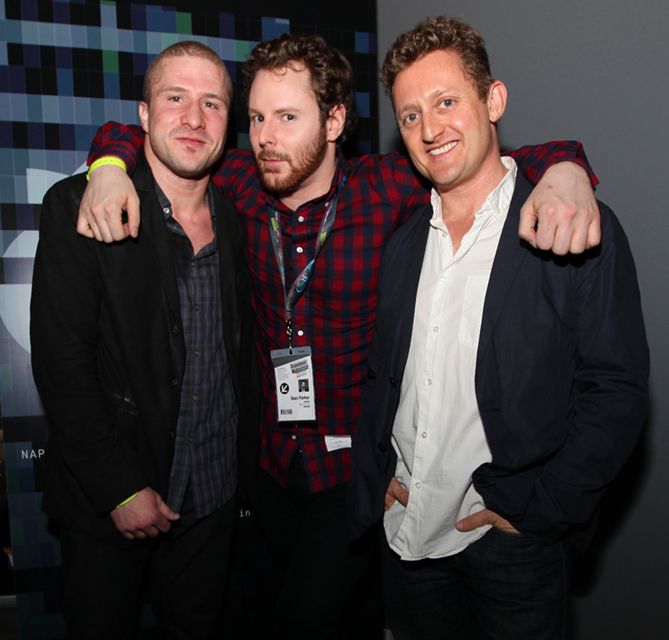 Napster's Shawn Fanning and Sean Parker with Alex Winter
The recently-released documentary Downloaded takes us back to a time in which there was no Candy Crush Saga to kill work hours (and brain activity), Google wasn't Google yet, and YouTube was nothing more than a figment of two nerds' respective imaginations. The acclaimed film, which is directed by Alex Winter (yes, he played Bill S. Preston, Esq. in Bill & Ted's Excellent Adventure and no, I won't harp on it), chronicles the rise, fall, and everlasting influence of the game-changing music sharing giant Napster. His film actually starts with the sound of 1990s dial-up Internet playing loudly, and transports us instantly back in time like a San Dimas High School stoner.
I hadn't heard that weird mix of beeps, screeches, honks, and static (think R2D2 having too much at a frat mixer) in decades and didn't realize how much I missed it. Hearing that and watching the film in its entirety brought me back to the innocence and excitement of "stealing" music in college. I remember Napster spreading like wildfire on my college campus, downloading it one night, and being so psyched when songs I hadn't heard in years - Lita Ford and Ozzy Osbourne's "Close My Eyes Forever!" - emerged from a simple search. I also remembered the advice of friends: "make sure you have songs to share, too." In other words, don't just take songs... give songs!
Yep, Napster started the digital media sharing revolution, and paved the way for iTunes, Spotify,and the Internet we use today...good and bad. Winter's killer documentary plays on that notion, takes us back with old footage of the joy and outrage it caused (Metallica, you may have heard, hated the service), and features new interviews with founders Shawn Fanning and Sean Parker (among others),
The former child actor, who has been directing for decades, will be discussing the film and Napster's lasting legacy at the Alamo Drafthouse in Yonkers with Alamo CEO Tim League tomorrow evening. He gave A-Sides a glimpse into the film and his post-Bill & Ted world beforehand.
I find it fitting to interview you about this since I once downloaded The Lost Boys soundtrack on Napster. Speaking of which, can we first agree that - that soundtrack is amongst the best ever?
Agreed. But it would be better if it came with a life-size replica of the shirtless, oiled up sax player with the mullet (not to be confused with my chaps-wearing impish vampire with a mullet).
Well played! For those that don't know, explain the process of how you started this movie. I know music has been a big part of who you are since the days of directing music videos.
I first wrote the movie as a narrative for a studio over ten years ago...I met Shawn Fanning as Napster was falling apart and became embedded in this story. The script never got made and I moved on, then came back to the story a couple of years ago with the intention of making it a doc instead. The core issues from the Napster era were more prevalent than ever and it spurred me to tell the story.
A documentary seemed a better way to address the significant aspects of the digital revolution than a narrative, which by nature should focus on a more personal arc.
What was the biggest surprise you found while researching the film?
How angry everyone still is... On all sides of the debate. That was shocking. The technological revolution has created extraordinary changes in global culture but it has also created enormous acrimony. I think the level of rage is one of the primary culprits for not having a more open and monetizable Internet today. It's getting in the way of much needed progress.
Do you think ultimately Napster saved the music industry? What do you hope audiences walk away with from the film?
Napster was more than anything a consumer revolt. The record business was at the zenith of a bubble when Napster appeared. It would have faced tremendous losses with or without the advent of file-sharing. I believe that these evolutionary technologies will be of enormous monetary value to many industries. But only once they are truly embraced by those industries.
In your opinion, would there be a Spotify or even an iTunes without Napster?
Absolutely not.
What's one song you downloaded on Napster that you're embarrassed to say you did?
At one point I became obsessed with finding every version of Buffalo Springfield's "For What It's Worth."
I found reggae versions, country, gospel, speed metal, a barbershop quarter, polka. It summed up what was so amazing about Napster, albeit in a very dorky fashion.
I know you get this a lot - but Bill & Ted....I have to ask you... (pauses)... will there be a number 3? OK forget it, can we just agree that William Sadler got gypped at an Oscar nod for Bogus Journey?
Any movie that Billy is in that does not garner him an Oscar nod is a gyp.
About A-Sides Music
Jon Chattman's "A-Sides Music" series usually features artists (established or not) from all genres performing a track, and discussing what it means to them. This informal series focuses on the artist making art in a low-threatening, extremely informal (sometimes humorous) way. No bells, no whistles -- just the music performed in a random, low-key setting followed by an unrehearsed chat. In an industry where everything often gets overblown and over manufactured, I'm hoping this is refreshing.