So I've become the "Peeps Lady."
Friends and acquaintances send me images of marshmallow bunnies and chicks dressed as bikers, in police lineups and pole dancing, atop cakes and swimming in vodka. I've seen photos of Peeps jewelry, swimsuits and shift dresses, Peeps topiaries and centerpieces. And I have been sent -- and watched -- each and every video starring marshmallow Peeps. People, friends and those I barely know, come across anything to do with marshmallow Peeps and they immediately think of me.
But it makes perfect sense.
Since moving to Europe close to thirty years ago, the list of what I really miss from home has at once narrowed and deepened. Leave your home country and settle elsewhere, settle in a place where all those familiar comforts of childhood, comforts that you grew up with, just do not exist, and one of two things happens: either you forget them and they fade into some distant memory, quickly to be replaced by the new and the local, everything from comfort foods to holiday rituals.
Or suddenly something that you took for granted, or was a tiny, insignificant part of something larger suddenly becomes necessary and you don't want to be, cannot be without it. Suddenly the thing becomes magnified, the craving overpowers you and the approach of a birthday, a holiday or a season can bring the desire rushing to the surface. And suddenly the enjoyment of birthdays, the holiday festivities or the seasonal rituals are incomplete without it.
Nostalgia is a strong and odd thing.
And so it happened to me. Every year, as Easter approaches and the babble around the food blogosphere is all about the celebrations, the cakes and cookies, the Easter baskets and egg hunts, the decorations and the main course, my mind wanders to the special treats of my youth that only appeared at holiday time. And growing up in a Jewish home in which Easter was not celebrated, the candies and sugary confections associated with these holidays became, like forbidden fruit, that much more special. Marshmallow Peeps, from the garish yellow chicks to the white bunnies and chocolate-covered everything, had long ago become a favorite springtime treat, something I would beg my mother to buy each time we passed the Easter display at the grocery store.
Living so far from home, the sensation is almost Pavlovian: spring breaks through the winter grey and floats through the open windows; the botanic garden bursts into bloom and the wisteria hangs in elegant mauve and pale violet swags from fences around the city and I crave marshmallow Peeps. A mention or two on Facebook and the offers begin to flood in: "Can I send you Peeps?" and "Let me have your address and I'll send you Peeps!" And how often have I said yes? Every year.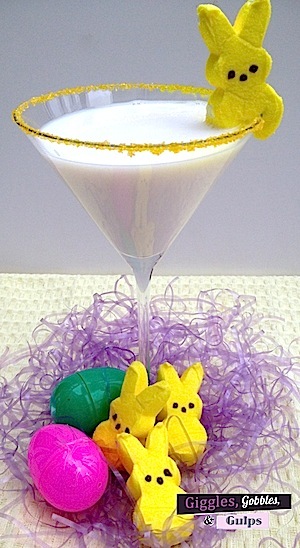 And then it all came to a head when Colleen and Stacey who represent the Marshmallow PEEPS folks themselves sent me ten pounds... yes, ten pounds of marshmallow Peeps! Yellow, turquoise, purple and pink, chicks and bunnies, vanilla cream, strawberry cream, raspberry and chocolate mousse, chocolate dipped and chocolate encased, Peepster bite-sized cream-filled chocolates, Peeps Pops and milk chocolate eggs filled with, yes, a marshmallow chick!
And of course as I mentioned this tremendous treasure trove, this windfall of marshmallow and chocolate Easter treats, this Peeps bonanza to my friends... the images and videos and ideas came flooding in.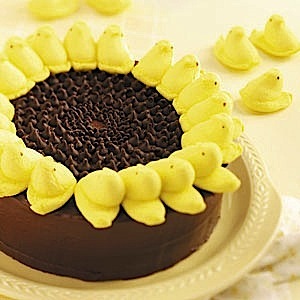 And so in our marshmallow Peeps abundance -- for I know you all have a weakness for this classic chewy treat -- I leave you with some wonderful and fun ideas for those Peeps that surely are stacking up in your home right about now.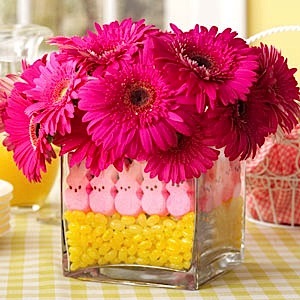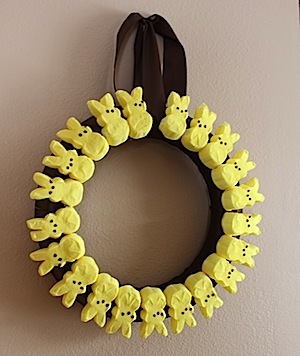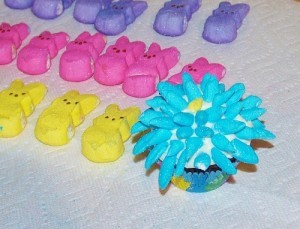 And some crazy Marshmallow Peeps Fun Facts?
Peeps holds the record for being the #1 selling non-chocolate candy at Easter for more than 20 years!
The first Peeps chick was hatched in 1953; it took 27 hours using a pastry tube and piped by hand (and the eyes were painted on by hand) to create one Chick; and 5.5 million Peeps are produced a day taking 6 minutes to create one Chick! The original Peeps Chick had wings!
It takes 8,000 Peeps bunnies (standing on each others' heads in a vertical line) to reach the top of Chicago's Sears Tower and 70 million Peeps to stretch from Los Angeles to New York City! It would take 172 million Peeps bunnies to circle the moon.