The promises of a tropical vacation are usually simple and absolute: Either lounging on the beach sipping rum drinks the whole time, or retreating to a luxurious private suite, opening the door only to receive our next meal and bottle of Champagne from room service. In reality, once we are on our getaway we realize that for us relaxation also includes being active. Stimulating endorphins is just as important as resting the body when you're on holiday, and on a recent trip to Jade Mountain on the beautiful island nation of St. Lucia we realized we really can have it all.
Situated within a 600-acre resort at the southern end of the island, Nick and Karolin Troubetskoy's Jade Mountain is a stunning cliffside retreat with beautiful views of St. Lucia's famous landmark mountains, Gros Piton and Petit Piton. There are simply not enough adjectives to describe the breathtaking vistas of these lush green volcanic peaks rising from the sea; the taller of the two, Gros Piton, rises over 2500 feet from the blue waters of the Caribbean. Jade Mountain features 24 open-air suites -- the fourth wall is missing, and each in-room private pool is tiled in a different color. The moment you walk in, you will swear that there is no reason to leave the room. In all the travel we have undertaken, there really is nothing more perfect than a room with a private pool and an amazing panorama, complete with fresh, delicious food delivered to your door. Air conditioning is unnecessary; ceiling fans and gentle breezes provide all the coolness you may require, and birds fly in and out at will. There really is no reason to leave this room, except for all the awesomeness beyond its confines.
Sister resort Anse Chastanet, just down the hill, is home to two beaches and a variety of active sports such as SCUBA diving, kayaking, sailing, and jungle biking. Executive Chef Jonathan Dearden's Caribbean fusion cuisine offers many healthy options created from abundant local seafood, "imported" meat, and organic fruits and vegetables from the resort's nearby Emerald Estate. Making smart but delicious food choices gave us the energy and initiative to get out and move. In the early part of the day, we walked over to Anse Mamin beach and met our friendly biking guide, Joevann, who gave us a brief overview and history of the property, and rode with us on one loop through well-signed jungle trails, pointing out various tropical plants, trees (including avocado, cocoa, mango, and coconut) and birds along the way. We were then on our own for a couple of hours of riding around one large, relatively easy loop and some more difficult side trails through the remains of an 18th century sugar cane plantation. Some of the uphill stretches were tough, but we were kept cool by the deep shade of the tall palm trees. We openly admit that we ditched our Cannondales and hiked to the top of Tinker's Trail, created with the help of world champion cyclist Tinker Juarez. We definitely more than burned off breakfast and were plenty hungry for a lunch of coconut shrimp and ceviche at Anse Chastanet's Trou ou Diable Beach Restaurant before climbing the hill to relax in our private sanctuary.
We also ventured down to the beach as a start-off point for our kayaking trip to the port of Soufriere, a bustling French colonial town that was once the island's capital. Garfield, our enthusiastic and knowledgeable guide, began with some basic kayaking instruction before we pushed off for a three-hour paddle along the rugged, lush coastline. Luxury villas and fishing shacks dot the vegetation-covered hillsides, and we glided through the crystalline blue water while boobies and wrens flitted between upturned boulders strewn along the shoreline and hawks circled overhead. One of the highlights -- or horrors, depending on your outlook -- of this excursion is what is known locally as the Bat Cave, a large crevice in the cliffs near Soufriere that is home to the majority of the island's bat population. No one seems to know for sure how many bats live in this vertical fissure, but there were so many of the small winged mammals present that hundreds were always in motion in addition to the apparently sleeping thousands that were visible at the narrow cave's opening.
Offsite trips can be arranged through your concierge. Hikers can take a guided trek of Petit Piton, the shorter and wider of the two, and your effort will be rewarded with breathtaking views at the summit. A short car ride will take you to St. Lucia's "drive-through" volcano, where you can bathe in the therapeutic waters of hot sulfur springs. Deep-sea fishing trips are offered as well. As we said, once get to Jade Mountain you won't want to leave your room, but ultimately you will be glad that you did.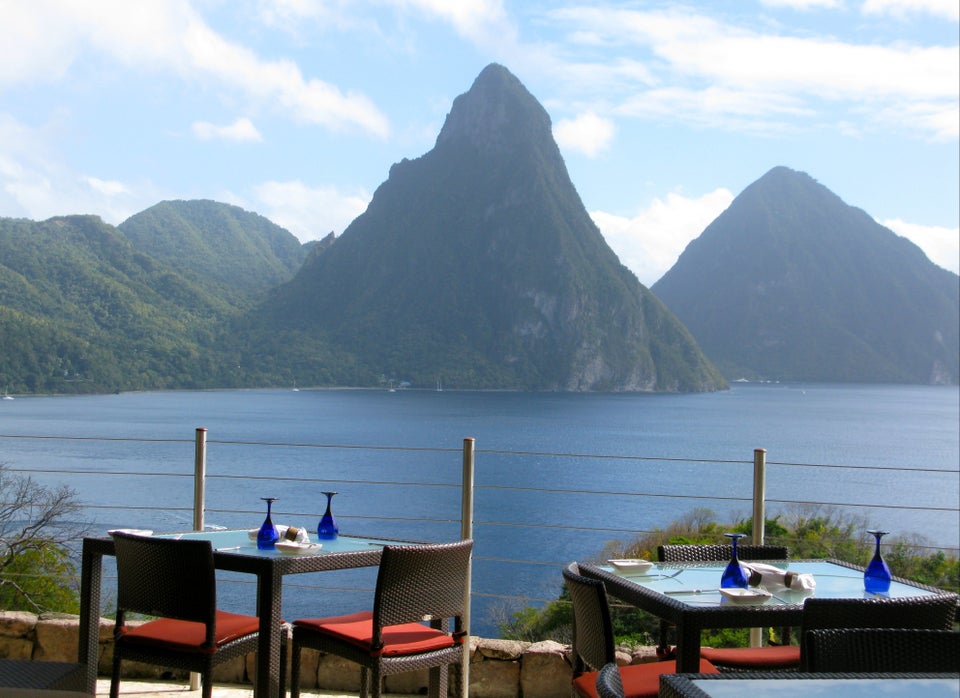 Jade Mountain: A Mountaintop Paradise on St. Lucia