The phrase "meant to be" is used a lot...perhaps to excess. But a recent adoption at the animal welfare organization I work for truly is an example of something that was meant to be.
Thirteen years ago, following their return from a honeymoon in Hawaii, newlyweds Mark and Rebecca were searching Petfinder.com for a dog. Independently, the Maryland residents each found the photo of a puppy named Autumn at the Washington Animal Rescue League and simultaneously emailed photos of her to each other. "I think our emails actually crossed in cyberspace," Rebecca recalls. "We decided Autumn was meant to be ours."
Although the shelter was closed by a major snowstorm on the day they hoped to meet the puppy they already thought of as "theirs," the couple were told that someone would be on site to care for the animals and that they could still come if they really wanted to. They did.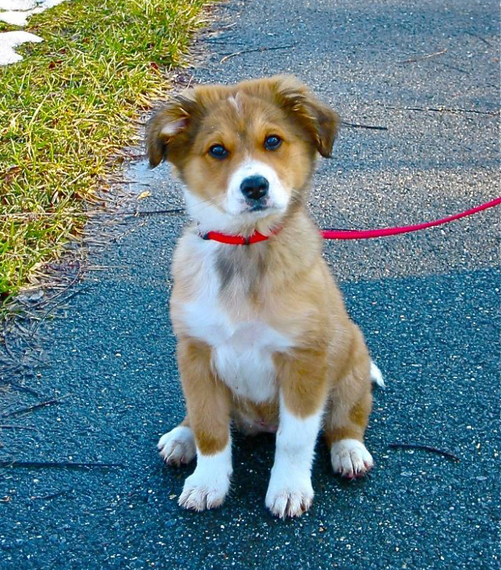 For more than a decade Autumn (renamed Tiki) was an integral, adored member of Mark and Rebecca's family, which grew to include two daughters and another dog, Coco. "She [Tiki] was crazy sweet, a miraculous dog," says Rebecca. Life was good.
Then Tiki began to behave oddly, spending more time under the bed and not being as interested in things as she had been. Following a cancer diagnosis, she underwent surgery involving the removal of six ribs and a piece of her diaphragm. Thankfully, she recovered well and was once again a dog in love with life.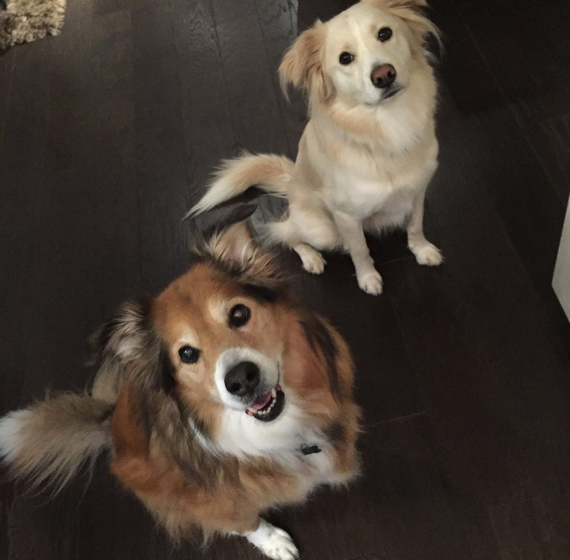 Eventually, however, after two years of remission, the cancer caught up with Tiki, and Mark and Rebecca recently made the painful but loving and selfless decision to let her go. The next couple of weeks were difficult for the whole family, including two-year-old Coco, who was pining for her canine companion. "There was an eerie silence in the house," Rebecca explains. "A feeling, more than a sound." They needed an infusion of new life, which they found, once again, at the Washington Animal Rescue League (now merged with the Washington Humane Society).

Rebecca and Mark had seen Watermelon on Animal Planet's Puppy Cam and her border collie mix look appealed to them. "She's the kind of dog we like and there was something compelling about returning to the place we'd adopted Tiki," says Rebecca. "Even though we'd never met Watermelon, we decided to make a leap of faith. We just had a feeling that she, too, was meant to be with us."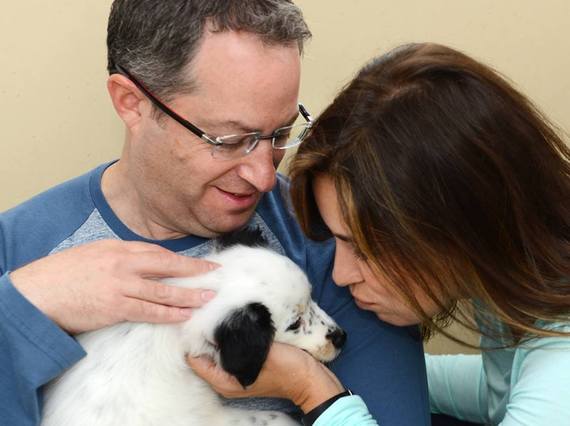 So they drove to Washington from their current home in New Jersey, spending the night in a hotel so they could be at the shelter when it opened. And once again magic happened...and they fell in love.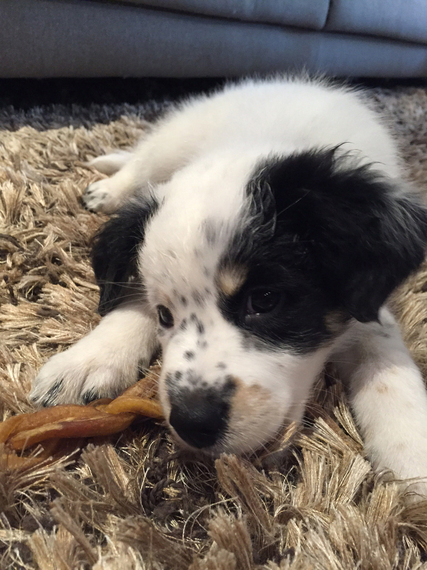 Watermelon was welcomed into her new home with her first toy, a stuffed giraffe, just like the one Mark and Rebecca gave to Tiki 13 years ago. Now their newest family member is settling into her new home and learning her new name: Mango. "My daughter collects lip balms and there's a pack of Lip Smackers that includes Coco Cabana, Tiki Tangerine, and Mango Mix," explains Rebecca. "The three flavors are grouped together and she really liked the symbolism of that."
Canine Coco seems to approve...of the name and her new baby sister!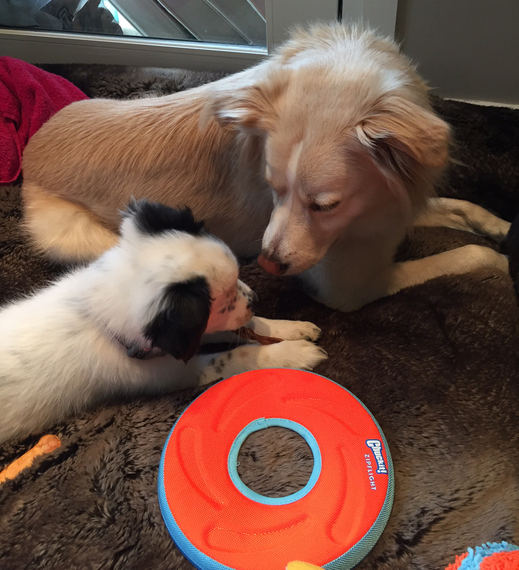 Calling all HuffPost superfans!
Sign up for membership to become a founding member and help shape HuffPost's next chapter