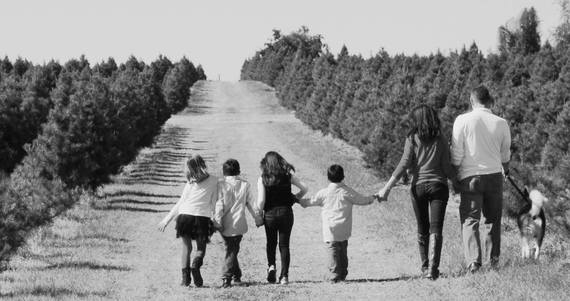 Last week I shared the story of Kevin and Hillary Rubel adopting three children out of the foster care system. In the Rubel's efforts to learn more about their three adoptive children's biological background they learned that their children came from a sibling group of seven. Curious about their children's other siblings, the Rubel's began asking questions about their placements. Their children had three younger siblings and one older one.
The three younger siblings were also adopted out of foster care. Kevin and Hillary made it a point to connect with the couple who adopted the children. The adoptive parents were very excited to learn about Kevin and Hillary. Together both couples agreed to keep in touch with each other so the children will always be connected.
"Belonging to a family is a natural and vital component of life, and every child deserves to be a member of a loving and nurturing family." - Ronald Reagan (U.S. President and adoptive dad)
When enquiring about the last and oldest sibling, they learned he was in a shelter. As happy as everyone was to have the family they all dreamt of -- Kevin and Hillary could not get the oldest sibling out of their minds. They kept going back to their own childhoods and recalling the happy lives that they shared with their families. Every child deserves to have loving parents. Yet, not every child is lucky enough to have them.
The Rubel's put a prayer request out to their family and friends about the oldest sibling needing a family. They explained that each child out of the seven had endured a life that no child should have to experience. They asked their community to open their hearts and pray for the last sibling to find a home. They expressed their desires to somehow break the cycle of dysfunction and abandonment in these children's lives. And, just like the first time, their prayers were answered. It wasn't long before someone reached out and adopted the last sibling as well. This miracle would not have taken place, without the diligence of the Rubels, to uphold their promise, of being the best parents they could be.
The Rubels expressed that money should not be a deterrent for adopting children out of foster care. Many people who seek to adopt fear that they cannot afford to do so. However, this is not the case. The adoptions did not cost the Rubels any money. The state covered all the fees and the children also will always qualify for Medicaid. This has been a huge help financially. They have been able to get medical care, dental care, psychiatric care, and all the medications they need without any financial burden being bestowed upon their family.
Since all the children are older and special needs, they also receive a monetary stipend until the kids are 18. In addition to all of the medical and financial costs being covered, they also received post-adoption services, and were monitored for at least a year after the adoption became legal. They added that they can still call the agency that they went through to adopt the children, and the agency will assist them in finding whatever services they need if they are struggling on their own.
According to an ABC News report there are 126,000 children in our foster care systems that are currently waiting to be adopted. Sadly, more than 20,000 children each year never leave the system -- they remain in foster care until they "age out." Many of these children are placed in the system due to neglect and abuse. And approximately 13 percent of all children between the ages of 6 and 14 experience a form of disability. Children who age out of foster care also have a much greater rate of committing suicide or ending up in jail.
It is the Rubel's belief, that the biggest impact we can have as a society on stopping child abuse, is by interrupting the cycle of abuse -- by teaching the abused a new way to live, without abuse. They both expressed that they feel very confident that their three adopted children will grow up to be self-sufficient adults who are able to get along, function, and contribute to society, and thus breaking that cycle of abuse that their life began with.
After the initial story was released the Rubel's contacted me to share that they were notified that one of the younger siblings passed away on December 15, 2015. She was 6 years old and suffered from many disabilities at birth. Knowing that this child did not leave the world in the environment in which she was born into, but in an environment in which she was safe and loved, brings some peace to everyone who has been a part of the journey. She will greatly be missed but never forgotten.
The Rubels expressed their desires to dedicate their message to her and to all those who are touched by their story. Every child deserves the opportunity to feel safe and to be loved.The Rubels conveyed that they will forever advocate for those children who have been thrown away and lost in society.
If you have the opportunity to be a part of a child's story, you will not only be making a difference in their lives, but in all the lives of those who they might touch throughout their lives. Sometimes all it takes is planting the seed of hope to watch how the world can grow.
Related