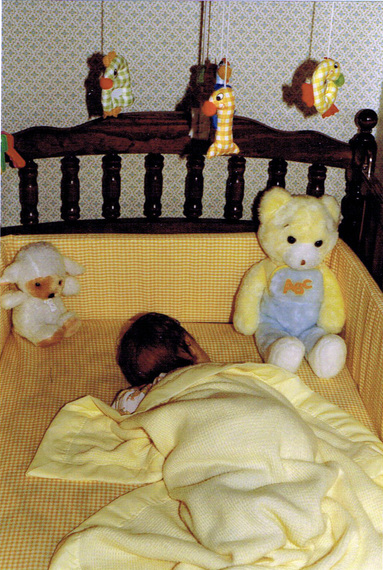 I am overwhelmed by love when M, 4-and-a-half months old, is placed in my arms nearly 33- years-ago. My first husband and I meet him in the office of Catholic Social Services in Lorain County, Ohio, where the first thing I notice is his full head of beautiful, dark blond hair.
The following May, on Mother's Day, I whisper a silent prayer for the woman whose compelling decision has made it possible for me to experience motherhood. I do this every Mother's Day, and on M's birthday, too.
Through the years, as I held this child and watched him grow, I realized how much it would have meant -- to M and to me -- to be able to hold him in the moments after his birth. Did he have an uncanny infant-awareness that the warmth and scent of the body holding him that day differed from that of the foster parent who cared for him in the months after his birth? These are not thoughts I articulate then. All I could think to say to him, instinctively and repeatedly, is this: It's Mommy. You're home now. It's Mommy. I love you and you're home now.
These feelings came flooding back when I watched the acclaimed 2013 movie Philomena, now available on DVD. Directed by Stephen Frears and starring Dame Judi Dench, Philomena is based on the true story of Philomena Lee, who bore a son out of wedlock in Ireland in 1952. Nuns at an abbey in Roscrea took in unwed mothers like Philomena and put them to work while eventually adopting their children out, often to rich Americans.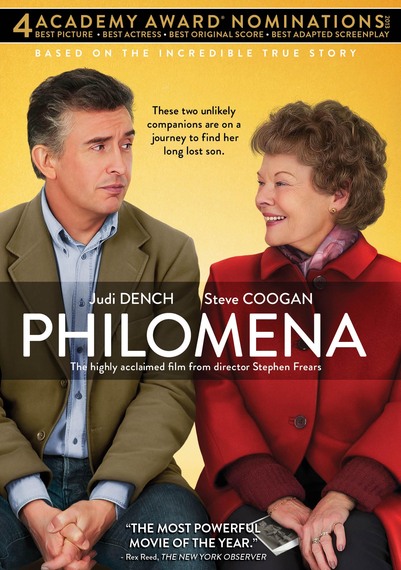 Philomena's son Anthony was a toddler when he was adopted, and she never saw him again; efforts to locate him were thwarted at every turn. Anthony, who was renamed Michael Hess, became an accomplished lawyer and a White House official in two Republican administrations. His own search for Philomena was similarly obstructed. It was only with the help of journalist Martin Sixsmith that Philomena discovered Anthony's identity, but by then it was too late. He had died of AIDS at the age of 43.
"For all the shame and pain caused by secretive adoptions for women like Philomena and her son, openness could have been the antidote," Lori Holden said when I interviewed her by email. Holden, who lives in Colorado, wrote a book, The Open-Hearted Way to Open Adoption, with her daughter's birth mother. She confirmed that open adoption is becoming the norm, sharing these statistics from the Donaldson Adoption Institute:
"Prior to 1990, fewer than 5 percent of domestic infant adoptions were open. In 2012, 90 percent or more of adoption agencies are recommending open adoption."
As my son grew older, I determined that, should he want to know his origins, I'd move mountains to help him in his search. We cannot know yet how difficult this might be, although a recent bill, signed into law by Ohio Governor John Kasich, could remove some obstacles. This year, Ohioans of legal age who were adopted between Jan. 1, 1964, and Sept. 18, 1996, will be allowed access to their birth records. According to Holden, many states are beginning "to unseal what was once sealed."
As for Philomena Lee, she's become an advocate for adoption rights in Ireland, founding The Philomena Project, and calling upon the Irish government to implement adoption information and tracing legislation. She is taking her fight all the way to the Irish Supreme Court.
REAL LIFE. REAL NEWS. REAL VOICES.
Help us tell more of the stories that matter from voices that too often remain unheard.