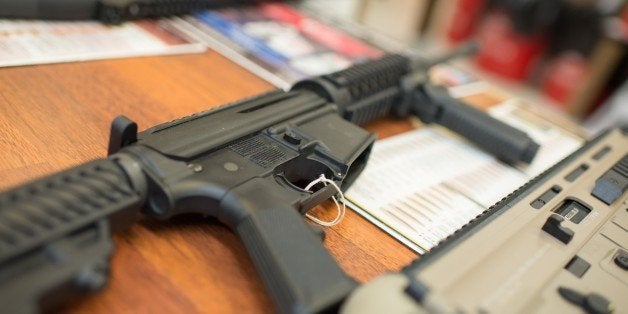 This blog post has two purposes:
But before I do that, I want to take a moment to do something that I think is appropriate given where we are in the Church calendar. That is, I want to ask for your forgiveness.

To those who responded to my previous blog about renouncing my 2nd Amendment rights with hatred, threats of violence, and vitriol: forgive me.
A number of my fellow citizens (and Christians) let me know that they were thrilled with my decision to lay down my arms and that they looked forward to hearing the news that my entire family and I had been murdered on account of my stupidity. Others suggested that I speed up my inevitable death by either "doing us a favor and taking care of it yourself," or coming over to their house to "see what happens" when a non-gun owner tries to force them to let go of their guns.
As I read through the growing list of inhumane responses, I became aware of something very specific taking place within me: my own form of violence. In my heart and mind, I was returning evil with evil. The hatred was there all along, lurking just beneath the surface, waiting to be exposed. It doesn't really matter that I didn't type out what came to mind or post it in the comments section for the whole world to read. Regardless of how much hate you have spewed upon me--regardless of how much violence you wish would befall me--you don't deserve my hatred and violence in return. You deserve better. Ironically, that was the whole point of my post. As a Christian, I am called to love you, even and especially when you mistreat me or see me as your enemy. It's easy to love those who love us back. It's something altogether different to love those who hate you. And I failed. Please forgive me.
To those who thoughtfully disagree with my take on the matter: Forgive me for making generalizations about all gun-rights advocates based upon a small handful of people who are hell-bent on spreading hatred and animosity.
In an online environment, it's easy to think that the loudest and most polarizing voices are representative of the general population. But we all know this is simply not true. As I read and responded to your thoughts on the issue, I was guilty at times of painting with too broad a brush. I compared the best of my arguments with the worst of those who disagreed with me. To put it in Christian terms, I am guilty of "bearing false witness" against you. And this is an especially fatal mistake in a time when fringe voices continue to co-opt the conversation, doubling-down on their commitment to destructive patterns of life. In such a time as this, we MUST find a way toward civil dialogue, even while we hold on to our convictions. And this begins by giving the other a fair hearing. So let me be the first to say, I am sorry for contributing to the problem rather than the solution. Please forgive me.
Speaking of being a part of the problem, forgive me for being complicit in America's culture of death and violence.
I am not innocent here. As I noted in my previous blog, even though I never made a conscious choice to be involved, I am. I have owned guns for my entire life. I stand to inherit even more. Which means that I fit the profile for the majority of mass shooters in the United States: young(ish), white, male. So make no mistake, I am the violent perpetrator at the door. I am and continue to be part of our collective sickness. Indeed, like many others, my own sense of self is bound up in this culture of guns. So laying down my arms involves far more than simply making a symbolic gesture. It also involves incredibly difficult renegotiations with my family about our shared identity and how we honor our family's heritage without allowing ourselves to become victims of that heritage. In other words, I am not above the fray. I have no moral high ground upon which I can stand. I am the problem. So again, I ask for your forgiveness.
To so many of you who expressed a desire to join me in laying down their right to bear arms, forgive me for not offering a "next step."
I wrote my previous blog without any expectation that it would circulate in the way that it did, so I had not thought beyond my own personal decision. I would like to rectify my shortsightedness by pointing readers to this Advent Declaration. Simply send an email to declarationonguns@gmail.com to join the growing list of signatories, each of whom are respected Christian leaders from around the country known for their spiritual wisdom (note: this list only began three days ago).
Allow me to quote from the Declaration's preamble:
Pastors and leaders in the Church from throughout the US met on December 10, 2015 to express grief that we need to lead our congregations over and over in worship services of lament for senseless deaths from guns. We recognize that this is a particular cultural issue woven into our American society. A spirit of fear, enmity, racial prejudice, distrust, and violence is tragically normal in our way of life. We believe this is contrary to the gospel, and so we say, "Enough of this. No more." There is something seriously wrong with our way of life if we tolerate violence in our society. We believe God is calling us to stop this accelerating, downward spiral of destruction. There is an urgent need for followers of the Prince of Peace to challenge the easy use of guns in our society.
I encourage my Christian brothers and sisters to reflect upon the biblical and theological rationale outlined in this declaration. However, I also realize that some readers might be interested in an even more detailed or developed biblical justification for the kind of response that these Christian leaders are calling for. If you are interested in how the Old Testament might address gun violence, I can do no better than Chris Hays, a colleague of mine at Fuller Seminary. Here are his thoughts on guns seen through the lens of Genesis. For an insightful take on what the New Testament has to say about violence and the right to bear arms, check out Moyer Hubbard's thoughts on the topic (Hubbard teaches NT at Talbot School of Theology). Here is part 1 and part 2 of his thoughtful engagement with the biblical text. Forgive me for not providing these resources earlier.
Finally, I need your forgiveness because, to use Jesus' words, when it comes to gun violence, I know not what I do. Actually, we Christians know not what we do. And we all need your forgiveness.
This isn't the way things are supposed to be. The Christian community is not supposed to be overcome by evil, but is called to overcome evil with good (Rom 12:21). Yet, we fail -- constantly. For anyone who does not identify with the Christian tradition but saw the anger and bitterness that was spawned by my previous blog, what you witnessed was a reflection of the thousand and one ways that the Christian community enacts evil upon its own kind.
In fact, you might have even been the object of some of this venom. So while I realize that it might seem like an impossible task, I ask that you forgive us, for we know not what we do. Forgive us for failing to demonstrate love. And forgive those of us who continue to fail in this regard. And even more importantly, I plead with you to remain committed to the conversation. Christians need people who are not part of our faith community to speak to us. Indeed, this is one way to read the entire scope of biblical history. Time and again, the "people of God" forget how to be God's people, while those who are not "God's people" live in a way that more faithfully reflects God's intentionality in the world. And the only way that the "people of God" are able to come to their senses is when they hear the prophetic word of judgment coming from their neighbors and have the courage to respond.
So when it comes to guns, don't give up on the Christian community just yet.
We need your prophetic voice.
We need your forgiveness.
We need you.
REAL LIFE. REAL NEWS. REAL VOICES.
Help us tell more of the stories that matter from voices that too often remain unheard.