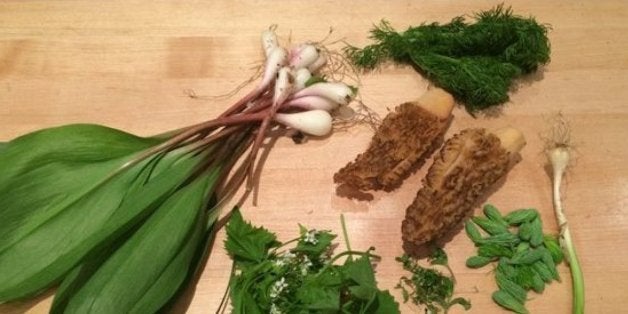 How I hate being trendy but I suppose there is no avoiding it this time. I went foraging in the woods of Columbia County and loved every second of it. It appeals to my sense of taste, adventure and frugality.
It was peak ramp season and I have been obsessed with ramps this year, so it was a perfect fit. I found oodles of ramps and confess that I harvested them, bulbs and all. I know it is controversial so I measured what I pulled and understand that those spots should be left alone for a few years to repopulate. I used every bit of the leaves for ramp pesto and pickled the bulbs and stems.
I learned about eating the new growth -- the tips -- of the evergreen boughs and have added them to salads. It is a delicious flavor of pine and woods. No environmental impact either. It is an unusual and provocative taste.
Other items I have been foraging in the woods and at Katchkie Farm:
Morels -- how precious and exciting it is to discover one of these treasures in the woods. I confess, I gave them to Chef Matthew to eat, as I was a little squeamish about taking the chance myself. He survived and said they were delicious. Next time, no sharing.
Garlic mustard -- a weed that grows around the base of trees. Selecting the tender tops of the plant, I made them into pesto -- a light and flavorful, slightly subtle taste.
Dandelion greens -- a wonderful, bitter, full flavor and easy to recognize. Best to sauté them with some other greens or veggies. If not too bitter, mix a few in a salad for added bite.
Chamomile -- last year it was abundant on the edges of our farm fields. This year has not yet yielded as much. But I love to steep it in a pot of simmering water and make it into iced tea. It is the most refreshing drink. (Use the flowers and leaves.)
What you need to do before foraging?
-- Dress protectively! There are ticks and other biting bugs. Do a thorough tick check when you get home. Watch out for poison ivy and invest in a bottle of Technu. If you think you were exposed, a good Technu wash will probably remove the toxin.
-- Carry a shoulder bag (insulated is great) with lots of Ziploc plastic bags. Many of these greens are fragile.
-- Bring a handy pair of garden shears and a pair of gloves.
-- Don't take chances -- there's nothing worse than eating something that might make you ill!
-- Don't be surprised if you bump into the occasional forest creature, from snakes (yuck) and frogs to rabbits and woodchucks. I know there are bigger friends out there, but I haven't bumped into them.
-- Do your research -- there is so much to learn about what can be foraged. A short list of suggestions (there are many more books out there!):
Foraged Flavor: Finding Fabulous Ingredients in your Backyard or Farmers Market, by Tama Matsuoka Wong
Stalking the Wild Asparagus, by Euell Gibbons
A Field of Weeds, by Luigi De Santis Ballerini
Everything Guide to Foraging, by Vickie Shufer
Dandelion Hunter: Foraging the Urban Wilderness, by Rebecca Lerner
Edible Wild Plants: Wild Foods from Dirt to Plate, by John Kallas
PHOTO GALLERY
Foraging in the Woods of Columbia County