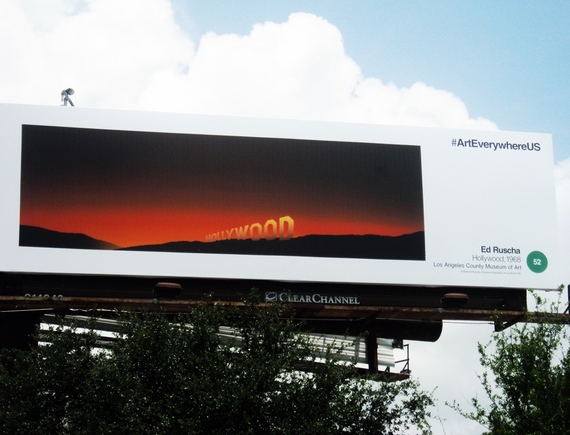 Hollywood, 1968 by Edward Ruscha provided by the Los Angeles County Museum of Art, located close to the intersection of S. Military Trail and Summit Boulevard in West Palm Beach, Fla.
Sometimes you need to look up -- at a billboard -- to be inspired. Or, even a bus shelter.
I did. And I was inspired.
However, I must admit, it was the historic American artwork on the billboards and bus shelter that stirred my enthusiasm.
Before the end of August, I made sure to experience Art Everywhere US. Since Aug. 4, the public has been treated to a celebration of American art exhibited on thousands of out of home (OOH) advertising displays across the country.
According to their website, the art show was inspired by Art Everywhere founder, Richard Reed, who first produced Art Everywhere UK. Five of America's leading art museums (The Art Institute of Chicago, Dallas Museum of Art, Los Angeles County Museum of Art, National Gallery of Art, Whitney Museum of American Art) selected works of art that represent American culture and history and collaborated with the Outdoor Advertising Association of America to make it happen. Fifty-eight works were selected by the public to be featured in the Art Everywhere US campaign.
On a Sunday afternoon, I decided to locate the replicas on display, close to home, in South Florida's Palm Beach and Broward counties. I selected four that I really wanted to see by using the art campaign's website. There is a map, which locates the displays in each state, and also provides directions to the approximate locations.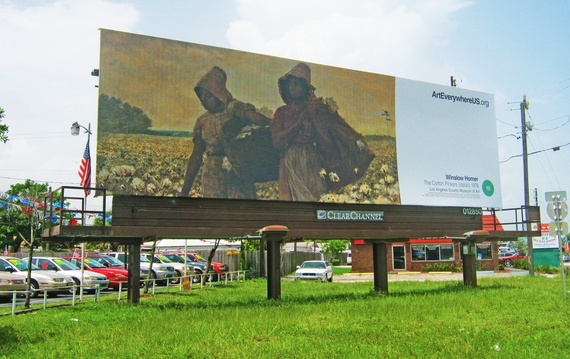 The Cotton Pickers, 1876 by Winslow Homer, provided by the Los Angeles County Museum of Art, located approximately at 2401-2485 N. Dixie Highway, Pompano Beach, Fla.
I started out in West Palm Beach to see Hollywood, 1968 by Edward Ruscha offered by the Los Angeles County Museum of Art. I stood in the parking lot of an Auto Zone to take photos. As customers drove in and saw me snapping photos with my camera, they looked up at Hollywood. "You're welcome," I thought.
I then followed the directions to The Icebergs, 1861 by Frederic Edwin Church provided by the Dallas Museum of Art. The directions led me to 230 Lake Monterey Circle, Boynton Beach. Monterey Circle is a gated community, which meant I didn't have access to see the billboard. Perhaps there was an alternative route I could have taken. But, it is the rainy season in South Florida and I figured I had about an hour before showers hampered my excursion.
Back on I-95 South towards Pompano Beach I went. I arrived at a large billboard of the painting, The Cotton Pickers by Winslow Homer. I looked a little odd positioning myself to get a good angle for a shot in front of busy streets. But, I was satisfied to draw attention to the billboard. It was interesting to see a replica of artwork created in the 19th-century, juxtaposed with a modern business, Chuck Carlson Auto Sales, in the background.
The car dealership's American flags on tall flagpoles fly adjacent to the billboard. In a photo I took, the two young ladies in the painting are positioned in the direction of the flag. Homer created this painting about 10 years after the Civil War ended, and it illustrates, at that time, America still had not changed for African Americans in the South.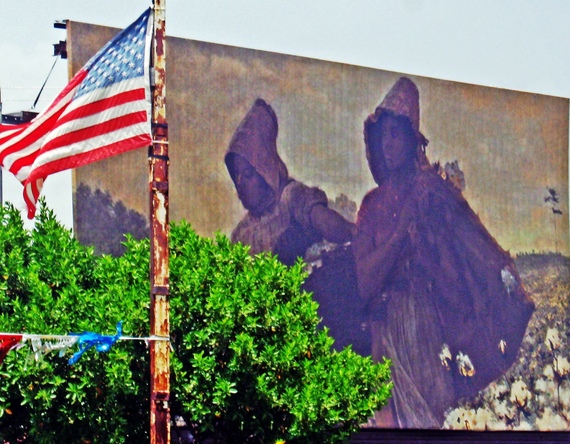 My final stop along I-95 South was in Lauderdale Lakes. I located the replica of an iconic American artwork, American Gothic, 1930 by Grant Wood, on a bus shelter in front of the South Lakes Shopping Plaza. I almost missed it, though. I'm actually surprised the drivers behind me didn't furiously honk their horns as I crept down the road. I define the location of American Gothic as 20th century rural America meets the 21st century urban American bus stop. Ironic, don't you think?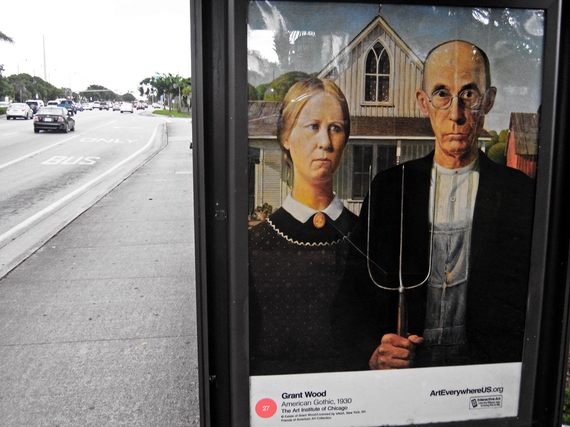 American Gothic, 1930 by Grant Wood, provided by the Art Institute of Chicago, located at US 441/NW 29 S. South Lakes Shopping Center, Lauderdale Lakes, Fla.
There are many more OOH displays in South Florida to be seen. I was content on experiencing the three I saw. Perhaps you've spotted the artwork in your travels, if not, be on the lookout -- until Aug. 31, that is.
The experience also made me think of an idea for a bumper sticker for my car: Will Drive for Art.
Calling all HuffPost superfans!
Sign up for membership to become a founding member and help shape HuffPost's next chapter