About a month ago, this story ran in the New York Times and fur is still flying in the demimonde of cheese enthusiasts. This isn't unusual; in every tight knit community hackles go up at a moment's notice, and often stay there. Had the New York Times run a big story asserting that cheese is made from fresh milk, rennet, cheese culture and salt (and these are in fact, the four basic ingredients of cheese), some cheese lovers would still have thrown their arms in the air in exasperation.
The Times story dealt with affinage, which is what happens after those four basic ingredients are melded together by skillful cheesemakers. The aging process is one of the most crucial determinants to a cheese's flavor. It hasn't gotten much play recently as it doesn't look like anything, a cheese sits on a shelf and is turned and flipped daily. Perhaps it is brushed. This would make for a horrible reality TV show. Yet for centuries in Europe and about a decade in the United States, the best cheeses have come from the confines of artisans who are masters at aging cheese. They know the right levels of humidity and the right temperature to metamorphose these forms of milk that is weeks and months old into culinary bliss.
In the last few years, several leading American retailers have built caves, which is what a space where cheese is aged is commonly called, of their own to essentially continue the process of careful aging, right up until the cheese is put on the sales floor and cut for consumer purchase. The Times story focused on this phenomenon featuring the relatively new Murray's cheese caves, which they have turned into gateway attraction giving tours and the like. There were vehement opposing voices in the story from long time pillars of the American cheese like Steve Jenkins, author of the cornerstone book, The Cheese Primer (Workman, 1996). He went so far as to claim that affinage was just a ploy to jack up prices.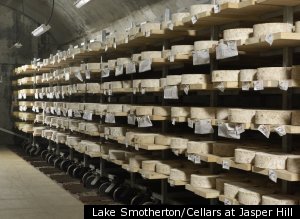 As is often the case in a cantankerous dispute, there is reason to be found in the middle ground. The price of affineur aged cheese is high, but the price of nearly all hand crafted cheese is high. According to Anne Saxelby's informative website, it takes 10 pounds of cow or goat's milk to make one pound of cheese. And consider that the milk used for cheesemaking is much more specialized than the liquid in cartons at the grocery store. It typically comes from specially fed herds of dairy animals. I asked a noted northern California cheesemaker one time what the price would be if the milk she used in her cheeses were available for retail sale, and a long silence ensued. She then said the prices might not be like wine, but they'd be close. I presume she meant an affordable wine like a $15 bottle of Pinot Noir not a an '82 Petrus, but either way her point was well taken.
On the other hand, it is a good thing that the shops that specialize in selling extraordinary cheese go to great lengths to maintain and nurture them right up until the cheese leaves the premises in the happy clutches of a customer. But the further the cheese is from its source the less affinage matters. The term has come into common usage in the last decade due to the yeoman work of experts who are taking cheese that has just been made then aging it to perfection. Many of them export the cheeses they work with under their own name. Swiss cheeses from Rolf Beeler or Caroline Hostettler, English ones from Neal's Yard, French cheeses from Herve Mons, Jean D'Alos, Andante Dairy, or Rudolph Munier, Italian ones from Luigi Guffanti or Casa Madaio or American cheeses from the Cellars at Jasper Hill are a treat. They are sometimes stronger, but the real highlight is the distinct well articulated overtones in the flavor. These cheeses are far superior to their more routine counterparts. It's like the difference in music from an home stereo versus that heard in a professional studio.
Overall, I thought the article was a good thing. There is a ton of amazing cheese now available to Americans and anything that furthers the discussion and increases the awareness of that cheese is a big positive.
Martin Johnson runs The Joy of Cheese, a series of informal cheese tastings that take place at four New York City bars and the 92nd Street Y. He has worked in and around cheese for 27 years, and he spends his Saturdays on the counter of the Bedford Cheese Shop in Brooklyn. He blogs at www.thejoyofcheese.com

REAL LIFE. REAL NEWS. REAL VOICES.
Help us tell more of the stories that matter from voices that too often remain unheard.