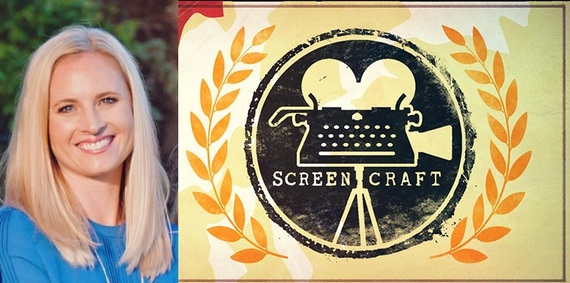 ScreenCraft:
How, when, and where did your storytelling roots begin?
Sarah Hopkins: I grew up hearing about my great-great uncle and writer James Oliver Curwood along with reading a book my great-grandmother, Marguerite Tate, wrote called Twelve Walked Away. I was intrigued with storytelling when I knew, really knew, the storyline and characters and how they translated to a page. My amazing mom -- she will always wear an invisible cape in my eyes -- read books to myself and my three younger siblings before bed growing up, and for that I am forever grateful.
I dabbled with writing here and there over the years, but when the storyline of FET literally woke me up on a Saturday morning in 2011, I scribbled an outline down with the intention of truly writing it. I started it as a novel having no idea what the heck I was doing but just having to "get it out."
ScreenCraft:
You were runner-up in the 2015 ScreenCraft Action Thriller contest. What's most interesting is that you accomplished that with the

very first script that you had ever written

. Did the success of that first script take you by surprise?
Sarah Hopkins: Absolutely. I remember getting my first feedback ever from the reader from Screencraft relatively quickly after I submitted it. It was so thorough with the grading structure, as well as the notes, and I remember thinking, "Dude, I have serious structure issues." To have that kind of validation yet constructive feedback prompted me to start editing it right away. I just knew that was as far as FET would go in the contest.
When I received the notification email from Screencraft about Runner-Up I may have freaked out a tiny bit. Just a tiny bit. As in, I'm surprised all the beautiful people in LA didn't hear me freaking out from Wisconsin!
ScreenCraft:
Tell us a little bit
about
FET

and the development and writing of the script.
Sarah Hopkins: FET is a US Marine acronym for Female Engagement Team. My husband deployed to Afghanistan in 2011, so at night after my kiddos were tucked in, I would search for news stories and reports about what was going on over there. I wanted to know what was happening in his world since he had to be pretty vague when we talked or Skyped. Over and over again I kept running into stories about these all-women liaison units deployed in small detachments with male infantry units. They would collect information from families and communicate with women while trying not to break cultural taboos during the counter-insurgency. What I found interesting was that they were "attached" to infantry units to adhere to the ban on women in combat roles. Legal lines in the sands of Afghanistan were very blurry when the enemy's a ghost. Even more interesting was that many of the first teams were formed by female volunteers in primarily other roles and jobs. They were quickly trained up in Pashto, field training, cultural awareness, and protocol. And many of these teams found themselves in firefights and full-on combat.
I know it's cliché, but I literally woke up with the story idea about a young female Marine mechanic who gets the chance to not only win hearts and minds in Afghanistan, but also proves herself alongside her brothers-in-arms outside the wire.
Between the hours of 10pm and 2am I started FET as a book. After a year-plus of writing the "movie in my head," it became apparent I needed to write it as a feature film. I enrolled in an online screenwriting course taught by the wonderful Christine DeSmet. Her process and teaching style was just what I needed to get the idea and concept matched up with the formatting of a solid script. That paired with your notes on how to make it studio reader friendly helped get an end result that was contest-ready.
ScreenCraft:
Full disclosure to all that you and I know each other well now, meeting before I started blogging for ScreenCraft.
Sarah Hopkins: Yes! It started at the 2015 University of Wisconsin-Madison Writer's Institute last spring! I hadn't even finished FET yet. I signed up for a "Practice Pitch" 5-minute session with you per your bio. Very graciously you listened to my idea, gave me your card, said if I wanted to send my first ten pages you'd "take a look." The rest is history. I emailed my first ten pages. Your wise thoughts, insights, and notes helped me figure out a hybrid-style of writing that combined the solid structure and classic expectations with a studio reader's expectations. We met for coffee a few times and had countless emails. I'm so grateful for your mentorship, sense of humor, and that you "get me" being similar ages and a Wisconsinite. I finished FET and you recommended I get it into contests, starting with ScreenCraft. So I did! First contest, first script.
ScreenCraft
: You and your husband have a military background. How, if at all, did you apply that knowledge and experience into this script?
Sarah Hopkins: My military experience in the Air Force played a huge part of the script.
But I still had to do a ton of research as the initial Female Engagement Teams were Marines. There is a BIG difference between US service branches in culture, lingo, protocol, etc. My awesome husband, a newly pinned Air Force Colonel -- so proud -- was an integral resource in creating "the world" as he had been deployed to Afghanistan and could help me with the broad strokes of how things looked and felt over there.
ScreenCraft:
What has happened with

FET

and your writing career since becoming a runner-up to the Action and Thriller Contest?
Sarah Hopkins: Oh boy. It's been a roller-coaster, for sure! A crazy-good one. I received an email from a producer in LA the day after the contest results were released asking to read it. After a submission release was signed and he read it, an option was offered within the week. You had recommended that I hold on making any decisions until I had talked to literary managers as part of my runner-up prize. I had phone meetings with two managers after they had read my revised script. I connected well with Jeff Portnoy of Bellevue Productions on what his notes were, albeit some major rewriting. ScreenCraft, particularly Cameron, also read my revised script and gave me very similar notes -- by the way, Cameron's notes will blow any writer's mind! They were so helpful and right in line with what Jeff's thoughts were as well. After a few more phone meetings and emails, he signed me! I am currently in full re-write/polish mode with FET and outlining a new idea for the next spec script.
ScreenCraft:
Attaining representation off of your very first script is usually unheard of in this industry. What was the process like leading up to signing with a manager?
Sarah Hopkins: I've been truly humbled and blessed by attaining representation with my first script. I think there were a few key things that pushed me along in the process of getting signed. First, I took the notes ScreenCraft had given, along with other's notes, and edited the entire script right away. He possibly saw that within a short amount of time I had made suggested revisions, showing him I was willing to hone my craft. Second, he was very clear that even with my "new" script there were things that needed to be addressed and I would have to be on board for a rewrite. He allowed me time to figure out where the rewrite would go. And I took time to make the decision instead of saying "YES!" right away. He asked great questions about my story and characters and I asked questions about the industry and writing life. The last thing I think he saw in me was initiative. I've been networking, attended a film festival, made calls and connections, flew to the Nashville Film Festival and Writers Conference, etc. It shows him I'm not sitting at my kitchen table "wishing" for things to happen. This process was definitely not a passive one!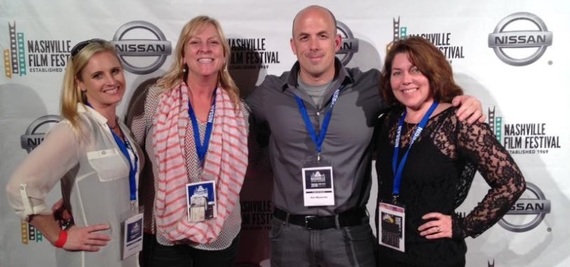 From Left to Right: Sarah Hopkins, Darla Phillips, Ken Miyamoto, and Rebecca Williams Spindler at the 2016 Nashville Writers Conference
ScreenCraft:
What is some of the best advice you've received along the way so far?
Sarah Hopkins: Find a mentor. Do your research. Read blogs and books but try to keep the voices to a minimum. Get the support of your family and friends -- sell them first on your idea and they will help you get through to the end. Write the dang thing -- all of it -- not just 42 pages! Be open to notes and others' ideas -- you can still do that without selling out on your original story. It's a marathon not a sprint. Network. Go to writers conferences!
ScreenCraft:
What are some of your inspirations and influences in your cinematic writing?
Sarah Hopkins: I grew up in the 80s and will never, ever forget watching Back to the Future, the Die Hards, Sixteen Candles and The Breakfast Club. Big, huge, blockbuster films speak to me. Great actors, producers, and directors that create an experience that give me goosebumps are so inspirational. And I love movies like Braveheart and Robin Hood with their epic soundtracks. When I write I have Pandora on listening to film soundtracks that help my scenes come to life.
ScreenCraft:
What is it like being a screenwriter living in the Midwest?
Sarah Hopkins: You wear a parka and finger-less gloves nine months out of the year while you type? Kidding. Honestly, the coolest thing about the digital world we now live in is that email and cell phones are a beautiful thing. Communication is instant. Which is better than the old days, right?
I'm new to this game, but have found in this short time there are a few issues with the distance from LA. It was made pretty clear early on that those of us not in LA have to work twice as hard and be twice as persistent. We're not close to take meetings, network IN the industry hub, and seem to be a bit pigeon-holed in the spec market only. But, with a great concept and a manager willing to honor hard work and dedication, we'll see if it can be done successfully.
Finding the Wisconsin Screenwriter's Forum has been instrumental in hooking me with "my people." A monthly meeting in Madison reminds me that there are other screenwriters in my neck of the woods working on their dreams, too, and that I'm not crazy. Well, maybe a little.
ScreenCraft:
How does your family feel about this screenwriting journey of yours?
Sarah Hopkins: I'm my family's biggest fan in all they do, and they are my biggest in all I do! My husband has been incredibly supportive on so many levels. His pushing me when I would doubt myself, my writing, and even the story itself was integral in me sitting my buns in a chair and finishing the script. My daughters have grown up with me writing FET over the past five years. They know the give and take of this weird writing life, and they keep cheering me on just like I do at their soccer games and school functions. My extended family and friends are super stoked about this little ride I'm on and so proud. I can't do any of this without their support and I'm grateful for it.
---
...
Whether you're a first-time screenwriter like Sarah, or a seasoned writer looking for that long-awaited big break, ScreenCraft's Genre Contests could be the difference maker in your screenwriting journey.
Calling all HuffPost superfans!
Sign up for membership to become a founding member and help shape HuffPost's next chapter