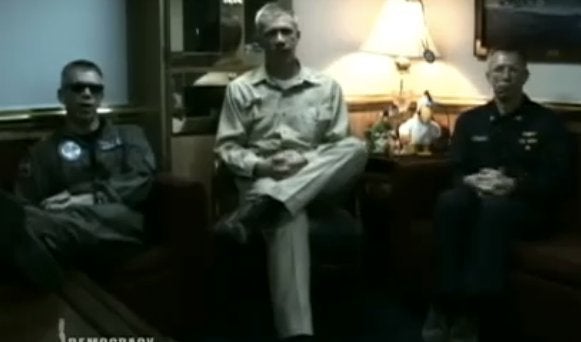 The U.S. Navy says it is investigating newly disclosed videos showing a top officer of a nuclear-powered aircraft carrier making homophobic slurs, yelling expletives, mimicking masturbation, and displaying other lewd behavior. The videos were made in 2006 and 2007 and shown to crew members of the Norfolk-based USS Enterprise during a deployment in the Middle East. The videos feature Captain Owen Honors, who was then the ship's second in charge and is now its top commander.
"An aircraft carrier is not a fraternity house," said Eugene Fidell, president of the National Institute of Military Justice and a lecturer at Yale Law School, in an interview on Democracy Now! Monday. "These videos are really a nightmare for Navy management. The kind of non-leadership displayed in the making of these videos is pretty startling. Officers have gotten fired for much less than this."
Democracy Now! host Amy Goodman also interviewed Corinne Reilly, reporter on military affairs for The Virginian-Pilot who broke the story. "All aircraft carriers and most Navy ships have public affairs offices that are meant to document and publicize the good work the Navy is doing while they are deployed. So our understanding from speaking with sailors who were on the ship the time is that that is how he [Honors] was making these videos, using the equipment in the public affairs office and sailors who work in that office would know how to do these kinds of things," Reilly said. "We're told he is the one masterminding it, coming up with these scripts and the ideas and bringing in help from folks who had that video expertise."
Calling all HuffPost superfans!
Sign up for membership to become a founding member and help shape HuffPost's next chapter