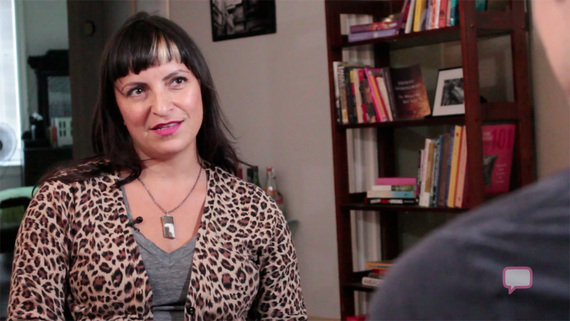 I'm From Driftwood is a 501(c)(3) nonprofit archive for lesbian, gay, bisexual, transgender, and queer stories. New stories are posted on the site every Wednesday.
In her youth Elicia Gonzalez from Broomfield, Colorado, experienced a shocking exposure to Prince that would become "very much so representative of what would happen with my sexuality later in life." As she became older and started to notice her sexual attraction to women, Elicia became confused:
I pretty much denied my sexuality until later college years, and then it just was this nagging sensation, if you will, that didn't go away, this attraction to women, this idea about exploring my sexuality more deeply. And so I moved to New York in 2001, and I pretty much dove head-first into my sexuality.
After falling in love with the culture and the many beautiful women in New York City, Elicia realized that there was a whole other world outside Colorado for her to explore:
I kept kind of exploring this sexuality path, and I think, for me, queerness and sexuality go hand-in-hand.
Elicia's sexual identity and activism are tightly linked together and with her inspiration, Prince. Elicia cites Prince's blatant sexuality and unapologetic sexual content with informing her personal politics:
I think that that is who I am as a person, and also who we try to be as an agency [GALAEI], which is unapologetically queer, unapologetically sex-positive.
Looking back, Elicia realizes that she has now become the figure that she needed when she was younger and in denial about her sexual identity. She hopes that LGBTQ youth will see her story and realize that there is excitement and self-love to be gained from self-acceptance:
I think for me, growing up, I'm a prime example of I didn't see other girls who looked like me, who talked like me, who thought like me where I was from, and so I want to be able to let others know that there's all kinds of us, that there's all kinds of queer people, and some of us have actually really good stories; it's not all devastation, doom and gloom.... I've had really fortunate luck with family, with friends, career. And I feel fortunate that I get to be my whole self every single day.
REAL LIFE. REAL NEWS. REAL VOICES.
Help us tell more of the stories that matter from voices that too often remain unheard.