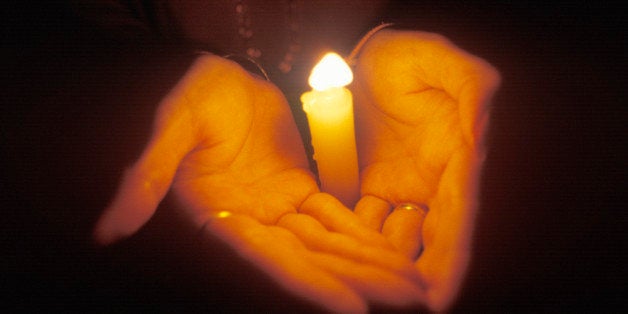 Since the early seventh century, Christians have celebrated All Saints' Day and All Souls' Day based on the belief that there is a prayerful spiritual bond between the living struggling now (those "militant"), those suffering in a spiritually purifying way after death, and those already triumphant over death in Heaven. First recognized as an official Christian feast day in the early seventh century, All Saints (or All Hallows) is still celebrated in Eastern Christianity on the first Sunday after Pentecost, but in the West, since the eighth century it has been celebrated at fall harvest time in order to disentangle it from a similar springtime Roman memorial for the wandering spirits of the dead. Formally known as the Solemnity of All Saints (or Commemoration of All the Faithful Departed), it is thus celebrated on Nov. 1 -- not as a holiday but rather as a "solemnity" (from the Latin for "whole" and "year," signifying that it is observed annually), which is the highest-ranking kind of feast day in Western Christian worship. This day also marks the first day of Transgender Awareness Month, with its own equivalent annual vigil, the International Transgender Day of Remembrance to commemorate those slain in anti-transgender hate crimes.
Historically, the Holy Roman Empire made celebration of All Saints' Day mandatory for all its citizens in the early ninth century, reaffirmed specifically for all Christians by the Roman Catholic Church in the mid-13th century. This essentially meant that all medieval Western Christians were required by both church and state to gather in the church to take communion on that day, abstaining from all work as on Sabbath. In specific, the worldwide Christian feast of All Saints' Day celebrates all those who are now united in perfect love with God in Heaven, and in Western Christianity, the following day (All Souls' Day on Nov. 2) also commemorates the departed faithful who have not yet been purified for union with God. For Protestants, All Saints' Day includes a reading of names of those members of the local worship community who have died in the past year, just as is often practiced at vigils for the Transgender Day of Remembrance.
The Christian celebration of All Saints traditionally begins with a vigil (night before a feast) on All Hallows' Eve (now called "Halloween"), during which those gathered together remain awake and watchful, praying a Litany of the Saints that includes psalms, prayers, hymns, a sermon or reading from the holy teachers of the community, and especially silent meditation. In part, the nighttime prayer vigil of All Hallows' Eve is based on the Jewish practice of beginning a new day at sunset (not midnight). The Litany of the Saints is prayed communally, with a leader guiding the prayer echoed by communal responses. On the actual feast days of All Saints and All Souls, Christians traditionally commune or communicate together, breaking bread by taking the Lord's Supper and observing another day of rest.
The following Litany of the Saints, adapted from early medieval Roman Catholic practice based on the Lord's prayer and John the Baptist's greeting of Jesus before he baptized him, celebrates All Hallows' Eve in a spiritual meditation and can also be adapted for the Transgender Day of Remembrance. (Additional TdoR resources can be found here.)
Lord, have mercy on us.
Christ, have mercy on us.
Lord, have mercy on us.
Christ, hear us.
Christ, graciously hear us.
God, our heavenly Parent, have mercy on us.
God the Eternally Begotten Child, Redeemer of the world,
God the Holy Spirit,
Holy Trinity, one relational God, have mercy on us.
All you holy founders, guides, prophets, apostles and evangelists,
All you holy disciples and followers of the Lord,
All you holy innocents,
All you holy martyrs,
All you holy leaders and confessors,
All you holy teachers,
All you holy priests and servants,
All you holy monks and hermits,
All you holy eunuchs, virgins, and bereaved, pray for us.
All you holy lovers of God, pray on our behalf.
Be merciful -- spare us, O Lord.
Be merciful -- graciously hear us, O Lord.
From all evil, O Lord deliver us.
From all sin or shortcomings,
From brokenness of our relation with You,
From sudden and unprovided death,
From the snares of evil,
From anger, and hatred, and all ill will,
From the spirit of that which is less than love,
From the scourges of storms, earthquake, diseases, hunger, and violence,
From everlasting death,
Through the mystery of Your holy Embodiment,
Through Your coming to us,
Through Your birth,
Through Your baptism and holy fasting,
Through Your sharing with us the Holy Mystery of Communion,
Through Your own cross and suffering,
Through Your own death and burial,
Through Your holy resurrection,
Through the coming of the Holy Spirit the Comforter and Advocate,
In the time of judgment, O Lord deliver us.
We who are broken and grieving, we beseech You, hear us.
That You would spare us,
That You would pardon us,
That You would bring us to true reconciliation and forgiveness,
That You would graciously govern and preserve our community,
That You would graciously humble our enemies,
That You would graciously give peace and true agreement to our leaders,
That You would graciously bring back to unity with us those who have strayed and lead all into the light of the freedom, truth and love,
That You would graciously preserve us in service to You and each other,
That You would lift up our minds to higher desires,
That You would eternally bless all those who do good and bear goodwill,
That You would graciously deliver our family, friends, relatives, supporters, and allies,
That You would graciously give and preserve the fruits of the earth,
That You would graciously grant eternal rest to all the faithful departed,
That You would graciously hear us,
God, we beseech You, hear us.
Lamb of God, who takes away the sins of the world, spare us and graciously hear us, O Lord.
Lamb of God, who takes away the sins of the world, have mercy on us.
Let us pray. Almighty, everlasting God, who reigns over both the living and the dead, You are merciful to all. We humbly beseech You that they for whom we pour forth our prayers, whether this present world still detains them in the flesh or the world to come has already received them stripped of their mortal bodies, may, by the grace of Your parental love, embrace Your forgiveness of all their sins and be Yours by faith and works. Through our Lord Jesus Christ, Your Child, who, with You, united in the Holy Spirit, lives and reigns, world without end. Amen.
Popular in the Community