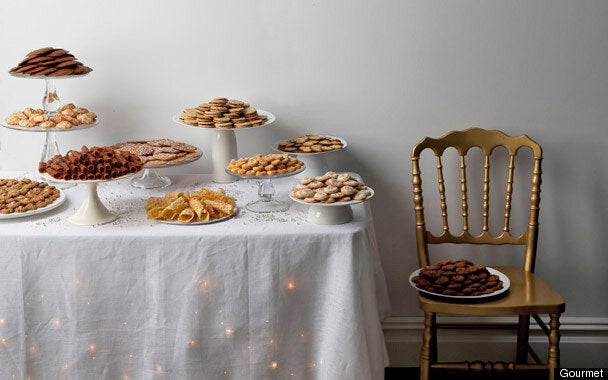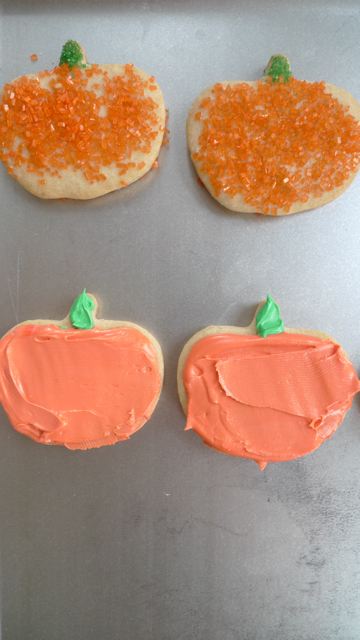 Well, Halloween is behind us, and if you are anything like me, you have been planning your Thanksgiving menu since August. OK, so that might be a little extreme, but maybe it's safer to say that you've been planning your menu since your latest copy of Martha Stewart's magazine arrived.
I find that I enjoy sticking with my favorite entrees year after year, but it is always fun to switch up the desserts. However, if you have multiple food allergies like me, this can be tricky. Well, now you don't have to worry; today I'm going to share with you a recipe that is an all-around crowd-pleaser both for its cuteness and its unbelievable taste.
I don't know anyone who isn't charmed by a cut-out cookie, and this one does not fall short. Whip up a batch of these now and freeze them undecorated to make your Thanksgiving even easier.
Shortbread Cut-Outs Decorated Two Ways
2 cups superfine rice flour
3/4 teaspoon baking powder
1 cup room temperature lard
1 teaspoon vanilla extract
2 teaspoons vanilla rice milk powder (optional, added for flavor)
3 tablespoons+1 teaspoon water
1 recipe Crazy Easy "Buttercream"
Preheat the oven to 350 degrees conventional or 325 degrees convection and line 2 baking sheets with parchment paper. Set them aside until you are ready to use them.
In a large mixing bowl, whisk together the rice flour, potato starch, sorghum flour, xanthan gum, baking powder and salt. Set aside. In the bowl of a stand mixer, cream together the lard and the sugar until they are light and fluffy. Beat in the applesauce, the vanilla extract and the lemon extract. Scrape down the sides. Add in the dry ingredients, alternating with the water and stir until the dough comes together.
Using your hands, pull the dough into a ball. Split the ball in two and wrap one half in plastic. Store it in the refrigerator until you are ready to roll it out. Place the unwrapped ball of dough between two sheets of parchment paper and roll it out o 1/4 inch thick. Cut the dough with a pumpkin cutter. Repeat until both balls of dough are gone. Place the cut cookies on the prepared sheets and, if decorating with the sanding sugar, spread the orange sugar on the base of the sugar and the green sugar on the stems. Bake the cookies for 11 minutes or until golden at the edges.
Let the cookies cool on the sheets for 5 minutes and then remove them to a wire rack to cool completely.
Makes 4 dozen 3 1/2″ cut-outs
3/4 cup organic palm fruit oil shortening
1/3 cup powdered vanilla rice milk
5 cups confectioner's sugar, sifted
1/4 cup + 1 tablespoon water
1 teaspoon vanilla extract
In the bowl of the stand mixer, cream the organic palm fruit oil and the powdered, vanilla rice milk until they are light and fluffy. Stir in the confectioner's sugar one cup at a time. The mixture will be crumbly. Stir in the water, salt and vanilla extract. Beat the frosting for three minutes on medium high.
Use immediately or store in an airtight container with plastic wrap pressed directly on top of the frosting in the freezer for up to three months. Thaw completely and beat again before using the frosting. To make the pumpkins, color 3/4 of the frosting orange and the other 1/4 green.
Support HuffPost
A No-B.S. Guide To Life
Related
Popular in the Community