When Natsuki, a friend of a friend, wrote to tell me that she would host me in Tokyo and that we would "burn the night until dawn" together, I believed that she was speaking metaphorically and that after a few drinks we would be safely in bed.
As is the custom in Japan, Natsuki treated me like a visiting emperor. She went out of her way to meet me at my hotel in Roppongi then zipped me by subway to the happening area of Shinjuku, where we strolled about, stopping to play a gambling game in a pink neon toy-shop (toys are encased in glass and one drops coins in a slot to see if a pair of metal claws will clutch one) and then off to the tops floor of a sushi place that offered delicious pineapple cocktails. The area bustled with girls in sweeping long ponytails, mini-skirts and plastic white boots, and laughing boys with punk hair.
"We go off to the baths now," Natsuki said simply. "And then in the morning, at five, we go to the fish market!"
"In the morning, the fish market?" I asked.
"Yes," Natsuki replied, matter-of-fact, as it turned out this is a not uncommon Japanese way to spend the night.
The bath-house was a huge temple-quiet establishment, of silent tatami mats and giant flashing troll masks on the walls. And an amazing system of lockers. First, one takes off one shoes and puts them in a locker, so one can walk barefoot to the reception to get another key for one's clothes' locker.
This was just the beginning of a many-stepped ritual.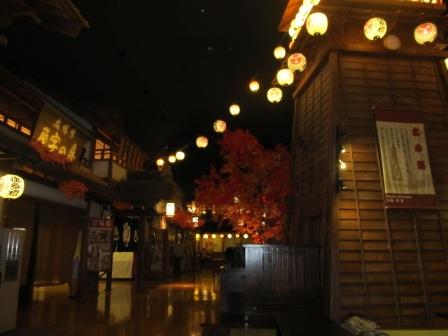 Key in hand, we stopped by a stand of many different yukatas and sashes, where we took some time to pick how we were going to be dressed for the night. Natsuki picked red and white; I chose a turquoise blue with a yellow sash.
In the locker, we changed into the kimonos, put Key Number One in Locker Number Two, and then headed across a banquet area, where men and women could mix, drink roasted tea and dine, and finally into another locker area, where we took off the yukatas we had just put on, to store in Locker Number Three, where we also put Key Number Two.
Then naked, we went to bathe.
It is a gorgeous system, the pre-bathing ceremony. In a stone-quiet room with many pools of different temperatures and salt consistencies, we went into soft-yellow lit booths, side by side, and washed before our individual mirrors. There was soap for the feet, shampoo for the hair, soap for the face, a cotton swab for the ears, a scraper for the soles, and both a shower nozzle and a bucket of steaming hot water.
Once clean (very clean), we quietly went around and sank in one after another of these baths, kicking up our feet and laying back.
"Heaven, isn't it?" said my host, as she lay back and sighed in the steamy fumes.
We were the only ones there. It was, after all, three in the morning.
"Let's go nap now!" said Natsuki.
We traced back our steps through Lockers number 3, 2, and l then encountered a surprise: A tatami room the size of an auditorium lined with white mats, with indented pillows, and sleeping Japanese, each with a yellow towel blanket. One Japanese little girl impressed me sleeping on her own mat, in total peace, curled up.
We could sleep there till six, Natsuki told me, when the lights came on.
Unless first I might wish a massage?
So at four in the morning, I went into the "massage room" and fell asleep while receiving a very decorous shiatsu massage by a man who kept reminding me to make sure my kimono was tightly shut.
Then back to the communal room to sleep.
"Now for the fish market and a sushi breakfast!" said Natsuki brightly in the morning, as a voice came on a loud speaker and told us collectively to wake up. "But first one more bath?"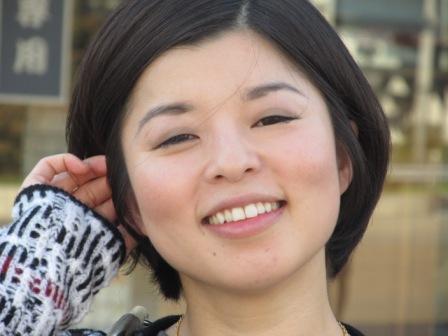 This time we went outside in the rock garden pools, where we were joined by naked Japanese girls, giggling, in couples. We sat in our steaming rock pools, each peacefully, as the sky turned blue. Natsuki noted that the bath-house system is wonderful for Japanese who miss the last subway train, while out drinking. "This way we can be fresh in the morning and go to work as normal!"
"Do you sleep in Japan?" I asked, noticing that everyone seemed fine with a few hours of sleep.
"Oh, five or six hours of sleep is enough for us. Why I have so many things I want to do awake!" said Natsuki. In just a few hours, for example, she was going to meet a foreign minister in government, to help her boyfriend, a reporter, interview him. So we had to be quick at the fish market, which she zipped us to in her car.
Now the Tsukiji fish market in Tokyo is, as one would expect, the largest in the world, with hundreds of men rolling carts, scraping scales, piling up fish I have never seen on this planet before, with twisted tentacles and purple flesh, many still alive, as they lay in bean-powder sauce.
But what I did not expect is that the sentence you have not eaten sushi before unless you have eaten it in Japan--and at the fish market--is not even near an exaggeration.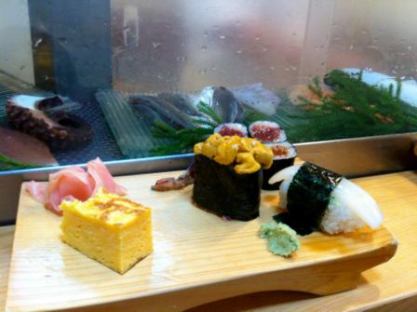 Small breakfast sushi shops line the market, with dozens of people waiting outside to sit at the booth, where the sushi chefs gallantly prepare one sliver of raw tuna and eel after another and slide it boom on your plate, already prepared in a slather of ginger and soy.
The fish tastes so delicate it is like butter down my throat.
"It's a nice life," said Natsuki
I left her there. She was off to meet her minister and I was set to take the "Romance train" to Hakone, south of Tokyo, a whole town devoted to baths -- each hotel with its own "onsen" access to hot spring waters.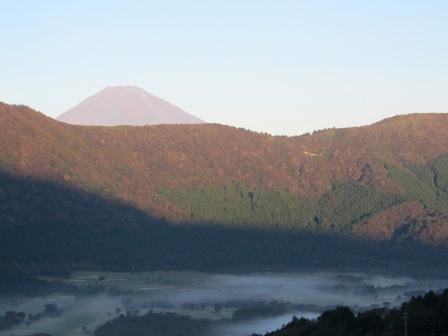 It is a Japanese tradition: Everyone I met has spent at least one weekend in Hakone.
My own ryokan has a view of Mount Fuji from its terrace, the sunset splendid on the crater.