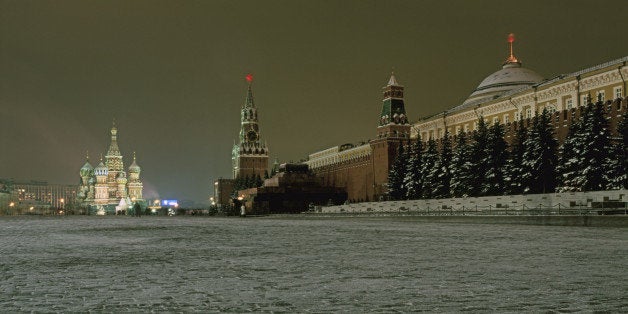 Russia is spooky. With Vladimir Putin at the helm, his annexation of Crimea, support for separatist in the Ukraine, it gets spookier every day. But to a 9-year-old girl years ago, Russia was a romantic and artistic country, despite the fact that we were then in the midst of the Cold War.
I was that young girl who saw a movie called Never Let Me Go. It starred Gene Tierney as a Russian ballerina who falls in love with Clark Gable, a newspaperman on the Moscow beat. They marry, and he rescues her from under the nose of the communists. Americans were too clever to worry about communists, I decided.
So, like the ballerina, I fell in love, too. Not with Mr. Gable. It was the idea of seeing the Bolshoi Ballet, the Hermitage Museum, the countryside of Dr. Zhivago.
In 2000, my future husband and I established a Film Program at the local community college where I then worked. The program became a huge success. In my husband's classes, a young, Russian student impressed him. Natasha wanted to do a movie about, Ima Hogg, a Houston icon, whose dramatic life story had international scope. He asked me to meet Natasha to perhaps assist with the film.
We wrote the script for Empress of Texas and were in the midst of development when Pussy Riot, a punk rock collective, erupted in the news. Three members were arrested for singing a punk song in Moscow's largest cathedral. When Nadia Tolokonnikova and Masha Alykohina were sentenced to two years at hard labor in the infamous Russian prisons, Natasha was in Moscow.
The two-year prison sentence shocked her. In the '90s, when Natasha grew up, Russia was developing into a more democratic society. Apolitical and a U.S. citizen for years, Natasha suddenly became aware of the oppression in her native land.
Agitated, she returned to the U.S. and spoke about the women to our executive producer on Empress of Texas. He impulsively said, "Let's do a documentary." It was October 2012.
We raised a budget quickly. I had to apply for a visa. The application asked, "Why are you traveling to Russia?" I suspected my answer could sink any chance to finally see the country. "Don't say business," a Russian/American businessman advised. "The visa will take months or you could be turned down." So I lied to Mother Russia and wrote "tourist" on the application. Approval took only a few days. We hired a Russian camera crew, translator and driver and flew to Moscow on December 12, 2012.
I'd had excellent advice. While in Moscow, a filmmaker who covered the opposition movement had all of his footage confiscated by the police. Later, Russian authorities refused a Swiss filmmaker's visa when he wrote on the application: "Business --filming a documentary on Pussy Riot."
Upon entering Russia, customs agents searched our bags and found three hard drives in Natasha's luggage. "Why do you have these," he asked. "They were for downloading family photos," she said. In a country where freedom is a word with little meaning, lying becomes a habit. Like Gable, to a free American, it is a tactic to outsmart oppressors.
We rented two apartments in Moscow to interview dissidents, Pussy Riot's lawyers, artists and journalists. As our crew carried cameras into the flat, an elderly woman monitored visitors. Watching federal television (only one independent TV station exists, and one must pay for cable to watch it), she glared at the activity. No welcoming desk clerk or doorman in this establishment.
Our "watchdog" told the crew we could not film in the apartment as Putin drives to work on the street below. We moved our cameras to the second apartment. Later, Katie Samutsevich, the Pussy Riot member released early, was scheduled for dinner at the first apartment. That day two different women called the landline there and complained we were making too much noise. We had been especially quiet after the earlier camera warnings.
Katia was to arrive at 8 p.m. but ran late. At 8 p.m. a knock at the door and outside stood three policemen. They asked what we were doing and demanded Natasha's passport and the apartment lease. A dual citizen, she gave them her American passport. Katia arrived four minutes after the police left.
Back in the U.S., we completed the documentary. PUSSY RIOT - THE MOVEMENT is premiering in New York City at AMC Village 7 on February 19 and in Houston, Los Angeles and theaters around the country. Now when I think of Russia, the beautiful architecture, especially Red Square and the Saint Basil Church there, the wide boulevards, the beautiful women and handsome men on the streets, I also remember something else. Russia is definitely spooky.
For information on the documentary, visit here.
Carole Keeney Harrington is a journalist and filmmaker who is the producer/writer of the documentary, PUSSY RIOT -- THE MOVEMENT.
REAL LIFE. REAL NEWS. REAL VOICES.
Help us tell more of the stories that matter from voices that too often remain unheard.