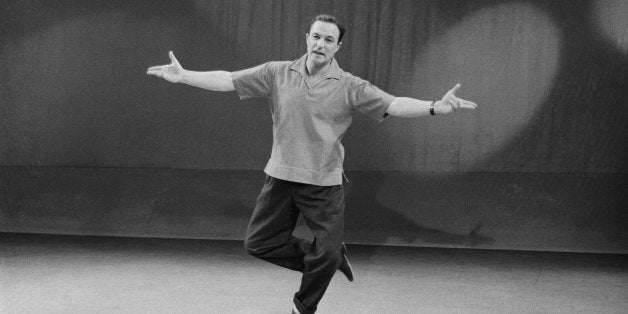 When I learned recently that so many of my good friends were cast in the upcoming "reimagining" of An American in Paris, I eagerly went to the website to read about the new production scheduled to premiere at the Théâtre du Châtelet in Paris on December 10, 2014, and to open in New York City next spring. Because the movie was such an important part of Gene's career -- and meant so much to him personally -- I was surprised not to see him even mentioned on the page.
When Gene first brought me to California to write his memoir back in 1986, he was, for me, essentially a blank slate. I had to get up to speed on everything. Because I would eventually wear the dual hat of wife and biographer, I felt it incumbent upon me to double- and triple-check my primary source -- my husband. As a result, I spent hours at the University of Southern California library exploring the expansive Arthur Freed collection. Most of Hollywood had little or no regard for its history (film scores were tossed in a landfill, and film cans were often of more value to executives than the film in them). Fortunately, Freed donated the records and production notes of many of my husband's greatest and best-known films, including An American in Paris and Singin' in the Rain. These minute-by-minute accounts provide a remarkably detailed -- and accurate -- record of the preparation, rehearsals and shooting schedules of the movies. In the notes regarding An American in Paris, Gene is frequently listed as "Director," with Minnelli's name following in parentheses.
While Freed was producer of the MGM musical and Minnelli the credited director, Gene was the choreographer of the picture and also the director of several important segments of the film, including "Embraceable You," "I Got Rhythm," and the ground-breaking, seventeen-and-one-half-minute "An American in Paris Ballet." When I asked Gene about his involvement, he said, "I discussed the shooting with Vincente Minnelli and the cameraman. But I had final control of the camera. If it ever came to a question, I would have the last word. The director usually has final say. ... But it was my baby, mainly, even though it was a collaborative effort." As Leslie Caron confirmed when asked to comment about Minnelli's role shooting the picture, "Oh, no, it was Gene Kelly behind the camera!"
On the website for the new stage version, Arthur Freed is described as the "one who put together a set of existing songs on which he created a story." According to Gene, it was he and Minnelli who chose the songs and the writer Alan Jay Lerner who crafted the script on a typewriter as he sat in his bed at the famed Bel Air Hotel. "We had a choice of every song the Gershwins ever wrote," Gene said, explaining the selection of numbers. "You might say, 'Oh, boy, what riches.' But we didn't know what to select -- we spent more time trying to fit the songs in. ... I don't think we could have ever done An American in Paris if we hadn't had someone like Alan Jay Lerner, who could adapt every time Minnelli and I changed a song and put it in a different place."
Though Gene did not receive any of the film's eight Academy Award nominations, he was presented with a special honorary Oscar "in appreciation for his extreme versatility as an actor, singer, director, and dancer, and specifically for his brilliant achievements in the art of choreography on film." That the history of the film is so badly bungled in the presentation of the new production -- and that Gene is omitted entirely -- is both sad and careless.

I have been told that the new stage production diverges significantly from the original; that the story, the music and the dance are changed. If this is the case -- if everything is indeed altered so considerably -- why is it then called An American in Paris?
Gene never relished seeing his own films. He watched them with me, begrudgingly, because of our work together. But he always saw things he could have done better. One exception was An American in Paris. Though he disliked the opening number, "By Strauss," which he felt "never came off," he thought the rest held up. As we ran the film together, nearly 40 years after its inception, he said frankly, "Take those first 10 minutes out, which are embarrassing, and it's a great picture, and, in 1951, way ahead of its time." When we eventually reached the end, he turned to me and said, "I'm glad I saw it. There are some things in there that are sensational -- that nobody else could have done -- and I'm proud of them." It was an important confession for a man who found it difficult to say, "I did that."
The last project Gene was engaged to do before his massive stroke in July 1994 was a recreation of the "American in Paris Ballet" for the Three Tenors Concert at Dodger Stadium. He was excited about the work -- it would be his "swan song," he said -- and each night he sat in his chair with a yellow legal pad drafting ideas well into the wee hours of the morning. He was very proud to be joining a team of friends and esteemed professionals: Zubin Mehta, Plácido Domingo, Luciano Pavarotti, José Carerras. Determined to make the ballet something special and unique, he enlisted the award-winning production designer Rene Lagler to design the set and contacted Helgi Tómasson, the artistic director of San Francisco Ballet, about the possibility of using several dancers from the company. Instead of just one pair, as in the movie, Gene wanted multiple pairs to convey the emotion of each section of the ballet. Sadly, this beautifully-conceived project never came to pass.
Gene would be the last person to want new generations to mimic his work. He always encouraged young people to take what he did and go beyond. Similarly, he would never wish for those following in his footsteps to forget the important role he and others played in both the creation and execution of the masterpiece that begat this new production.
At the very least, the producers should rightfully acknowledge the very broad shoulders upon which they stand.
Biographer and film historian PATRICIA WARD KELLY is the widow of Gene Kelly. She has worked as a writer at a film production company, as a contributing scholar for the authoritative Northwestern/Newberry Writings of Herman Melville, and as a freelance journalist. She and Kelly met at the Smithsonian in 1985, when he was the host/narrator for a television special for which she was a writer. Soon after, he invited her to California to write his memoirs, a job for which she recorded his words nearly every day for over ten years. They married in 1990 and were together until Kelly's death in 1996. Currently, she serves as Trustee of The Gene Kelly Image Trust and Creative Director of Gene Kelly: The Legacy, a corporation established to commemorate Gene Kelly's artistry worldwide. She lives in Los Angeles and is completing the book about her late husband.
Mrs. Kelly's one-woman show GENE KELLY: THE LEGACY An Evening with Patricia Ward Kelly is currently on tour in the U.S. and abroad. For more information about upcoming GENE KELLY LEGACY events, please go to the official Gene Kelly website www.GeneKelly.com to "subscribe" and like "Gene Kelly The Legacy" on Facebook.

Popular in the Community