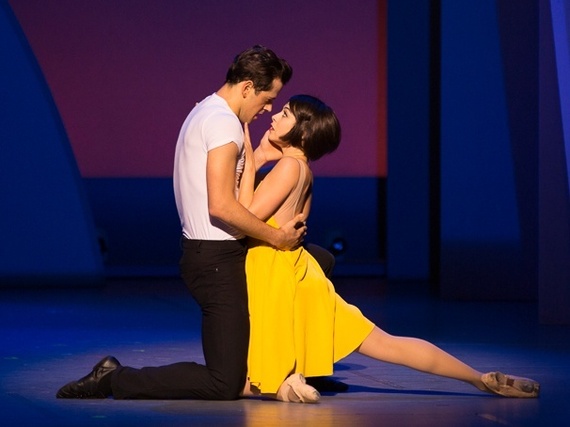 Christopher Wheeldon's elegant new stage production at the Palace Theater of George and Ira Gershwin's An American in Paris is a must-see, however altered from the original 1951 movie version. In the film, it is a few years after the war when young artist Jerry Mulligan (played on Broadway by Robert Fairchild) meets and falls in love with Lise Dassin (Leanne Cape), a pretty little ballerina with movie-actress Leslie Caron-looks. Tony-nominated playwright Craig Lucas has adapted the story with great style and substance, moving it back to the very ending of the Nazi occupation of France, reminding the audience of the terrible toll taken by the war. Bob Crowley's beautiful costumes, along with Wheeldon's poignant choreography, practically bathe the performers in the malevolent Nazi swastika. Sets and lights, used in a smart, daring manner, reflecting physical structures as well as the sea and stars, likewise lend atmosphere to the production.
The triangulation that takes place between three friends -- Jerry, French entertainer Henri Baurel (Max von Essen) and Jewish-American composer Adam Hochberg (Brandon Uranowitz) -- for the affections of Lise works well. It's not until late in the play that all become aware that it's Jerry Lise truly loves. In the meantime, Lise is indebted to Henri for efforts he made on her behalf during the war, and tension builds further as art dealer Milo Davenport (an excellent Veanne Cox) falls for Jerry, and Henri's parents push their son to marry Lise, since, as his mother is fond of telling him, he is "not getting any younger." Everyone has a secret, including Adam, who loves Lise and works with passionate dedication on a ballet just for her, financed by Milo.
The play's weakest moments are in some of the performances. If you are going to insist on doing French accents then you ought to learn to do them. The director should have been on top of this, as none of the actors playing French characters mastered it, and slipped in and out of accent throughout the performance. Meanwhile, Uranowitz's New York Jewish accent was over the top and should have been more, well, modestly asserted. Oscar Levant, who played Adam in the film, was a brilliant man whose accent wasn't so loaded with sturgeon and lox as to make you never want to taste the stuff again. (Levant, by the way, is mentioned in the story here.)
The most important thing missing, however, seemed to be sexuality and romance. The movie was short on story, but had all of that longing a hundred times over. The opposite is true in the play. Wheeldon's choreography is lovely, but a crucial element is missing. When Jerry raises Lise in the air during a dance number, for example, the moment should be sustained and elongated. This is what we all feel when we are in love, not wanting to let go, wanting to hold the moment forever. While all the dance numbers were elegantly done, only the opener captured that heart-hurting element of thirst and hope. (In fairness it should be noted that Von Essen and Urnaowitz consistently delivered emotionally poignant performances.)
Gershwin's music, always a gift -- "The Man I Love," "I Got Rhythm," "Let's Build a Stairway to Paradise," "An American in Paris," "Concerto in F" -- was marvelous and wonderful to hear as conducted by Todd Ellison.
Cast: Robert Fairchild, Leanne Cope, Veanne Cox, Jill Paice, Brandon Uranowitz, Max von Essen, Will Burton, Attila Joey Csiki, Michael Cusumano, Taeler Cyrus, Rebecca Eichenberger, Sara Esty, Laura Feig, Heather Lang, Dustin Layton, Nathan Madden, Candy Olsen, Rebecca Riker, Shannon Rugani, Garen Scribner, Sarrah Strimel, Charlie Sutton, Allison Walsh, Scott Willis, Victor J. Wisehart
Director-choreographer: Christopher Wheeldon
Music & lyrics: George and Ira Gershwin
Calling all HuffPost superfans!
Sign up for membership to become a founding member and help shape HuffPost's next chapter