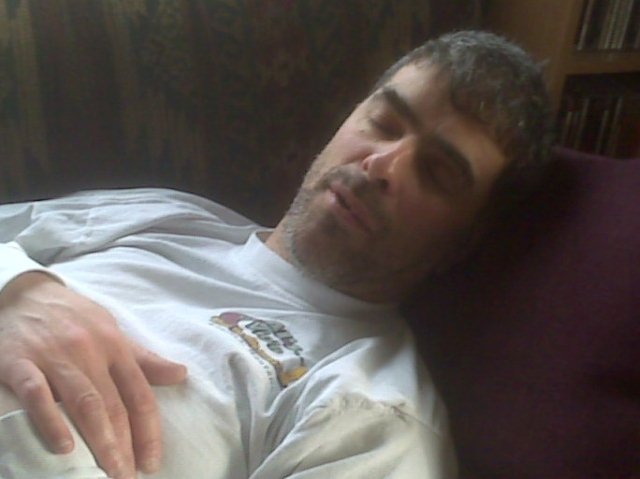 Gary Stein is an American. He teaches high school in Missoula, Montana, for God's sake; you can't get much more American than that. But he was raised in Long Island, one of the first communities in America to catch soccer fever. And he caught it bad, pretty early in life. I'm best friends with his twin. We bonded when we went to see Brazil playe Cameroon at Stanford Stadium in World Cup 1994. It was one of the great days of my life: mad splashes of crazy color, painted faces, spectacular hats, bells and drums and whistles beating out the pounding syncopated rhythms and gorgeous ancient melodies melodies. It was insanity; it was madness; it was humanity at its very best. It made me understand something profound and deep about the ecstatic exuberance of two worlds that, as an American, I didn't know anything about: Africa and South America. It changed the way I think about both of those continents. It changed the way I think about myself and how little I celebrate ecstatically about anything. I've been trying ever since to incorporate ecstatic celebration of life into my daily routine. As an American, it's not easy. And that's why soccer really matters.

Gary Stein is an American in South Africa right now. When he told me he was going, I turned several shades of green with envy. Last year, when I got a book deal for a guide to World Cup 2010, I started making plans to take my wife and daughter to South Africa. As I did my research, I kept reading in European and American media outlets that a bunch of marauding murderers were going to be killing innocent soccer fanatic civilians like me. Young women were going to be grabbed off the street and sold into sexual slavery. Well, that put the kibosh on the trip for my daughter, because my lovely and talented wife is a nervous Jewish mother, and the thought of our two half year-old daughter being snatched out of her arms and sold into sexual slavery was just too much. So I decided not to go. I'm sad not to be there, because the best way to enjoy this game is live. Which, by the way, is not true of American football. Last time I went to an NFL game, it was maddening to watch the two teams just standing around looking at each other while money was being made on commercials. But I wanted to give Americans who aren't at the epicenter of the galactic madness which is currently fevering planet Earth a taste of what it's like to be in South Africa at World Cup 2010. So I asked Gary if he would fill me in, and he was gracious enough to do so.
DHS: Dude, what's the word from Johannesburg?
GS: Oh, man, this place is beautiful! South Africans are some of the most engaging, authentic, and welcoming people I've ever met. It's been pure bliss.
DHS: So, did you see any of the propaganda about how dangerous it was gonna be in South Africa?
GS: Don't believe the hype, as Public Enemy would say-
GS: American media, at least what I saw pre-World Cup, was way off base. Yes, Joburg is a dangerous place in spots, in the same way New York or Toledo is dangerous in spots. But this trip has far exceeded expectations, it's been magic.
DHS So, you were at the USA game, was it insane?
GS: Well, to start with, I'm with the group of Americans who are not huge fans of our national anthem. But in my little section of Ellis Park, (where the 1995 Rugby World Cup final was; see Invictus) with 60,000 people, maybe half of them US citizens, the Star Spangled has a certain lusty, vitriolic vibe to it. I could feel the undertones of a massive "fuck you!" to the world, a brashness that really is the most American quality of all. We love and crave the attention, and aren't scared in the least to let people know we're up for it, whatever "it" is. Kind of a hooligan's creed, a proto Original Gangster rhyme. The American soccer tribe was announcing itself to the world, and I'm sure my lips weren't the only ones trembling in awe.
DHS: Didn't you travel in what is now Slovenia when you were right out of college?
GS: Yeah, it was in 1983 in what was then Yugoslavia. It was incredibly gnarly and tense. Yugoslavia was never really a unified whole, it was cobbled together by statesmen on the winning side of WWI. Christians, Muslims, Croats, Serbs, Slovenes, this country barely ever stood a chance at survival. Recall that the war, whose conclusion begat Yugoslavia, was begun by an assassination in the city that would be in the very center of the new country. On a whim, I decided to go hiking in the Julian Alps, in the northern section of Slovenia. I went to a tiny hamlet, Bled, then to the tallest peak in the country, Mount Triglev. I keep a photo of sunrise on Triglev on my bulletin board at school, to remind me of that time, that place, of who I was then, and hopefully who I am now. Slovenes were and are a strong, hearty people, and at the same time, generous, maybe to a fault.

DHS: Don't tell me we're going all soft inside for Slovenia, as USA was about to do battle with them, with the entire World Cup at stake?
GS: Of course I wanted the U.S to win this match, but not out of malice or ignorance to Slovenia. I was able to engage a few Slovenian fans, and was happy to share a handshake, a pat on the bak, a gesture and wish of good luck. "Dobro" means "good", and it may be the only word you need to know when you meet these wonderful people.
DHS: And that's why soccer really matters.
DHS: Still, you wanted USA to destroy them on the field, yes?
GS: Of course. That goes without saying doesn't it?
DHS: I thought so. In my home opinion, US-Slovenia was one of the best games I've seen so far, for both drama, and a bunch of truly world-class goals.
GS: Absolutely, this match was one of the highlights of the first round. The Yanks looked a bit disjointed early on, indecisive and hesitant, when they were made to pay, in the first 15 minutes, you could feel the groans come up from the crowd, mixed with the omnipresent vuvuzela. Then, we felt the tide turned, and the U.S. hammered the Slovenian goal. I'm not quite sure how the ball didn't go in. And just like that, on a wicked counter right before the end of the half, Slovenia led 2-0. I'm sure the watching world turned off their sets. Yet, Americans inside the stadium weren't hand-wringing or losing hope. We were recalling Brazil's comeback from 0-2 down last year against US in the Confederation Cup. Sure enough, Sam's boys came out with some high octane stuff. And Landon Donovan stepped up to truly announce himself. I used to hate this belligerent, selfish punk, but since the tiff with Beckham awhile back, he's been transformed. He has learned how to be the best of himself. He appears to have found the balance that all of us seek. He entered into that rarified air of "flow", where thinking and doing blend into a seamless fabric.
DHS: You're so Zen, just one of the things we love about you Gary. And that goal was sick, the way he practically scalped the Slovenian keeper with the ball. Did you see him cowering like a little pansy flower?
GS: I've seen it in replay, and the more I see it the more technically brilliant it gets. But that doesn't begin to capture the transcendent explosion of that moment, to watch him create that magic out of nothing, and then to go berserk with everyone there.
DHS: Word. So what about the phantom foul and the disallowed goal heard round the world?
GS: Well, with 8 minutes to go, the match was 2-2. The noise of 60,000 had to overwhelm even the players. Oh my God, the utter pandemonium. Off a Donovan (who else?) free kick, Edu slots the ball into the back of the net. I've entered that state of blissful fandom previously once or twice, and it's something that can't be fabricated or contrived. It's completely heart-centered. Strangers hugging strangers, and ecstasy that surpasses any drug. My glasses actually broke in the crush, and I could have cared less.
DHS: And that's why soccer really matters.

GS: Word to your mother. So then, with no explanation, the Slovenians are playing from the back, and the Americans are scampering to get back in position. No goal. Offsides? What the fuck? Talk about "coitus interuptus". Elation to frustration. Sure the comeback was great to get to 2-2, but that was the only comfort to be had.
DHS: Donovan said he was "gutted."
DHS: And now it's on to Algeria. All we have to do is win. If we can't beat Algeria, we don't deserve to go on.
GS: Your lips to God's ear.
DHS: So who are some of your favorite players you've seen in the flesh so far?
GS: Diego Forlan, Landon Donovan, all the Mexican team, all the Argentina team, Wesley Sneijder, Ghana. But no one can touch Leo Messi. He is truly extraterrestrial. I consider it one of the highlights of my LIFE to have seen him play live. He can leave you speachless and in tears. I will tell my grandchildren, or at least my students.
DHS: And that's why soccer really matters. Hey, thanks, dude.
GS: Just keeping it real in Johannesburg.
David Henry Sterry is, with Bay Area literary legend Alan Black, co-author of The Glorious World Cup: A Fanatics Guide, for those who like their soccer with a side of kick ass.
http://www.davidhenrysterry.com/the-glorious-world-cup-a-fanatics-guide/
http://www.facebook.com/pages/The-Glorious-World-Cup/302676965935
http://www.thegloriousworldcup.com
Calling all HuffPost superfans!
Sign up for membership to become a founding member and help shape HuffPost's next chapter