Tod Emko found a dog near death in the Dominican Republic and a new legend was born! In honor of this weekend's upcoming new Comic Book Day, I spoke to Todd. Read the tale, herein!
What was the genesis of this project?
The inspiration to start the project, very simply, came from my three-legged super-hero dog, Piggy! I was on a volunteer veterinary campaign in the Dominican Republic (with a group called Animal Balance), and we came across a poor puppy who got hit by a bus. He was nearly dead by the time we found him. It hurt just looking at him. After his emergency surgery to amputate his hurt leg, I adopted the hapless little tyke, brought him back to New York with me, and named him Piggy, since he resembled a hairless piglet.
Despite his posh life in New York, Piggy never forgot what it was like to suffer. He started developing a weird super power. He would single out one person out of a crowd, and go to them, and lay a gentle paw on them for comfort. The person would invariably start crying and say, "How did you know I needed that!" It would turn out that the person just suffered a personal tragedy, and Piggy could sense that. I got many phone calls from his dog walkers, who would yell, "Do you know what Piggy just did! It was unbelievable!"
I serve as a ship's crew member for a group called Sea Shepherd, which pursues and stops the illegal Japanese whaling fleet in Antarctica every year. At the beginning of 2013, when I was in Antarctica on campaign, I saw a lot of amazing stories. Our adventures were being recorded for the Animal Planet TV show, Whale Wars. And I realized that amazing stories needed to be told, so that others could be inspired to do good in the world. Whale Wars was telling our stories in the Antarctic, but I had an amazing story right at home that needed to be told too.
How did you get involved?
A Piggy's Tale is the first creative project of my Galapagos animal hospital project, Darwin Animal Doctors. I wanted to tell the story of our patients and our friends, in an entertaining way that would encourage heroism and compassion. A Piggy's Tale also stars Darwin Animal Doctor's first patient, Simon, a kitten from Galapagos, who's street smart and Piggy's best friend.
To tell the story through pictures, I tapped my friend Ethan Young, who's known for making the comic Tails. Besides me, Ethan is the only other vegan Asian-American New Yorker, crazy-cat-lady comics fan I know, and he's an excellent illustrator. So it was a no-brainer to pick him to draw this comic. He's also a friend to Piggy, so he draws Piggy's expressions with a close familiarity other illustrators wouldn't have.
What's next?

Piggy and I will be at Free Comic Book Day, the afternoon of May 3, at Carmine Street Comics in NYC! We've already done our release signing event at that store, and they're eager to have Piggy return to the shop.
We also just got into Special Edition NYC. So my illustrator Ethan Young and I will be there selling issues one and two. We're really excited about it! Also, we just exhibited at our first Comic Con -- Asbury Comic Con -- and it went better than we could have hoped! We sold nearly 150 comics in two days, and everyone came back to tell us how much they loved it. So we're very encouraged by that, and we want to sign up for a lot more Comic Cons now. To start, we'll probably do Baltimore Comic Con, and we've applied to NY Comic Con.
A Piggy's Tale issue No. 2 is currently in previews, so we'll know how many to order at the end of this month. Meanwhile, we're almost finished with issue No. 3, and we're already getting requests for additional series after this four-part series finishes!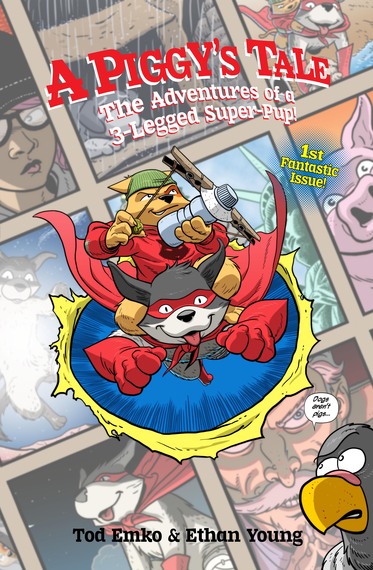 Popular in the Community