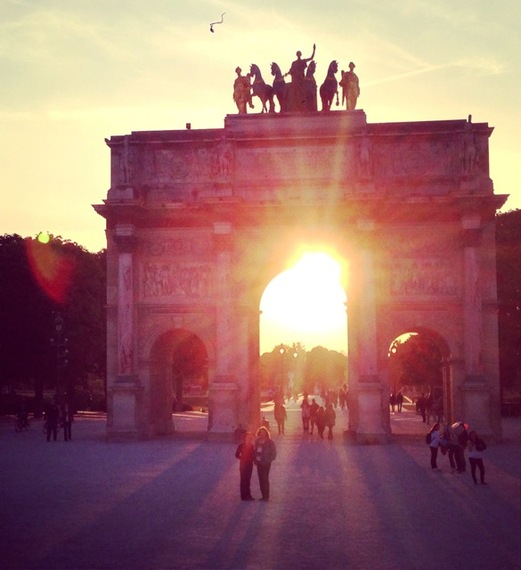 An American writer in Paris. Me. Well, maybe? I'm sure going to try. The pressure is palpable. I can feel Hemingway, Stein, and Fitzgerald. The whole lot of Lost Generation ex pats anticipating my pièce de résistance. It's a lot to live up to and I'm really just here attending a wedding for four days. How can I capture this enchanted city's essence? I'm not tortured, in the midst of a world war or forlorn. I don't chain smoke; drink café, or pound shots of Bourbon until 3 a.m. Can you write a masterpiece high on Nutella crêpes and Orangina? Is that legit?
I should hunker down at Les Deux Magots. Entrench myself at a tiny rickety café table and gaze at the stylish Parisians rushing by in their ballet flats. Munch on steak frites and guzzle a glass of Bordeaux. But the closest I get to the café is riding a tour bus with the wedding party.
Plan B. I decide to roam the left bank armed with my notebook. I'm ready to soak up the energy, culture, and architecture. I leave my post on the Île Saint-Louis. The cobblestone narrow streets are crowded with a plethora of tourists. Tiny cars barely squeeze their way through. They honk at the rowdy line of patrons waiting for a cool glacée. The Seine is calm. It's bluish green and from a distance looks as clear as the turquoise Caribbean Sea. The clouds are puffy white marshmallows that intermittently dot the cobalt sky. It's a perfect sunny Spring day.
Notre Dame peaks out from the leafy green trees. It's vertical, ornate, and exact. The flying buttresses reach high to the sky and wave. Charming cafés mark almost every corner. Red and white striped awnings, brilliant yellow signage, and customers relax enjoying a bite or a cocktail. The pace is slower. Folks are not glued to cells, taking selfies, or constantly checking social media. They chat and enjoy each other's company in person.
Cobblestone streets lead down secret passageways, lined with a myriad of hefty motorbikes. I spot French graffiti's artist Invader's small black and yellow ceramic monster cresting the side of a building. A turquoise Vespa casually rests next to a large window outside a four star hotel. Flower boxes chock full of red geraniums cheerily poke their way out.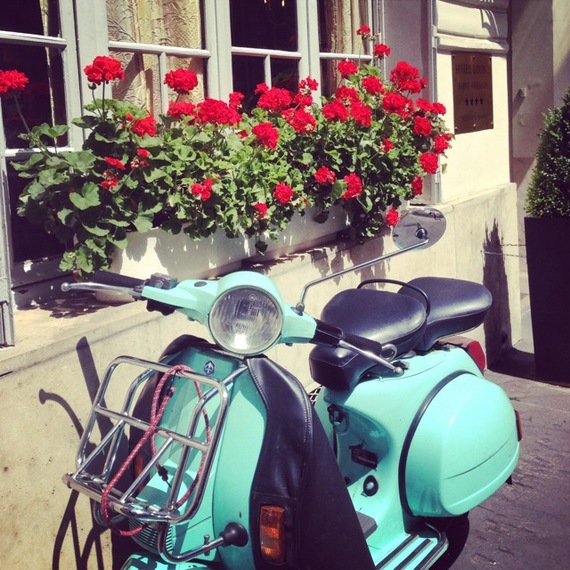 I make it to Le Bon Marché which makes Barney's New York look like TJ Maxx. Lanvin, Chanel, Dior, Louis Vuitton. La Grande Épicerie de Paris contains the most luxurious selection of jams, cheeses, pastries, and specialty goods from around the globe. The floors are marble; bottles of water neatly line up in shiny colored green and clear glass. They sparkle and reflect off the retailer's lights creating a shimmering glow. The food emporium is so fancy, I feel like a hobo in my Converse All Stars.
So far no literary masterpiece. I'm just a tourist chomping on a flaky buttery pain au chocolat and wandering the streets. I go to the Musée d'Orsay and see all the Impressionists and then pass by the Lovers Lock Bridge. Thousands of sweethearts cram their padlocks onto the railing. It is littered in a sea of chunky brass and metal. One stacked on top of the other, love notes and names adorn the outside in bright colored magic marker. The key tossed into the Seine memorializing eternal love and devotion.
Sunset is magical. A golden orange hue sparkles and the setting rays burst their way through the mini Arc de Triomphe at the Louvre. Red, white, and blue flags flap from the tops of domes and gilded carousels amaze on a stroll.
The wedding is lovely. A perfect mix of French tradition and charm. The bride looks like a delicate cream puff. Rose petals line the tables, tiny candles, and intricate golden candelabras cast shadows. A string quartet plays. The vows are sweet and authentic. Tears are shed.
But still nothing. I lugged my notebook all over Paris searching for that tiny kernel of literary genius. I had high hopes for pulling from my depths an emotional piece to speak to the ages, but instead I was just a wedding guest who ate copious amounts of delicious peppery cheese, French macaroons, and chocolate éclairs at Ladurée. This was my third expedition to Paris and it never gets old. It is a fairy-tale city, one that fills you with much joy and passion. A definite well-chosen wedding destination for the happy couple. Regardless of the number of visits to the city of light it will always tug at your heartstrings and seduce you to fall in love with it over and over. There is certainly no other city like it in the world. Ok. You got me again.
"For Paris is a moveable feast."
Next time Hemingway, Mon Chéri.