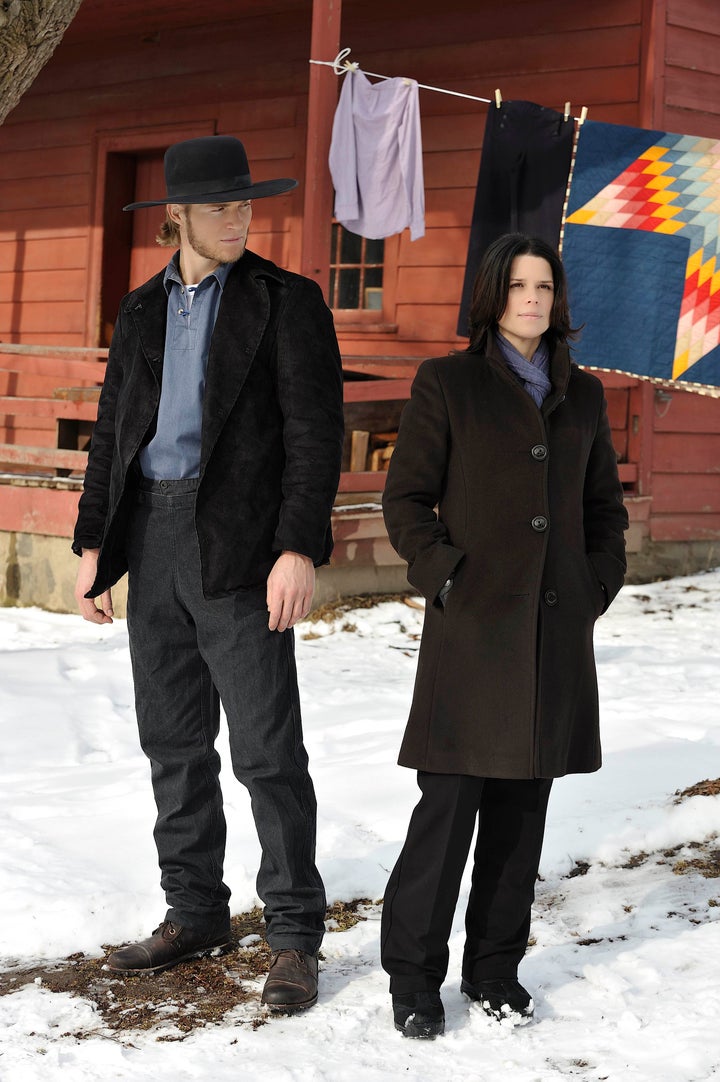 What is it with Americans and the Amish? There seems to be an obsessive desire to know anything and everything about this religious group who maintain ties to the past and a simpler way of life. Put the name "Amish" in the title of a book or the title of a movie and you are almost guaranteed to draw an audience.
Lifetime has never been a channel to let an opportunity of this type go to waste and has had a variety of "Amish" movies in the past. Their latest is An Amish Murder, an original movie that stars Neve Campbell. She plays a woman who had left her Amish past behind but now has returned to her hometown to be the Chief of Police. This creates a problem as the Amish have "banned" her since she left her home and her religion.
All of this changes when there is a murder involving a member of the Amish community. Kate Burkholder (Campbell) thinks this may have had something to do with an incident in her past. As she investigates this and a subsequent murder she begins to see a pattern. Slowly but surely she begins to piece together her theories. The Mayor thinks she is acting too slowly so he has the FBI send in a profiler named John Tomasetti (Noam Jenkins) to assist her.
Campbell is the reason to watch this movie. She has been an audience favorite since she starred in the TV series Party of Five. She hasn't been seen that often since her series ended, outside of the Scream series of movies, but lately has begun to be more active with her acting career. In addition to starring in this movie she has also been seen on Grey's Anatomy as Dr. Derek Shepherd's sister.
She is very natural in this role and has a persona that brings out the protective side of an audience. The plot does not make a lot of sense but with Campbell leading the charge to find the killer you really don't care. It is just fun to watch Neve in action.
It is also fun to see her interact with her brother Christian Campbell who plays Kate's brother Jacob. There is definitely a similarity in the way the siblings look, and some common traits in their acting abilities.
C. Thomas Howell plays Deputy Sheriff Nathan Detrick. Howell was a teenage heartthrob several years ago but has matured into a solid character actor. He is a regular on the series Southland and pops up in more and more television productions. As Detrick he adds solid support for the two Campbells.
An Amish Murder isn't a study of the Amish way of life but there is enough involvement of the Amish community in the script to make those seeking information happy. The movie itself is run of the mill but any production that offers a chance to see Neve Campbell in a lead role is worth watching.
An Amish Murder airs Sunday, January 6 at 9PM on Lifetime.
Calling all HuffPost superfans!
Sign up for membership to become a founding member and help shape HuffPost's next chapter