There's an angel in Athens waiting at the corner, and he's been sitting there patiently for 23 years. An old eyelid hangs like a shade over one eye, so he uses the other to examine the minutes and the people passing by. In the shadow of the Acropolis, he sips black coffee from paper cups and swallows the taste of that last cigarette. When his wrinkled hands reach out for mine and won't let go, it feels as though he's waited all those years for me.
In my rush to see the Parthenon, I saw him in his plastic chair. I sensed that he had something to say. But I wanted to see the obvious treasures in Athens, so I asked a boy in red for directions and walked away.
The winding paths and cobbled streets in the city's oldest neighborhood are brilliant. Bright bougainvillea flowers pop against muted pastels, producing a postcard at every turn in Plaka. Eager hosts speak broken English, inviting tourists to step into street side cafés, where six-dollar cups of coffee, a lungful of cigarette smoke, and Greek salads await. The Acropolis watches over all of it. But as I made my way to the ruins, I wondered why I was in such a hurry.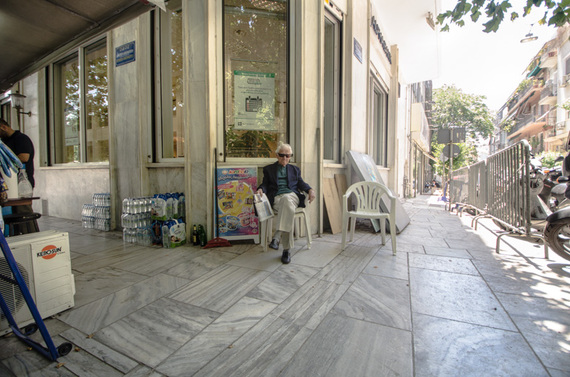 I'll be in Greece for five weeks, watching a flat and feeding a cat that belongs to Bex Hall. I met her, the friend of a friend, for the first time a few days ago at Athens International Airport. In just four metro stops, her love for Greece endeared it, and her, to me.
"I'll warn you," She said on the train ride into the city, "You will not want to leave."
Bex spent 37 days on a cargo ship, traveling solo from Athens to Hong Kong, because she wanted to know what it felt like. I love that about her. She was the only woman on board with a 27-man crew. She burst into tears at the beginning of the voyage because of the sheer enormity of the ship. But, by the end she had enough port stories to fill a book. I'm glad she's writing it.
The English girl's frustrations with the people in her adopted country are evident. What she calls bi-polar attitudes and self-focus in Greece, drove her mad in the beginning. But the rugged authenticity of the people and absolute charm of the place drew her in and keep her here. She warned me about the power of the Evil Eye, and advised not to be surprised if old Greek ladies spit at me three times and say "ftou ftou ftou" to ward off misfortune.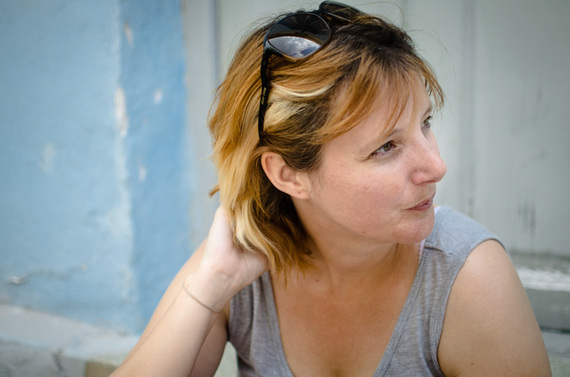 "Be ready for it," She said, "It took me several years, but I actually believe in all this magic now."
On my second day in Athens, I couldn't wait to see the marble columns of the Parthenon. I marveled at the way they tower over the city from their bed of rock and myth, when it occurred to me the Acropolis isn't going anywhere. It's been here for more than two millennia, and surely its magic would hold for another day. I wondered if that angel was staying put, too. Half an hour after feeling his stare, I needed to return.
The man reached for my hand, and he kissed it over and over again. We both laughed when he refused to let go and I started asking questions. The young man in red was entertained to see that I'd made my way back, and he translated for me the best that he could. The gentleman has been coming to the same corner every day for two decades. He's a retired lawyer from Thessaloniki, 85 years old, living alone in Athens. I squatted down to see the view from his perspective. I wanted to know what he thinks about each day, as he watches a preoccupied world whirl by. What is his joy as an aged student of life? In a city named for wisdom, I wanted this man to share his with me.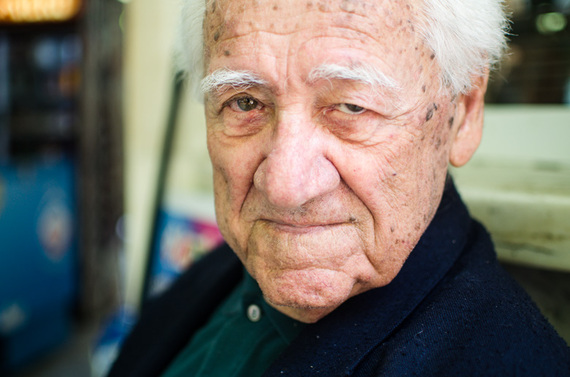 He pressed my hand between his.
"My name is Sabra," I said, "Say-bruh from Seattle."
The boy in red beamed. Though he struggled to interpret the harder questions, the answer to this one was clear.
"Angel!" He presented the man to me with a grin and a gesture. "Mis-ter Angel!"
When Bex returns, I'll tell her there are messengers perched on street corners in her adopted hometown. Mine patted his hand to his heart. He turned up a smile when I stood to say goodbye, a shared moment between two strangers whose lives intersected in Athens.
Our angels are out there. Sometimes they sit in the shadow of what seems obvious. With wrinkled hands and lonely hearts, they reach out to us, simply wanting to be seen.