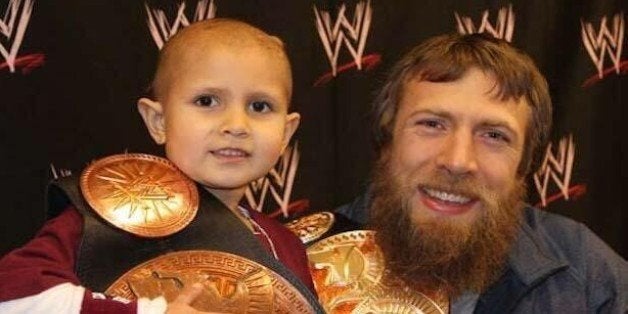 I remember the moment I met Connor Michalek. It was January 26, 2014, after one of our biggest Pay Per Views, the Royal Rumble. I walked backstage and ran in to this little boy who was taking pictures with one of our Superstars. From his physical appearance, I could tell he was sick; he had no hair on his head, scars from surgeries up the back of his neck, and a bulge on the top of his scalp. But you would never know it from his huge personality and his megawatt smile.
"Stephanie, please meet one of my best friends, Connor." said our ring announcer Justin Roberts. Connor looked up at me with his captivating, chocolate brown eyes and immediately asked, "Do you want to see my t-shirt?" Before I could respond, he told me in rapid succession that he was in fact wearing three t-shirts, not just one, "This is my Skylanders t-shirt, because I love to play Skylanders with my little 'bwother', this is my Daniel 'Bwyan' t-shirt, because Daniel Bwyan is my 'vewy' favorite Superstar, and this is the t-shirt Sheamus just gave me when he came out of the 'wing'!"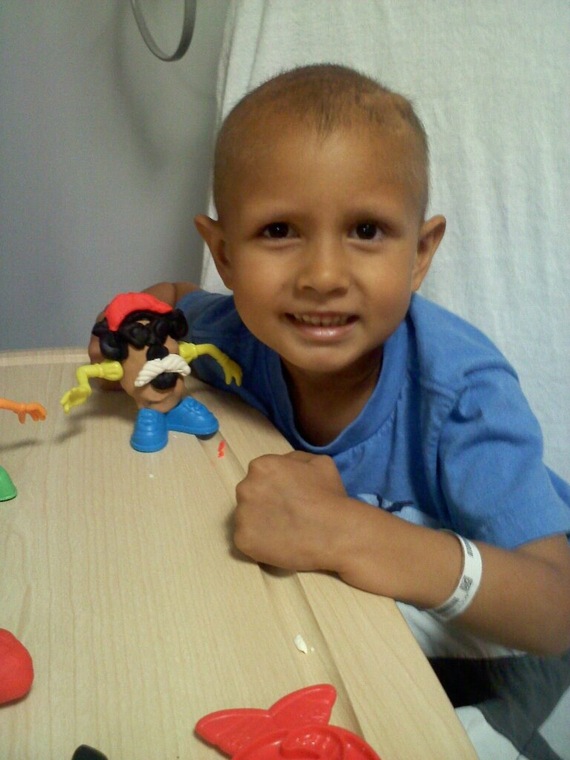 I learned Connor's "wrestling name" was "Connor the Crusher." He was 8 years old and he could beat anyone in the ring if he had the chance. Then he wrapped his arms around my neck and squeezed me as hard as he could. He called it his "choke out hug." Connor was vivacious, quick-witted, and full of himself. He reminded me of my oldest daughter, and I couldn't help but fall in love with him.
"We want to come back this summer when you're in Pittsburgh" Connor's father, Steve, whispered in my ear, "but I'm afraid Connor might not make it...he's only been given a few weeks to live." Connor was battling Medulloblastoma, a form of pediatric brain and spinal cancer. I turned back to Connor who in true form was now busy shadow boxing. This remarkable little boy was not going to let anything stop him from living his life, and doing the things that made him happy. He was beautiful, inspiring and heartbreaking at the same time. I hugged him one more time, and before he left, he looked back at me as if he was trying to tell me something. It felt as though our souls had touched.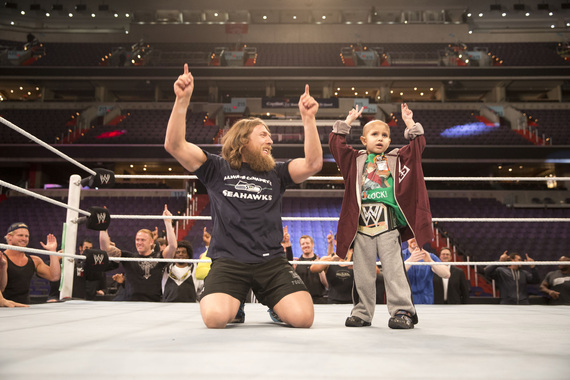 That night, I couldn't sleep. My husband asked me what was wrong and I told him. "I just can't stop thinking about that little boy and his dad. I wish there was some way we could help them." And my husband simply said, "You did. For four hours last night that little boy didn't feel sick, he didn't even think about being sick, and that is the greatest gift you could give." I knew he was right.
We then came up with the idea to invite Connor to the equivalent of our Super Bowl, WrestleMania. WrestleMania was 10 weeks away and we thought it might give Connor something to hang on for. The doctors told his dad that Connor wouldn't live long enough, and if he did, he would be in too much pain and too sick to make the trip to New Orleans. However, it was not uncommon for Connor to defy the odds, just like his hero, Daniel Bryan. At WrestleMania 30, in front of a sold out crowd of more than 80,000 at the Mercedes Benz Superdome, Daniel Bryan's character overcame 8 months of adversity, proving the underdog could win if he believed in himself. He ultimately became the WWE World Heavyweight Champion, and his biggest fan was right there in the front row to cheer on his hero. Immediately after his victory, Daniel Bryan got out of the ring and gave Connor a hug. That remarkable moment was recorded live on Pay Per View, and it will live forever.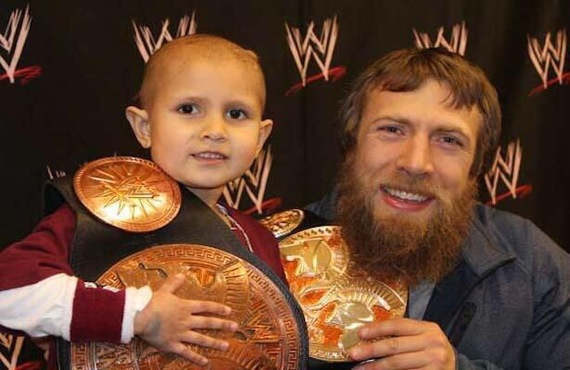 Three weeks later, Connor lost his battle with cancer, but not without leaving his indelible mark of love and light on this world. Anyone who hears Connor's story or watches his video is affected by his remarkable personality. In fact, Connor had such a profound impact on my husband and me that we started a fund with the Children's Hospital of Pittsburgh, in his honor. The fund is called "Connor's Cure" and it is designed to fund research to help find a cure for pediatric brain and spinal cancer, to ensure no other child or their family has to endure his fate.
I believe everything happens for a reason. I feel humbled and privileged that Connor somehow chose WWE to spread his message through our vast audience.
Connor's message is clear and simple: life is all about love, be grateful for that love everyday, and give it unconditionally to others. And be sure to give those closest to you a big "choke out" hug.
Popular in the Community