This article comes to us courtesy of InternationalLiving.com, the world's leading authority on how to live, work, invest, travel and retire better overseas.
Assorted bruises adorned my legs, exhaustion blanketed my body and my arms were so sore that I questioned whether they could lift my evening mojito and fresh-from-the-ocean tuna sashimi to my lips. Yet, despite these discomforts, I was sporting an enormous grin that just wouldn't go away. How did I end up in pain and sipping cocktails with a goofy smile plastered across my face?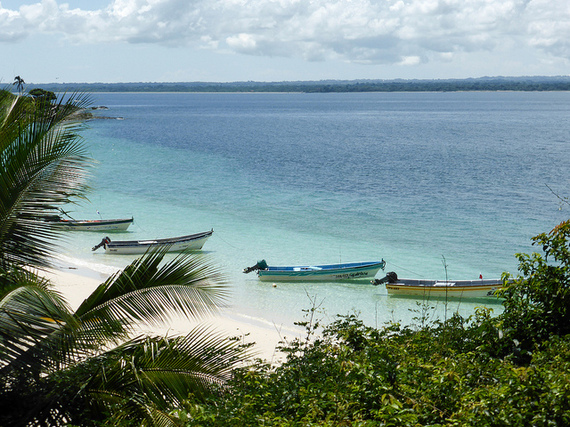 Photo courtesy of Eoin Bassett, InternationalLiving.com
Well, it was my husband's fault, really. David wanted to spend our family vacation somewhere that could provide fantastic saltwater fishing, and he hit the bull's-eye with Pedasí, Panama. Located on the Azuero Peninsula, Pedasí sits on what is known as the "tuna coast," though a more apt nickname might be "anglers' paradise." Scores of tuna do inhabit these waters, including the prized yellowfin. But dozens of other species of sport fish live here, too -- and in large volume.
This small section of Pacific fishing grounds contains an abundance of ocean creatures, due in part to the prohibition of commercial netting. While commercial fishing is allowed through the use of hand lines or rod-and-reel, the ban on netting results in more -- and larger -- fish. Not surprisingly, monstrous dorado, roosterfish, tuna, amberjack, jack crevalle and marlin have all been taken here.
David wanted to spend long days on the water, so fishing from shore was out, though it is a popular option among locals. We could have hired a panga (a small, open-bow skiff) for around $60 per day plus fuel, but with our two sons along, it would have been a tight squeeze. Luckily, we found Pascal Artieda, with Panafishing Adventure. He was able to provide both lodging and a spacious twin-v catamaran with captain. Panafishing charges $510 per person per day (based on two anglers) for an all-inclusive experience. The rate provides a full day of fishing, fishing gear, accommodation and all meals.
The Panafishing Lodge wasn't what we imagined; it was even better. The cabins were clean and airy, the pool refreshing while providing a great outlet for our sons' excess energy, and the French cuisine was simply outstanding. Our evenings were spent in the open-air dining area, where mounted fish and surfboards grace the walls and soft Caribbean sounds drift into the night. Even better, though, was the sincere, welcoming vibe and instantaneous friendships we developed with Pascal and his staff.
The beautiful pictures of Pedasí and the surrounding area, which David used to entice me into visiting Pedasí, didn't lie, either. The town is indeed filled with well-maintained, colorfully-painted buildings and the locals are friendly and eager to tell you about their town. Though only about 2,000 people call the place home, our days were spent discovering just how much Pedasí has to offer. From a cozy café and bakery, to a boutique spa, to a watersports store specializing in fishing and snorkeling equipment, Pedasí has it all.
Relaxing came easy, too. Several nearby beaches were everything we could have wished for. Easily our favorite sand-and-surf hangout was Playa Venao. This is a popular spot for surfers, where the turquoise waters rush onto the horseshoe-shaped beach surrounded by palm-laced bluffs.
But we were in Pedasí primarily for the fishing, and it did turn out to be world-class. Three days on the water saw us haul up dozens of fish from eight different species. Captain Javier found a good selection of fish for us on our first two days, but our final day on the ocean was all about the torpedo-like yellow-fin and the tenacious amberjack. The line on our reels sang, as tuna after tuna snatched our lures and ran. As fun as it was to battle fish on the end of my line, my greatest enjoyment came from watching my nine-year-old son bring in his own tuna. He was so proud that he spoke of nothing else for days.
Your Own Island for a Day
Any visit to Pedasí should include a stop at Isla Iguana, a small island just a few miles from shore. Set up as a wildlife refuge, Isla Iguana harbors frigate birds, brown boobies, land crabs, and, of course, iguanas. These creatures can all be spotted easily from nearly any part of the island.
Arriving on a weekday gives you an excellent chance of being the only human visitors enjoying the sun-bleached coral beaches. A favorite activity here is to snorkel among the bright displays of tropical fish that hang out along the coral beds.
Photographers will love the stunning vistas and up-close wildlife. Two trails cross the island, if you fancy a short hike. Or you may simply choose to take it easy from under the shade of a coconut palm, while watching the waves gently lap at the beach. Whatever your preferences, don't miss this gem. Admission to the island is $10 per adult; children are free. You'll find other travelers in town to split the cost of the $60 boat ride in a panga from Playa Arenal, a five-minute drive from town.
PHOTO GALLERY
Panama - World's Best Retirement Haven
Calling all HuffPost superfans!
Sign up for membership to become a founding member and help shape HuffPost's next chapter