Today is my anniversary. Exactly 25 years ago, I entered into a lifelong pact with my best friend, Annie. So much has changed and been experienced since that day. On one hand our journey has been unique and unimaginable. On the other hand, quite commonplace and ordinary.
In 1990, I was a 35-year-old high-tech executive on a three-year foreign service assignment in England. My new wife was 27, a recent graduate of the Harvard School of Education, and a soon to be dean of students at a small American college in South Kensington. We had met in London five years earlier. At that time I had quipped "if we ever get married, we'll have our honeymoon here." Little did I know how prophetic that statement would prove to be.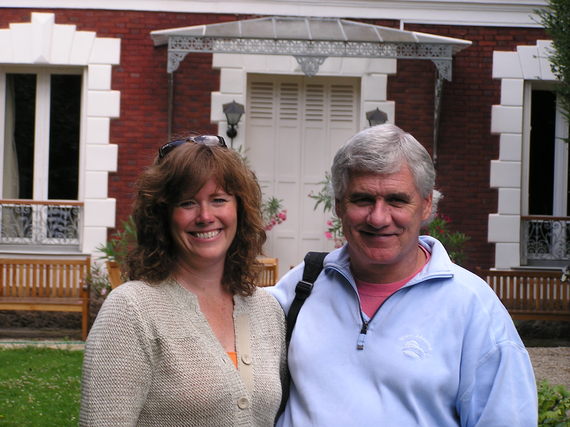 Our first home together was in Richmond-Upon-Thames, an idyllic borough of London and a perfect spot to begin our life together (Or is it lives? Perhaps the confusion is noteworthy) . Our only problem then, to paraphrase Oscar Wilde, was that our youth was wasted on the young. We knew we were fortunate to have that special time together in that special place, but it was impossible for us fully grasp just how fortunate we truly were.
Over the last quarter century, so much has transpired. We returned to America. We learned that my loving father had been stricken with Alzheimer's and watched helplessly over the intervening years as that disease did its worst to a man who was as good a person as any I have ever known. We bought our first "real" home together in the suburbs of Boston. We had first one daughter, then another. Our son arrived on my birthday two years after that.
Annie stopped working outside the home for some years. She and I both finished our doctorates at Boston University. I traveled too much for work leaving Annie to care for and cope with our young children far too often. I made a huge transition into academia that came with many positives and a few significant downsides. Note to self (and others): It's a good idea to find work close to home when you have three kids under the age of 5. It's not a stroke of brilliance however, to take a 70 percent pay cut when you have a mortgage, five mouths to feed and three college educations to fund. I'll remember that next time around.
Life marched on. My wife returned to work at a nearby university. Elementary school, concerts, coaching youth soccer, a PTA presidency for Annie, high school, ups and downs with the kids' friendships, watching the kids grow and succeed and sometimes fall. Too much time in freezing hockey rinks at ungodly hours. An Easter weekend at a girls' volleyball tournament in Baltimore when we all should have been home together as a family -- or more specifically, if you asked my mother, in church. My mom passed away last year and she's very much missed. But watching her relationship with Annie over the years was one of my life's great joys.
Family trips to Ireland and the Vineyard and France. Hours and hours of homework. Lots of smiles, laughs, and if I'm honest, tears. Feeling on top of the world at times and at others, defeated. Losing loved ones. Losing touch with old friends and occasionally finding new ones. Reunions and weddings and wonderful moments with our extended family and friends.
But also too much work, too many commitments, and that most pervasive feeling for parents (and non-parents for that matter) in this post-modern age -- overwhelmed! That's the feeling that tells you, "You should be out celebrating this day, but somehow you're just too tired."
And so we move to the dawn of the next quarter-century of our life together ... I'll stick with life in the singular. People tell us that we haven't changed since the day we wed, but the mirror and old photos belie that. (People also tell you that kids will keep you young. Do these people have children?) We are older, poorer, less energetic, more serious, and less spontaneous than we were that August 25 years ago.
But our lives have been full. Full of noise, full of experiences, full of emotion, full of pride, and sometimes full of heartache. We have been blessed with love and really nice kids. Good friends and families and neighbors and work colleagues. And a warm home, good health, and a 75-pound mutt named Chelsea who is a great constant in my sometimes mercurial life.
I can honestly say, on this day especially, that I've been blessed in one way that has made all the difference. With the partnership, friendship, and love of my intelligent, funny, patient, awesome, beautiful wife. And for that I am eternally grateful.
Support HuffPost
A No-B.S. Guide To Life
Related
Popular in the Community