Since arriving in São Paulo two-weeks ago, I have been struck by the number of times Brazilians have mentioned the fact that 2014 marks the 50th anniversary of the start of the dictatorship. Beginning with a coup d'état in March 31, 1964, the authoritarian military dictatorship ruled Brazil for twenty-one years until March 15, 1985. Though focused on bringing economic stability, the impact of military rule on the nation socially, culturally and politically was crippling, through the persecution and torture of dissidents, the harassment of journalists, press censorship and the departure of many artists and cultural producers for foreign lands.
Since then, of course, Brazil's vibrant democracy has tried to encompass a wide diversity of political and cultural ideas, which are more than reflected in the country's thriving art scene. Yet clearly, even though it came to an end almost thirty years ago, the dictatorship still weighs upon the Brazilian soul. There have been hushed tones and obvious emotion when people have spoken to me of this anniversary. And I could feel the psychological impact of it, too, in two current museum exhibitions, those of José Rufino at MuBE and Luzia Simons at Pinacoteca.
José Rufino's Violatio exhibition at MuBE | Museu Brasileiro da Escultura, curated by Tereza de Arruda, is a poignant and haunting installation comprising sculptures and paintings by the artist. As I walked through this powerful show with the curator, she told me that "though the works have been selected as a whole, they also stand on their own, in dialogue with each other as well as with the exhibition space..." The show's title, Violatio, though it seems to refer to the word "violation," is in fact a Latin word meaning "injury." And through subsequent investigation, I have learned that Rufino is the son of political activists who were persecuted by the Brazilian military in the 60s.
Installation views of Violatio-José Rufino, at MuBE | Museu Brasileiro da Escultura, São Paulo. The show takes its title from the Latin word for "injury."
The fundamental material of the sculptures is furniture -- individual desk chairs that date from the mid-1950s and were once found in every Brazilian bureaucrat's office. Only in this case, the chairs -- bound by ropes, metal tubing or a writhing serpent-like fire hose -- allude to sites of personal anguish and act as silent witnesses. Along the walls of the exhibition, like leaves blown in the wind, are delicate paintings created on vintage pages of production records and other data filed by the bureaucracy. Some paintings suggest birds and bats, others suggested abstracted writing, but all possess an evocative, rune-like quality that tantalizes the contemplative viewer. And heightening the psychological impact is the show's poetically perfect site: the museum's underground, dungeon-like, concrete exhibition hall. For José Rufino, who views his works as "a scream that was never heard but still echoes," this exhibition is a powerful and important cultural testament.
After my visit to the Rufino show, I attended the opening of Luzia Simons: Segmentos, an installation at Pinacoteca do Estado de São Paulo.
Curated by Pinacoteca director Ivo Mesquita, Luzia Simons: Segmentos consists of four huge (almost seventeen-feet-high), mural-scale still-life flower prints. These massive, bravura groupings of tulips make numerous allusions -- to the enclosed country gardens I recall from my childhood in England, for instance, as well as to the Garden of Eden and to Pop culture and Andy Warhol's Flowers. To my delight, throughout the show's opening reception, I watched dozens of visitors enter the installation and smile upon encountering these ravishing tulips, and strike poses in front of the works for their friends' camera. Without a doubt, thousands of Luzia Simons flower images have appeared as Christmas holiday backdrops on the daily posts of Facebook-obsessed Brazilians.
In addition to being ravishingly gorgeous, Simons' flowers glow amid a diffuse dark background, which can be understood as a reinterpretation of Dutch still-life painting. But these works also address aspects of transience. After all, after the collapse of the Dutch tulip market in February, 1637, the flower became one of the central motifs of the theme of vanitas. With these works, Simons has built a bridge from the seventeenth century to the present time, and in doing so, she has made a nod to issues of our time -- from globalization and cultural nomadism to multi-cultural branding. The works touch on the role of flowers to signal mourning and loss, and so the seemingly "lovely" formal quality of these floral works touch a wide range of emotions and thoughts in light of the great anniversary, and other present day circumstances.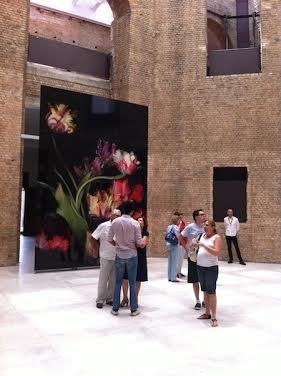 Installation view of Luzia Simons: Segmentos, at Pinacoteca do Estado de São Paulo: "A bridge from the seventeenth century to the present time..."
I read contemporary art to tell me about the times we are living in, and about how a people will recall a particular moment in their civilization's passage. Like most individuals, I go through my day almost numb, what with rushing and worrying about my own life. So when I stumble upon resonant art works, when I stand in front of works that get me to stop and think and feel, then I get the inkling that they may well be bearing witness to our times. Brazil is a complex country. It is simultaneously journeying forward yet anchored in dark political history that functions uncomfortably as baggage. The national mood might be described as aspirational and optimistic (bordering on happy-go-lucky!), while at the same time anxious, doubt-ridden, and melancholic. And the mood is made even more wobbly by a political climate of corruption, scandals and excessive spending on international sporting events in the face of groaning infrastructure and the weakening of a previously ebullient economy.
In this light -- for me personally, and as a cultural witness -- Luiza Simons' sumptuous yet elegiac works eloquently reflect the current, ambivalent mood of the country; and José Rufino's darkly brooding, yet lyrical works, bring a troubling political history into the complex refraction of present day aspirations.
Violatio - José Rufino
MuBE | Museu Brasileiro da Escultura
Avenida Europa, 218 - São Paulo
Exhibition runs now through January 26, 2014
Hours: Tue-Sun, 10-7
Information: MuBE | Museu Brasileiro da Escultura
About the artist: José Rufino has shown extensively nationally and internationally including most recently at Casa França Brasil, Rio de Janeiro; CCBB, Rio de Janeiro; Galeria Milan, São Paulo; and the Andy Warhol Museum, Pittsburgh. Born in 1965, Rufino lives and works in João Pessoa.
Located in the northeast of Brazil in the state of Paraíba, João Pessoa is the easternmost city in the Americas, and is thus often called "the city where the sun rises first." Rufino's studio is located in the city of Bayeux, in the metropolitan area of João Pessoa, in a smallholding known as Sítio Sabiá, where the artist has a quiet space to produce his work. In this place, living along with his parents, Rufino dedicates his time to the preservation of a fragment of the Atlantic Forest, including the cultivation of hundreds of species of native and ornamental plants. The Sítio Sabiá is contiguous to a large tract called the Forest Conservation Unit of the Xem-xem. Though completely unprotected by the authorities, and constantly threatened by development and such, the Forest of Xem-xem is rich in rare plant species and endangered animals.

Luzia Simons: Segmentos
Pinacoteca do Estado de São Paulo
Praça da Luz, 2 - Luz - São Paulo
Now through February 3, 2014
Hours: Tue-Sun, 10-5:30 and Thur, 10-10
Information: Pinacoteca do Estado de São Paulo
About the artist: Luzia Simons lives and works in Berlin. She was born in 1953 in Quixadá, Ceará in the northeastern part of Brazil. She is represented by Galerie Nara Roesler, Sao Paulo; Alexander Ochs Galleries, Berlin/Beijing; and Gallery Fabian und Claude Walter, Zürich.
Simons makes prints using a unique technique of image-recording that she calls "scanograms." The technique was inspired by photograms, the camera-less recordings on photographic paper originally introduced by Man Ray, in which objects are placed directly upon a huge industrial scanner that captures the smallest details and color variations. Unlike usual photographs, which often admit a central focus, Simons' prints are devoid of a point of view, and when expanded to large scale and charged with dramatic, baroque lighting, they seem to inhabit an undefined space between simple image recording and metaphor.
REAL LIFE. REAL NEWS. REAL VOICES.
Help us tell more of the stories that matter from voices that too often remain unheard.