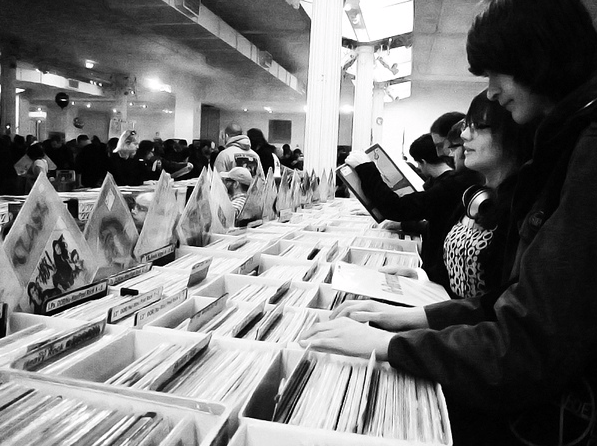 The bespectacled man walked through the crowd holding a silver record player to his chest. He passed rows of fanatic buyers as they flipped through boxes of vinyl records, searching for that rare Beatles or that last Rolling Stones needed to complete their collection. He stopped at a lonesome table specializing in dusty Afro Beat records and placed the rare one he sought under the needle of his machine. He listened to a full song, nodded his head, and then paid the record dealer waiting patiently beside him.
Had the collector not found this record at the WFMU record festival last Sunday, he probably would have had to fly to Africa to get it. The WFMU record festival is an annual three-day hajj for the music obsessed, hosted by the popular independent New Jersey radio station of the same name. When it first started in 1992, it was a humble affair held in New Jersey basements and churches. Today, it is a 10,000 square foot event held at the Metropolitan Pavilion that attracts buyers and sellers from around the world. Last weekend's festival featured live performances, an abundance of vinyl, and the promise that the practice of buying physical music is not dead after all.
At first glance the festival may seem to be an endless swarm of vinyl. But most tables specialize in a genre of music, and their dealers have often been in the business for years. Steve Gritzan of Iris Records in New Jersey has worked a table at the fair with his brother for ten years. Their table, in addition to an impressive rock collection, possessed a particular oddity: the very first packaged CDs - long boxes containing a CD in their bottom half and nothing in their upper half. "When CDs first came out they were like gold," he explained, "so they were harder to steal in this big format. Album art was also displayed nicely this way, which people were still used to from records. They soon stopped making them this way though."
Gary Johnson of Rockaway Records in Los Angeles manned a table that was quiet -- not because it was unpopular, but because it specialized in rare records. Across his table, under a blanket of protective plastic, lay prized records from his collection. A hulking dark black box cost $800: Metallica's highly limited 45 RPM 4 white LP set of the black album reissue. "They only sold them for one day on their website," he explained. The rarest album he ever sold: "a sealed first state stereo copy of the infamous Beatles "Butcher" album from Alan Livingston's (former president of Capitol records) personal collection." He sold it for $80,000.
One of the pavilion's walls was a testament to the former ubiquity of vinyl. It was covered in unconventional records of various shapes and sizes: A small brown square record was once a promotion from inside an old cigarette pack. An old Wheaties cereal box had a pull-off record attached to its front. One silver record carried President Nixon's face. "Some say this helped him win the election," said WFMU DJ Michael Cumella (DJ MAC), the proprietor of the collection. "He sent them out by the millions."
After the musician Ted Leo finished his short solo set, he began to observe the festival over a beer. "Vinyl is one of the last mediums that requires time and effort on the consumer's part," he said. "It is not portable. It is not easy. It demands a stationary period of time. It won't play in your car. But I think all the people here still respect that."
Calling all HuffPost superfans!
Sign up for membership to become a founding member and help shape HuffPost's next chapter