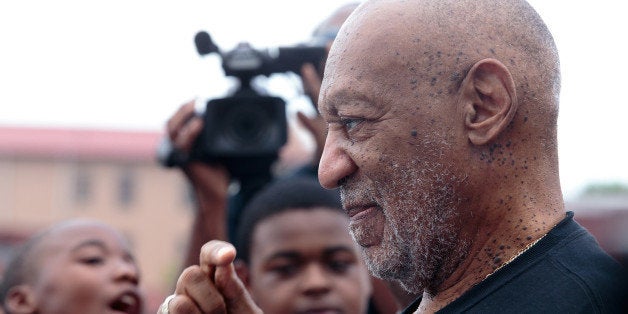 Black television has undergone many changes in the last 50 or more years. We went from "Julia" to "Good Times" to "Sandford & Son" to "The Jeffersons" to "The Cosby Show," each one detailing a different aspect of African-American life. The shows represent different stages in black history, depicting everything from single parenthood to business owners to black doctors and lawyers. These shows paved the way for shows such as "My Wife and Kids" and "Blackish." This is why it is so particularly disheartening that Dr. Cosby's just-released 2005-2006 deposition strengthened many accusations from the 25+ women who have come forward.
I have to humbly confess that I did not want to believe any of it. After all, this was Bill Cosby, of "I Spy," "The Electric Company" and "Uptown Saturday Night." "The Cosby Show" left an indelible mark on American television, and it is hard to believe that the person who portrayed the head of such a beautifully educated family such as Dr. Heathcliff Huxtable was involved in such crimes. He was America's dad. The unsealing of the deposition broke my heart. After all, this is a man who, as a philanthropist, gave away tens of millions of dollars in scholarships to those who may not have had a chance to go to college. This is a man who showed the world that there is a black upper middle class, and who shone the light on black professionals so much so that he created a spin-off show, "A Different World," in which he showed life at a historically black college or university. This is why I have struggled with these accusations. I thought of every excuse not to believe it. For goodness sake, one of the women who came forward is one year younger than myself. However, with the mounting evidence, it can no longer be dismissed.
To the victims, I apologize. I apologize not just for not giving credence to your accusations, but for not wanting to believe them. Before these accusations, I defended Bill Cosby when I went around the country, giving speeches to college graduates as well as some African-Americans on how to raise their children (which, by the way, the President and the First Lady of the United States have reiterated a time or two). I am sorry for having even an ounce of doubt because I did not want the legacy of America's dad being black to deteriorate. I apologize for being so obsessed with that legacy that it blinded me to any wrongdoing.
Finally, to the millions of women, men and children who spoke up when no one believed you: Your voices are strong. Never be silenced, despite seemingly unsurmountable odds that you will be heard or believed. Continue to lift your voice in pursuit of justice if not just for you, but for all those who feel they cannot.
Popular in the Community