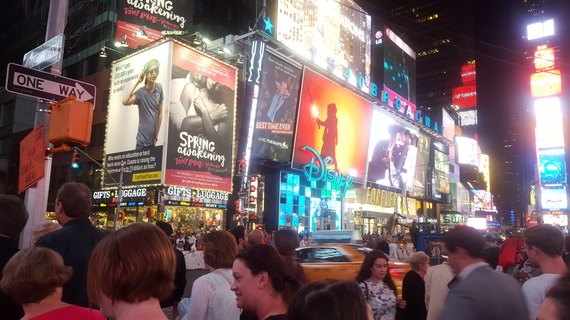 Congratulations, New York City. You wowed me (the misguided Midwesterner), and now I feel I owe you an apology for thinking negatively of your city and its residents.
I always imagined the Big Apple as a place where people would be rude, impatient, and off the wall (or a healthy combination of all three). I envisioned a city filled with homelessness, garbage and unbearable crowds.
I was wrong, and I am sorry. The energy in your city is contagious. There are people everywhere, all the time -- but mostly it's a good thing. You can get anything you want at any hour (except some peace and quiet). With enough time, I'd run out of money before running out of things to do.
After spending a long weekend on your little island, yes, I saw people living on the street, smelled garbage and came across a few individuals telling the masses why we were going to go to hell. But it was not enough to ruin your reputation. So what if residents stand "on line" and not in line or call pop "soda." Maybe we're the crazy ones.
I now understand why vendors hawk "I ♥ NY" shirts on every street corner. It's easy to fall in love with the city that never sleeps. I just did, and it only took four days.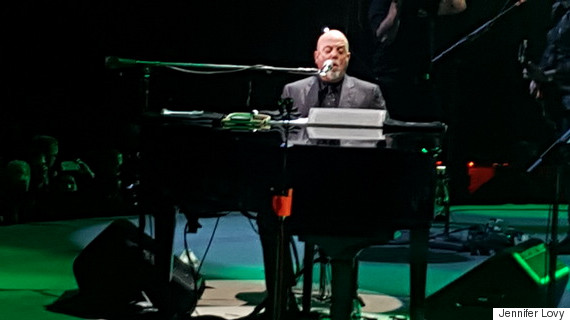 My husband and I planned a New York weekend around a Billy Joel concert at Madison Square Garden. Seeing him in New York was always on my bucket list. The acoustics at the Garden are amazing, and the Piano Man did not disappoint. Nothing about our time in New York was disappointing except for the fact that, like all good things, our 96 hours in the Big Apple went by way too fast.
Over the course of a long weekend we walked until our feet hurt, and then we walked some more. We rode the subway so many times we could have made it back to Michigan if you totaled the distance. We easily spent more money than the cost of our monthly mortgage and consumed more calories than you'd find packed in a Cheese Cake Factory dessert.
While we enjoyed everything about New York, we do have some questions about the things we saw and experienced. For starters, how do you tolerate so many tourists invading your already cramped city space? We were everywhere, doing annoying things like awkwardly gazing up at buildings, blindly crossing streets because we were either just following the crowd or too busy snapping pictures on our phones.
Where I live, public transportation is almost non-existent, so despite the gross factor of your subway system, I still considered it a perfect mode of transportation. Through a series of underground tunnels travelers can get anywhere they want at any time. But can someone tell me why the stations are heated when it's 80 degrees outside?
Perhaps some passengers would smell better if they weren't sweating. Maybe city taxes wouldn't be so high if you weren't heating an entire underground city when the outside temperatures are so warm.
I'm surprised that New Yorkers are not inflicted with perpetual colds. While the heat is blasting in the subway stations, the trains themselves are like walk-in refrigerators. And do riders ever get over the feeling of wanting to take a shower (or at least immediately bathe their hands in sanitizer) after each subway experience?
The overwhelming stench of urine -- both above and below ground -- was occasionally offset by the wonderful aromas of roasting garlic or the mouthwatering scent of street meat. Fortunately, where the street vendors were lacking in flavor your restaurants compensated nicely.
With so many restaurants, we quickly learned that it's possible to find any type of cuisine from anywhere in the world. We found ourselves in China Town on one block and Little Italy on the next. Where else does that happen?
We ate at a number of restaurants, including Freeman's (Lower East Side), Balthazar (SoHo), Little Park (TriBeCa), the NoMad (NoMad) and Il Mulino (Uptown). Based on our eclectic dining experiences, I couldn't help but wonder:
Why are your restaurants so loud?
Do the tables really have to be on top of each other? Sitting in such close proximity makes me wonder why people aren't speaking more quietly. Our neighbors discussed fashion, infidelity and political gossip over dinner and a few glasses of wine.
Is there an ice cube shortage in New York? Not that it's a bad thing; it's just different to be served water without ice. Oddly enough, our $17 cocktails more than made up for the lack of ice in our water glasses.
For a city that's supposed to be filled with rudeness, how come so few diners were distracted by their phones? There were many times we were the only ones periodically fondling our smart phones instead of taking advantage of a face-to-face conversation.
Where I come from, people seem to always be staring at their phones, or finding creative ways to check e-mail or Instagram while pretending to listen. In your city, I saw a lot of phones, but mostly these were used to help the tourists navigate around the city or to entertain the commuters.
I also spent some of my time wondering where residents buy groceries or get gas. As we walked block after block in neighborhoods like SoHo and Chelsea, we saw one gas station. Tons of cars but one gas station. Please explain.
And, while I didn't expect to see a Kroger or Publix, I was surprised to find only a small handful of places to buy groceries. Do the majority of your meals come from restaurants? If so, how on earth do people afford it?
Thank you in advance for answering my questions about life in your city and thank you New York for showing me I was wrong about you.
The Misguided Midwesterner
Related
Popular in the Community