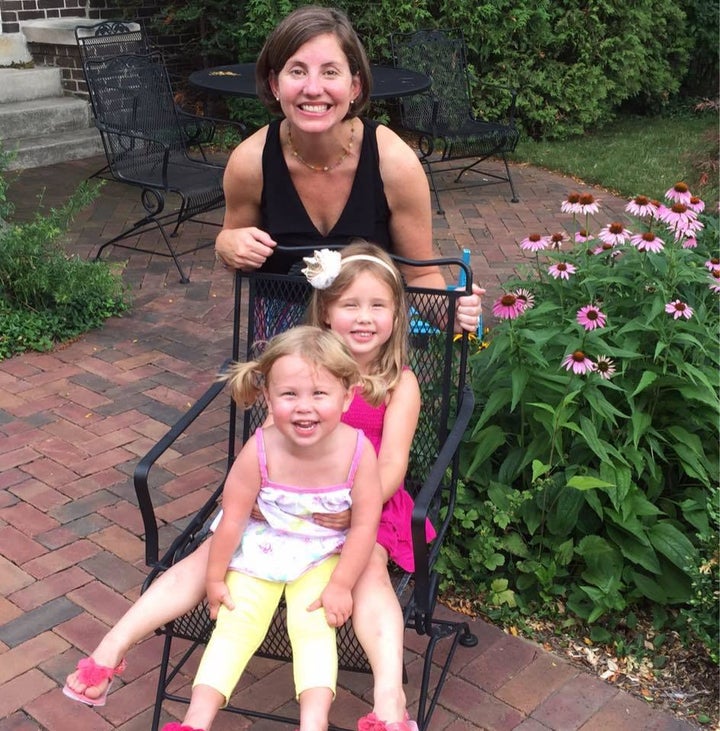 Even 20 years later, I cringe when I think about the venom and ignorance behind my words.
I had just started out in the working world, and there was a female leader—mother of two—who was on the fast track to the top. Someone asked her about the difficulty of leaving her kids for business travel, and she said "I knew when I started out that I wouldn't be able to put my kids to bed every night."
When a co-worker recounted this comment to me, my response was: "Well, shame on her!'"
My current self can't fathom saying—or even thinking—those words. Now as a mother of two and businesswoman who frequently travels, I can't count the number of nights my husband has put the kids to bed while I'm fighting with another hotel room thermostat in another city.
Not only do I work outside the home, but my husband is a stay-at-home dad, so he's the one the girls often run to when they have a sore throat or sore heart. I'm the person who is often labeled progressive because I'm the primary breadwinner at this point in our lives. So how could I have been so judgmental?
As much as I'm embarrassed to admit I said those words, I try to keep that moment close to remind myself how easy it is to reject what you don't know.
At that time in my life, my horizons had been broadened by college, but I was raised by a stay-at-home mom who put us at the center of her life. She was smart and capable—and committed to staying at home to take care of us.
So while I was very focused on getting a job after college, it was hard for me to understand a woman—actually, a mother—who was so intent on her career.
The years went on, and marriage came soon after, but kids didn't appear until much later. When kids did happen for me, I had built a life that I couldn't imagine without a career. While my friends with little ones were trying to talk themselves into working, I couldn't talk myself out of it. My profession, for better or worse, was part of my identity, and I liked that part of me.
And my friends who wanted to be stay-at-home parents? I was thrilled when they found a way to make it work for their families. I became a firm believer that the best answer to the question of whether or not a parent should work outside the home was best answered by the parent. So now I'm open-minded, right? Not so fast.
Being in the thick of my career, I find myself guilty of running in a circle of moms who also work outside the home. I have to fight the tendency to gravitate toward those in my life stage or who share my perspective. When I encounter moms who are fixated on making Pinterest-worthy crafts or feeding their kids an organic-only diet, for example, I lose interest. That's not me, so I don't take the time to learn more about them or their views. So even today, I find I'm closing my mind too frequently to other perspectives.
I don't know if it's because we parents are so busy that we only have time to consider so many different opinions, or if we're simply hard-wired to flock to those like us. Regardless of the reason, we (I) need to do better.
It's clear our society right now is struggling because we don't listen to or try to understand differences of opinion. We can't fathom certain outcomes because we surround ourselves with those who share our views, politically and otherwise. I was challenged recently at a work event by an African-American judge who asked us to think about our views of diversity (those in the room very much supported a diverse and inclusive work environment) and then to think about reality, namely who our closest friends were—what they look like, do and think.
"Who do you have dinner with?" he asked us. I had to admit that those I keep closest seem awfully similar to me.
For me, the challenge is to maintain this awareness of my shortcomings and work hard to do better. But it's difficult. The older I get, the more ignorant I feel when I look back and continue to see examples of my close-mindedness.
The good news is that I'm growing a little bit each year, and now I shudder in horror at that comment I made 20 years ago regarding the female executive.
Going forward, I'm committing to seeking out those moms who have different views and interests than me. I just accepted an invitation to a karaoke party from a mom who works at my company, so I've started the process!
To the working women I doubted and dismissed earlier in my career, I apologize. I didn't understand, and I didn't try to understand. You not only worked hard for your families, you worked hard to pave the way for my professional path.
If you're tempted to get even with me, just wish me a lifetime of business trips with long layovers in LaGuardia.