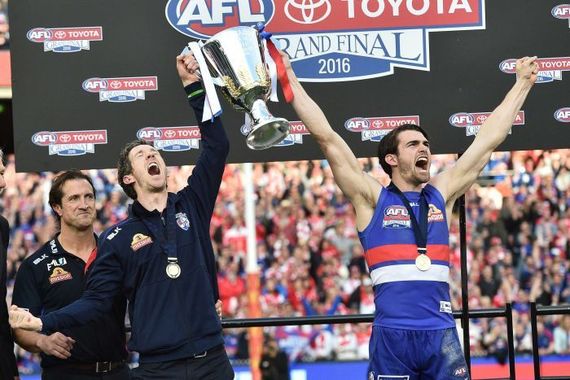 Let me be perfectly clear to my Aussie mates that I like, but do not love footy. I hope y'all will still read on -- given my apostasy. But if you've grown up with the early imprinting of American baseball and football, it's hard to truly love Australian Rules Football in the way it seems as part of the genetic makeup of many Australians.
Still after spending a year living and working in Melbourne, I could not help but get involved in the game. I was there only three weeks when a tradie coming to my house asked me "Who do you barrack for?" Noting that I appeared confused and my North American accent might require further translation, he added, "I mean who's your team, mate?" Most of you have already heard this story. I quickly picked the Hawthorne Hawks and followed them through to the end of their threepeat championship AFL season.
Returning to California at the end of June this year, I continued to follow the Hawks through my electronic version of The Age. When I left Melbourne at the beginning of June they were in first place. I noted at the start of the playoffs they were still in good shape being second in the standings. I misunderstood the playoff rules in the last Occasional Note from CA. I prematurely mourned the end of their reign after they lost their first playoff game. Several Aussies corrected me - the top four teams operate under double elimination rules. But lo and behold, the Hawks lost their second game and were out of the competition.
I maintained a vague awareness thereafter of the remaining teams. Last year during the semi-final and final I was recovering from surgery at home so watched the Hawks slaughter the last two teams standing in their way of the championship in fairly boring games. Thus, I had low expectations for the final this year. However, I was much more interested in hanging out with a crowd of inebriated excited Aussies than actually getting too involved in the details of the Grand Final. I am deeply missing my Australian friends and the whole feel and sense of the country, especially Melbourne and Victoria.
So I was determined to find a venue in the Bay Area to watch the Grand Final along with a group of Aussie fans -- 13,000 km from the MCG. It wasn't easy. First I needed to find out exactly when the game would be played - date and time. The former was easy but figuring out exactly when the game would start on Saturday in Melbourne was not. My best guess, based upon multiple sources (including my local sports source, Hayden, who lives in Mornington), had the actual game beginning at 2:30 PM on Saturday, October 1st in Melbourne.
I was quite used to doing the time zone differentials with the Bay Area having maintained a California telepsychiatric practice online for the year I lived in Oz. My Australian diary on Thursdays and Fridays (Wednesdays and Thursdays in California) looked a mess with the Australian dates and times scratched out replaced with California equivalents. It was the only way to keep track. One also must remember the day light savings rules (when they begin and end in the two time zones - they are not the same dates) because shifts of one to two hours change over the seasons.
Doing the math, I concluded the Grand Final would begin on Friday, September 30th at 10:30 PM Pacific Daylight Time in San Francisco and Oakland where I am living currently. I was challenged next to find a locale that would be showing the game on American TV and assumed the audience would be primarily ex-pat Aussies living in the Bay Area. Remember my main goal was to hang out with my adopted compatriots.
The web offered two places in San Francisco, Jillian's in the Metreon Center, which apparently held an event on Grand Finals day every year, and Danny Coyle's an Irish Bar on Haight Street (as in the Haight-Ashbury district famous/infamous for the birthplace of the hippie/cultural revolution of the 1960s). Unfortunately, I live across the Bay and had to be in San Francisco earlier that day. The thought of driving twice over the Bay Bridge was overwhelming. There is no equivalent traffic nightmare to the SF Bay Bridge in the Melbourne area. One would have to consider the Sydney Harbour Bridge as the only place on the whole continent that might come close to Bay Bridge gridlock, especially during this continuous tech-fueled local economic boom.
Thus with considerable effort (deep internet investigation followed by phone calls to local bars) I found a pub in Point Richmond (about 20 minutes by car from my home) that planned to carry the game on one of its sports screens that evening (the game was televised live by an obscure Fox Sports Soccer Plus station that my cable company - which offers me something like 300 stations - didn't carry).
Then I lucked out. Many of you know Denise and I didn't return to our Piedmont home but instead chose to rent for another year because we weren't sure where we wanted to put down our roots again. Well, a week into living on Calmar Avenue I met Tony who lived across the street and had moved himself and his family from New York only a year earlier. And Tony talked funny - he was from Sydney!
Tony moved to the States about 20 years earlier and was more into rugby than AFL but still maintained his roots and interest in both. He was ready to join me on a late Friday night adventure to watch the final. Together we drove off at 8:15 PM in search of the game. We arrived shortly at the Up and Under Pub and Grill - a rugby themed establishment in the heart of small downtown Point Richmond. I was immediately disappointed by the lay out and could see that there were only three rather smallish screens set up in the two main rooms.
There was already a large and noisy crowd but they were all watching the San Francisco Giants baseball game. I double checked with the manager that the Pub would be putting on the Grand Final at around 10:30. Her initial blank look gave me a fright. She said "AFL? What's that?" but turned out to be kidding me. She asked me to remind her what channel would it be on and then seated Tony and me in the secondary room.
I scouted around for other Aussies but none were clearly identifiable (I'm not sure what markers I was looking for anyway). Tony and I sat, talked about life, and started our beers. About 9:20 though, Tony noticed the event on our screen had changed and YES! We were watching a live broadcast of the Grand Final. With all my investigations and preparations, I was still off by an hour. At least we had arrived early, not late.
I noticed two other tables of intent viewers. Turns out they were primarily American but anchored by two Aussies, one from Brighton and the other from Fitzroy. The Americans had all been to Melbourne and the MCG at least once and had been smitten. I forgot to mention I was solidly for the Western Bulldogs as my Hawthorne replacements.
To my American readers, I lived in South Yarra, a suburb (that's what they call neighborhoods) of Melbourne. Hawthorne was another suburb. The "western" of Western Bulldogs, meant western Melbourne (the suburb of Footscray to be exact). Tony, was presumptively for the Sydney Swans, but he admitted his commitment was only lukewarm. For he too, was taken by the pre-game narrative of how the two teams came to be in the Final.
The underdog Dogs story (I'm sure this alliterative metaphor has been overused in the Australian media) was absolutely compelling. No Grand Finals appearance since 1954! Americans can relate to baseball's Chicago Cubs who have not won a World Series since 1908. Incidentally, to Australians who don't follow baseball, the Cubs finished first this year in their division and are currently the favored National League team to get to the World Series. Playoff games begin next week.
But back to the Bulldogs. Their rise through the AFL playoffs was also impressive - this was a team that finished sixth in the standings but was clearly getting hot at the end of the year. Still they had their injuries and physically just didn't stack up to the favored Swans. But finally the game.
What a game! A seesaw battle through the first three quarters that had the Dogs up by a point at the start of the fourth. And then, the sudden breakthrough of four unanswered goals! Our group of nine cheered at every one. Yes, even Tony had changed sides by the end of the first half. Our cheering was going on even as in the other room at the pub, a rock band circa 1970's American pop blues, played on oblivious to our interests and drama.
By the end of evening (a bit after midnight) I had made seven more friends. I had watched one of the best sporting events on either continent I had lived on. I was motivated to write yet another Occasional Note from CA to all of you. And with that I'll end with "Good on y'all mates," - an Australian goodbye combined with an American southern idiom coming from a Jewish guy from San Francisco.
Related
Popular in the Community