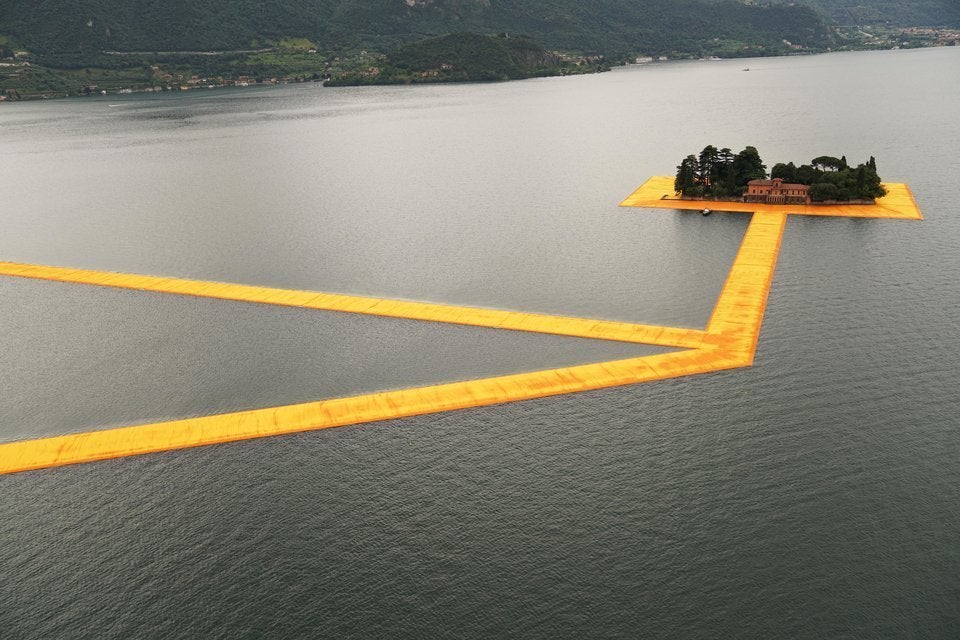 In fairy tales past and present, magic is something that happens in a flash -- with the flick of a wand, an "abracadabra" or a "bippity boppity boo." With his latest piece, "The Floating Piers," 81-year-old artist Christo proves magic isn't just a thing of fairy tales. It exists in real life. But it doesn't come with the blink of an eye. It comes after years of careful planning and hard work. And millions of dollars.
The story of "The Floating Piers" began 46 years ago, when Christo and his late wife and fellow artist Jeanne-Claude were approached by an Argentine art historian to build a floating bridge atop South America's Río de la Plata, realizing the artists' dream of walking on water. Jeanne-Claude died in 2009 from complications resulting from a brain aneurysm, but Christo was determined to make their shared vision a reality.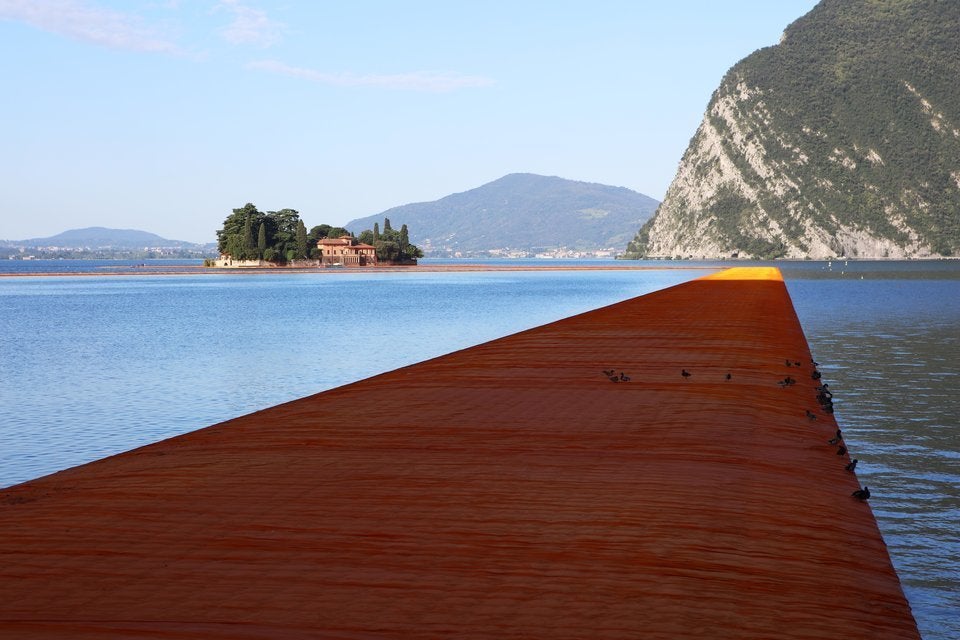 For years, Christo and Jeanne-Claude devoted their lives to bringing free, accessible artworks to the public -- artworks whose sole purpose is to enchant the viewer, without a deeper meaning or implication. Today, Christo's works continue to take the shape of massive, ephemeral installations that transform the natural landscape for a brief while.
Over the course of his career, he's wrapped an Australian coast in synthetic fabric, stretched a curtain across a Rocky Mountain valley, and encased a Parisian bridge in sand-colored cloth. For the duo's most recent work together, "The Gates," completed in 2005, Christo and Jeanne Claude installed 7,500 saffron-paneled gates in New York's Central Park, a project over 30 years in the making.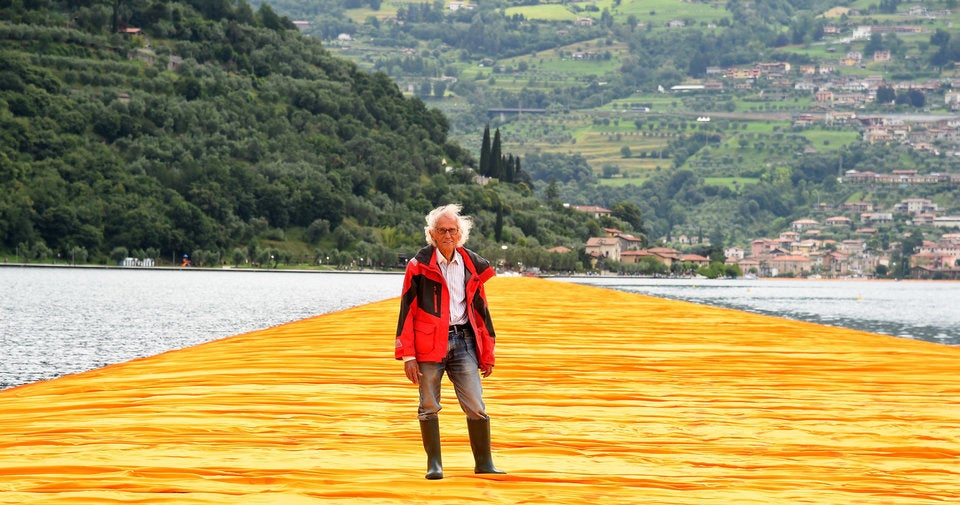 Although the seed of "The Floating Piers" was planted over 40 years ago, the project was realized in only 22 months, a record for the artists whose works are known to take decades to make. Throughout the spring and summer of 2014, Christo hunted for the body of water he wished to traverse, selecting Italy's Lake Iseo as the most rousing site. 
For two weeks only, the lake will be dressed up with a 1.8-mile walkway, measuring 53 feet across. The triangular dock's foundation is made from 200,000 floating, high-density polyethylene cubes, covered in 100,000 square meters of dahlia-colored fabric, waterproof and stain resistant, shimmering and rippling. The bridge stretches from the Italian mainland to two small islands, Monte Isola and San Paolo, allowing visitors to walk to both as well as between the two. 
The piece cost approximately $16.8 million dollars and was funded entirely through the sale of Christo's original drawings and collages.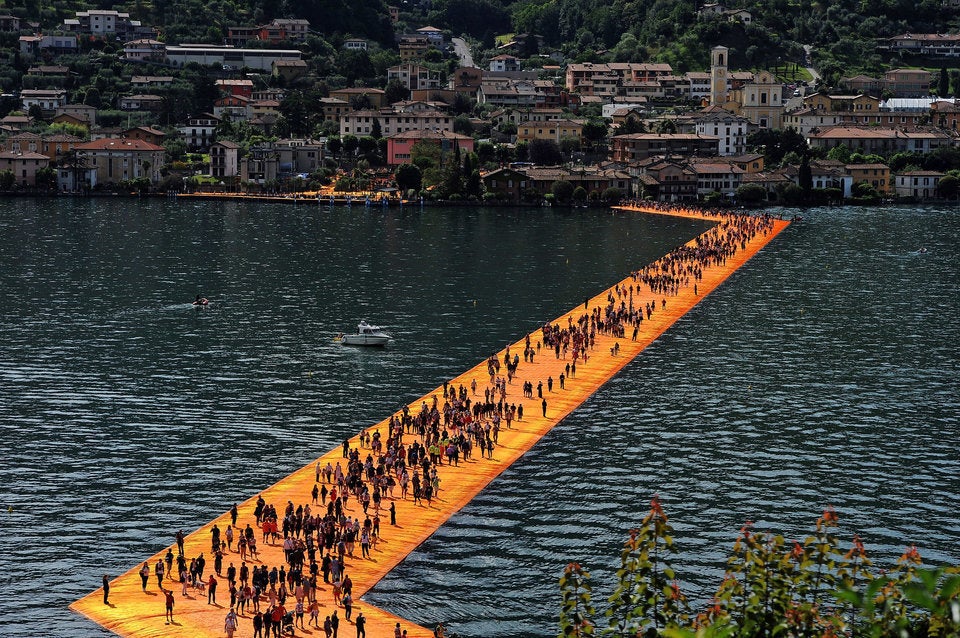 "It's actually very painterly, like an abstract painting," Christo told The New York Times, "but it will change all the time." The massive walkway, like a constantly undulating golden quilt, is designed to shift according to weather and time of day. Like a massive mood ring, the work reflects its environment, becoming warmer or paler, speckled or glassy, depending on each viewer's particular experience. The texture, too, is constantly in flux -- sometimes wet and squishy, other times soft and warm. Walking barefoot is encouraged. 
The piece opened to the public on Saturday, Jun. 18, and will exist until Jul. 3. On each of those 16 brief-yet-wondrous days, approximately 40,000 visitors will experience the supernatural sensation of walking on water, moving in harmony with the soft rhythm of the lake below. 
Yet again, Christo and Jeanne-Claude have proved that, at its best, art is interchangeable with magic, and most anything we imagine can become a reality. But it's not just a matter of a magic word or a poof of smoke -- such an achievement takes years of planning and millions of dollars, not to mention the help of engineers, construction companies, deep-sea divers and boat hands. Lifeguards will be on hand in case any overexcited viewers amble right off the floating walkway. There are no handrails, because where's the magic in that? 
CORRECTION: Due to an error in Getty Images, the date on which visitors toured "The Floating Piers" was incorrectly stated as June 8. The photo captions have since been corrected.
Calling all HuffPost superfans!
Sign up for membership to become a founding member and help shape HuffPost's next chapter
BEFORE YOU GO
PHOTO GALLERY
30 Artist Names You Are Probably Pronouncing Wrong