There have been art history majors who have visited Gari Melchers 18th century home and studio, who have admittedly never heard of him. For an artist whose paintings are in museum collections worldwide, it's hard to believe Melchers isn't a household name.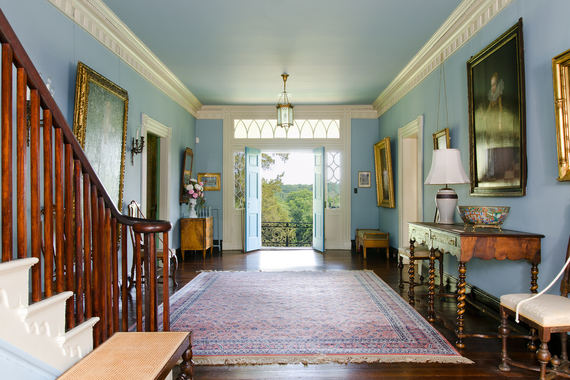 Step into Belmont's center hall and take a
docent-led tour of the historic 1790's Georgian home.
During the late 19th and 20th century, Gari Melchers was a highly acclaimed expatriate artist that specialized in genre painting and portraiture. Belmont, his 27-acre estate in Falmouth, Virginia, near Fredericksburg, possesses 1677 of Melchers paintings and drawings.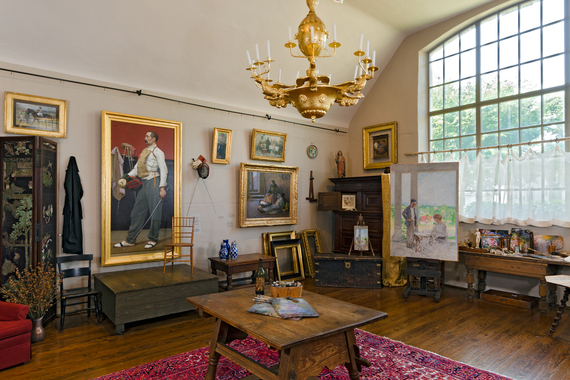 Gari Melcher's stone studio at Belmont,
was built in the early 1920s, and completed in 1924.
Allow plenty of time to explore the four gallery spaces.
Primarily a portrait artist, the obscure and prolific artist's most famous portrait is of then-President Theodore Roosevelt (1908), owned by the Freer Gallery in Washington D.C.
Melchers was not a struggling artist; he earned several thousands of dollars per portrait resulting in a comfortable life. He was commissioned by the influential Vanderbilts and Mellons to paint their portraits, and he was invited to paint murals for The Library of Congress and The Chicago World's Columbian Exposition in 1893. In 2004, one of Melchers portraits sold for $900,000 to a telephone bidder at a Sotheby's auction.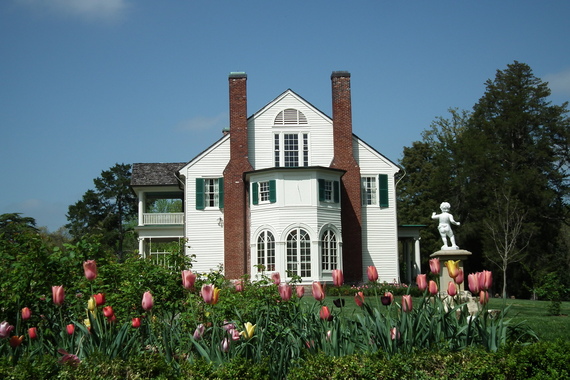 Belmont has a restored garden and 1 1/2 miles of nature trails;
guests can explore the grounds on their own.
Inspired by the Dutch Old Masters, Melchers was best known for his simple and honest depictions of rural peasant life and he became internationally famous as an American Impressionist painter.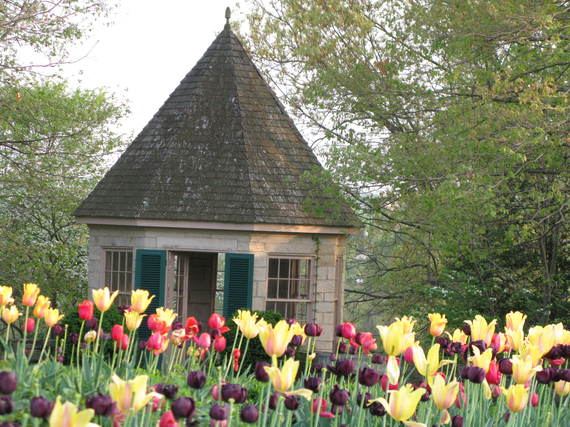 The gazebo at Belmont overlooks the Rappahannock River.
Born in 1860 in Detroit, Melchers was the son of German-born Sculptor Julius Theodore Melchers. At 17, he went abroad to attend the Royal Academy of Arts in Dusseldorf where he studied with Eduard von Gebhardt and Peter Janssen. In 1881, Melchers moved to Paris where he continued his training at the Académie Julian and the Royal des Beaux-Arts.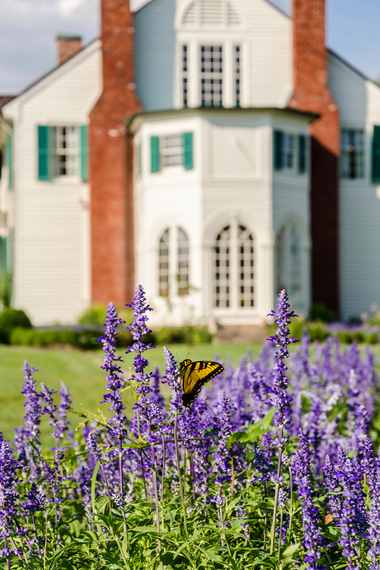 Upon arrival at Belmont, stop in the Museum Shop first,
and watch a 12-minute introductory film on Gari and Corinne Melchers.
In 1884, Melchers moved to Egmond, Holland, where he shared a studio with his artist friend, George Hitchcock. It was there that he was inspired by the simplicity of Dutch life. In 1896, at the age of 36, he painted "The Sermon,", which was the first work for which he gained recognition (The Smithsonian American Art Museum owns the painting).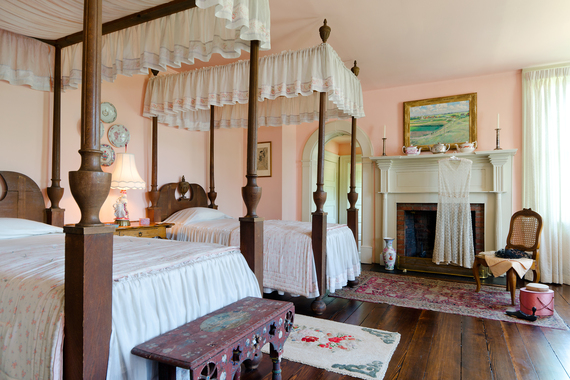 Light-filled guest bedroom at Belmont
In 1889, Melchers was honored the Grand Prix at the Paris Salon for his work, "The Communion." Along with John Singer Sargent, both artists were the first Americans to be awarded the prize.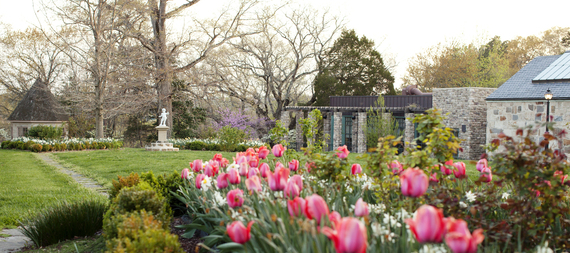 The grounds at Belmont include an event building (on right) for small functions.
Melchers met his future wife, Corinne Mackall from Baltimore, on a cruise to France. By then, he was a successful artist and she was an art student. Corinne arranged an introduction, and not long after, they married, in 1903. In 1915, due to the outbreak of World War I, Gari and Corinne returned to the states. They purchased Belmont in 1916. At the time, the property was in poor condition and needed a considerable amount of work. The Melchers took great pride in their home improvements as well as the gardens and lawns.
Although he also maintained a studio in New York City where he traveled for commissions, Melchers remaining years were spent at Belmont. He died there in 1932. Corinne continued to live at Belmont until her death in 1955. She deeded their beloved Belmont, furnishings, decorative arts, papers and the remainder of Melchers art to the Commonwealth of Virginia.
Visiting Information:
Address: 224 Washington Street, Falmouth, VA 22405
PH: (540) 654.1015
The museum, garden and trails are open daily, except Wednesdays, 10 am-5 pm. The museum closes at 4 pm from November 1 thru March 31.
Admission Fees:
General: $10
AAA: $9
Students 18 years old and younger are free with a paying adult, limit two.
Popular in the Community