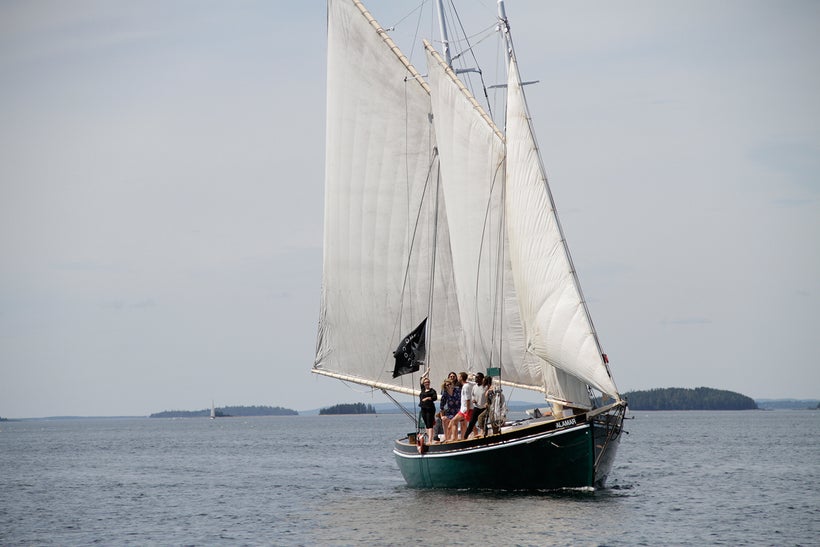 Seems timely as ever to think of ways for people to shift into new waters to create work.
OFFSHORE RESIDENCY SEEKS APPLICATIONS FOR SUMMER PROGRAM IN MAINE
Offshore is a residency program at sea, where dedicated visual artists come together for an intensive, collaborative sailing journey. Residents will live and sail together for the entire week aboard the beautiful, 45' schooner Alamar. Designed by French and Stuart and launched by Machiasport Boat Shop in Maine in 1947, this traditional gaff rigged wooden schooner has been rebuilt and refitted over the years and is maintained in first class condition. Offshore's official partners, the Sailing Collective will be captaining the boat and assisting with itinerary planning. The journey will be a truly memorable experience on a historic vessel!
Offshore was founded in the fall of 2016 by Tonian Irving (designer and sailor) and Cortney Andrews (visual artist). After launching a successful pilot program in July of 2016, the program is now in its second cycle and accepting applications.
Offshore's Summer 2017 program will take place in the Penobscot Bay region of Maine from August 19th - August 26th. Residents will meet in Buck's Harbor, Maine, and set sail along the coast for one week, stopping at secluded islands for exploration and creative reflection as well as historic ports where residents will engage with local communities through special exhibitions, projects, and events. Through these relationships, residents will have the opportunity to reflect upon their work and its objectives outside of marketplace demands and experience the rigors and rewards of sailing under the guidance of experienced captains.
Offshore is nontraditional in that it does not offer studio space during the artists' time in residence. Instead, the week at sea is intended to challenge perceptions about where ideas come from and inspire artists to consider alternative practices and methodologies in their work. For the Summer 2017 program cycle, Offshore is asking for proposals that consider the concept of borders and boundaries.
The due date for applications is Friday, June 16th. Application details, including eligibility and requirements, can be found on the Offshore website here: http://www.offshoreresidency.org/apply/
For more information, please contact info@offshoreresidency.org
Calling all HuffPost superfans!
Sign up for membership to become a founding member and help shape HuffPost's next chapter
This post was published on the now-closed HuffPost Contributor platform. Contributors control their own work and posted freely to our site. If you need to flag this entry as abusive,
send us an email
.