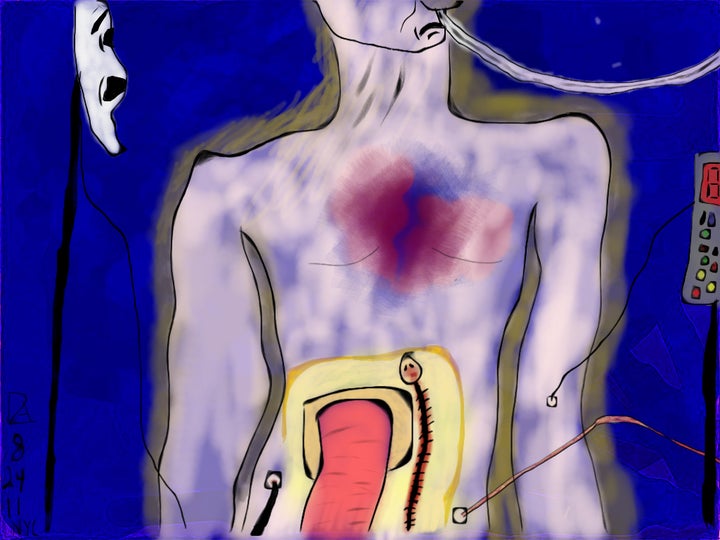 Thirty-five years and one week ago today I had my entire colon (large intestine) removed (known as a "colectomy"). I was 11 years old. Six years earlier, I had been diagnosed with ulcerative colitis. It was the first of what would be six surgeries. I had one each at age 11, 12, 13, 14, 17, and 21.
When I had that first operation, part of what we were expecting was that I would be cured. That was the language and thinking used by the medical community and the CCFA (Crohn's and Colitis Foundation of America), one of the primary funders of research for inflammatory bowel disease (IBD, which includes both ulcerative colitis and Crohn's disease). The idea is that you if you take out the colon, you can't have ulcerative colitis. This didn't work out for me, though, because when I was 20, I was re-diagnosed with Crohn's disease. Even if it did work out, I think the word "cure" used in the context of removing your entire colon, which alters your life permanently in big and small ways, is misleading to patients and their families. To their credit, some, including the CCFA, have stopped calling colectomies cures.
When they told me I had Crohn's, it meant that I was not cured, and I thought I was going to have to go through all the horrible things I went through in the first 20 years of my life again ― and I just really didn't think I could. So far, it's turned out that I had one more surgery at age 21 and haven't had to have one since. I do have number seven coming up, but not for Crohn's ― for a torn rotator cuff. One fear I have about it is that I will get sick again, as I did before my last surgery. I was so terrified of having another surgery that I think I stressed myself into sickness because I took a major downturn that began when we finalized the date and ended with the removal of more of my small intestine (some had previously been removed in other surgeries).
This next surgery is nothing compared to my other surgeries. The first one was nine hours long. I have one scar which is about a foot long and runs directly down the center of my abdomen from an inch or so above and directly adjacent to my belly button down to below my waistline.
IBD is very isolating. When I grew up, I didn't know anyone else who had it and even anyone that had heard of it, other than my family, who has a history of IBD that spans at least three generations. I spent weeks and months at home sick and in the hospital. Since my disease is not cured, without going into all the gory details, my life is a lot more difficult. I must constantly monitor my what I eat (avoiding all dairy, refined sugar, gluten, alcohol and caffeine, and various other foods) and my hydration (I have to get IVs fairly often to supplement all the other fluids I take in). I live with a good deal of pain throughout my body all day, every day. I've learned to push it into the background most of the time, but sometimes, and not infrequently, it overtakes me and knocks me off my feet.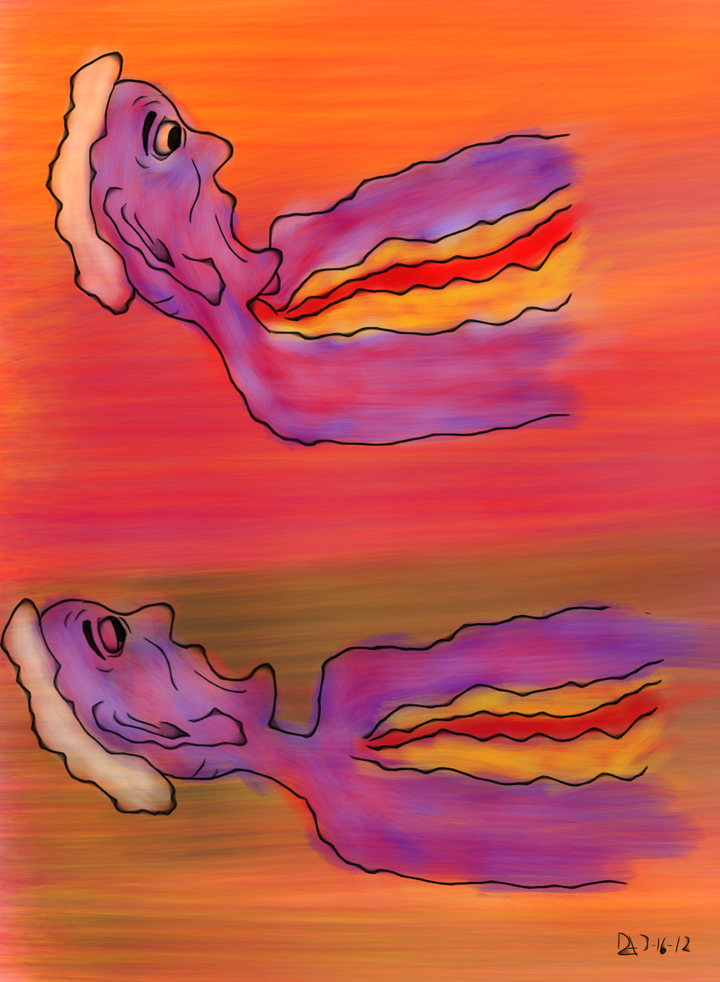 Through all of this and much more not referenced here, I've learned to do the best I can with what is functioning well at the time. Through the great suffering I experienced, I've spent a lot of time exploring the depth and darkness which lives in all of us, but is often only discovered during our most harrowing experiences.
Exploring those inner frontiers has motivated me to strive to live my most fully realized life, to make the most of whatever time I have here and to transform everything I have gone through into something deeply meaningful.
Thanks for reading... if you'd like to see more of my work, links are below.
――――――――――――――――――――――――――――
Daniel Leighton is a Los Angeles-based artist with Crohn's disease, who paints emotional landscapes with an iPad and incorporates Augmented and Virtual Reality (AR/VR) through his app, Daniel Leighton Art + AR. Combining his backgrounds in filmmaking, storytelling, chronic illness, and technology, AR/VR makes Leighton's paintings come alive with film, animation, sound and interactivity. Synthesizing mediums old and new with raw, emotional content, Leighton's work creates a space in which to process physical and emotional responses to the constant stimuli that is now ubiquitous. Leighton has been programming since the age of 11 and graduated cum laude from UC Berkeley with a BA in film. His work has been called, "fascinating," by Joseph E. Thompson, Director of MASS MoCA, and was selected by Timothy Potts, Director of the J. Paul Getty Museum, for the POP ÜBER ALLES show at the L.A. Art Association/Gallery 825 in 2013. It was also featured by Mat Gleason in the Coagula Curatorial Video Lounge at Art Basel in Miami in 2014. LA Center for Digital Art (LACDA) awarded him first place in an international competition in March of 2015. His third solo show, Permission To Enter, opened in October of 2015 at the LAAA/Gallery 825 in Los Angeles. In April, 2017, Daniel's work will be featured at the M.A.R.S. (Music and Art ReSound) Festival in Downtown, Los Angeles and in April, 2018, Daniel's work will be featured at the San Luis Obispo Museum of Art (SLOMA) as part of 3-person group show.
Related