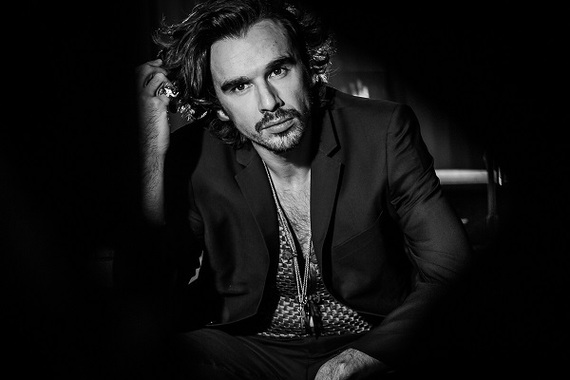 Edward recently joined the cast of the hit ITV series Mr. Selfridge as the arrogant French fashion designer Pierre Longchamp.
Edward Akrout's Twitter: @EdwardAkrout , Edward's Showreel
Photo by Sebastien Pons.
Edward Akrout has a big presence in the UK but now he's trickled to the other side of the pond. Off screen, Edward made his debut in the art world this year, showcasing his paintings at Café Royal, and Hoxton in London. A long time passion of his, Edward's paintings include acrylic, ink and charcoal designs, and his collections consist of pieces he created in Paris, New York and at his home in London.
You're a busy guy with recently joining the hit ITV series Mr. Selfridge, currently shooting the 18th season of the television series Midsomers Murders and starring alongside Terence Stamp, Max Irons, Barry Pepper and Samantha Barks, in the George Mendeluk directed film Bitter Harvest. Describe your characters and teach us about the direction for each.
My character Pierre Longchamp arrives in the third season of the PBS show Mr. Selfridge (alongside Jeremy Piven). Set in the 1920s, Longchamp is an arrogant French fashion designer. He has the tendency to speak his mind, which creates tension and drama amongst others. It has been a great experience to work with the director Rob Evans on both Mr. Selfridge and most recently on the set of Midsommer Murders. TV directors are usually very fast paced and to the point. Rob Evans is one of the most efficient directors that I have worked with. Despite everything happening on set, Evans always creates a very relaxed and creative atmosphere.
Bitter Harvest is a historical drama set in the turbulent period when Stalin and the Soviets invaded Ukraine. The story surrounds the struggle of a young artist ensnared in the bourgeoning communist force and his fight for survival. In the film I portray a surrealist contemporary artist called Professor Temchuk. I challenge the lead character Yuri (played by Max Irons) and his artistic sensibilities. Whilst encouraging him to stand up for his beliefs and ultimately, to not surrender to communist rule.
From the moment I opened the door and stepped into the casting room, George Mendeluk turned to me and said "Its you." I still don't know if he said that to all the actors to make them feel at ease of if he really had a vision. Mendeluk is a very passionate man and pays an enormous attention to detail. It was very inspirational and helpful.
You're most notably known as the French Captain in Showtime's period drama The Borgias. Tell us about your audition.
My brother filmed me outside of his Parisian apartment for the role. His street was located in a fairly rough neighborhood and my audience consisted of local drug dealers and prostitutes. All of whom offered their opinions and attempted to participate, it was an amusing audition to say the least.
Why did you choose to attend the London Academy of Music and Dramatic Art (LAMDA)?
When I had my final audition for LAMDA I could barely speak English. During the interview I answered every question with "it depends," because I had no idea what they were asking me!
Either it was phenomenal acting (with me pretending to be fluent in English), or they took me for a deep, artistic individual.
Whilst at LAMDA, I trained as hard as humanly possible to correct my French accent. I'm proud to say that now; cab drivers assume I'm from London.
Give us a little bit of your family history.
I was born in Paris to a Franco-British mother and Tunisian father. Having been raised in France, I speak multiple languages and am a third culture kid. I studied philosophy at The Sorbonne before shifting my focus to acting.
One of your passions is painting. At what age did you discover your love and talent for art?
I grew up with my beautifully mad and artistic uncle. He lived in a fantasy world and taught me the importance of imagination from an early age. He cultivated my love for painting and remained my closest friend until he passed away when I was a teenager.
Tell us about your collaborations with SAATCHI & Hoxton Hotel.
I have upcoming art exhibitions this fall in London at the Hoxton Hotel in Shoreditch, and another curated by the French Institute at the European Unions Twelve Star Gallery in Westminster. Along with my prints being sold through Saatchi Art.
What's your experience with people being attracted to you only because of your accent?
As previously mentioned -- I studied rigorously throughout drama school to lose my native accent, which allowed me to play British and American roles.
Of course I can always be cast as 'The Frenchman,' but the reward has come from the jobs that I've booked and would've never be able to take on before.
What's it like working with firearms in film / television?
The firearms are usually real but the ammunition is blank. I've been professionally trained in shooting and fencing. Playing everything from a cowboy (doing stunts with firearms) on a horse, to sword fighting as a Norman Prince.
For me it's a dream, I'm thankful to call acting my profession, especially when I have parts such as these.
Tell us about your support for the orphanage Early Childhood Development Center (ECDC).
Recently in Kathmandu I've been assisting The Early Childhood Development Center with emergency relief. This orphanage with their 40-some children (ranging in age from two-eighteen) has been forced to seek refuge in makeshift tents in a field behind their forsaken home. Returning from earthquake ravaged Nepal reminded me the fragility of life and how truly grateful I am.
REAL LIFE. REAL NEWS. REAL VOICES.
Help us tell more of the stories that matter from voices that too often remain unheard.