I've just returned from a 10-day writer's residency at the Virginia Center for Creative Arts (VCCA) in Amherst, Virginia, 20 minutes north of Lynchburg. Before the residency, I spent a few days touring the area which is most famous, from the tourist perspective, for Appomattox, 18 miles east of Lynchburg, where Robert E. Lee, commanding general of the Army of Northern Virginia, surrendered to Ulysses S. Grant, general-in-chief of all United States forces on April 9, 1865.
Fortunately for me, I arrived one week after the crowds who were on hand for the sesquicentennial celebration of the surrender had dispersed although I did get to hear a Lynchburg College Choral Union performance of Songs of the Civil War in the Appomattox County High School Auditorium, which included two dramatizations and a display of Civil War artifacts. In addition to old favorites like Swing Low, Sweet Chariot, Dixie, and Battle Hymn of the Republic, the program included lesser known melodies like Johnny Has Gone for a Soldier, and Just Before the Battle, Mother which illuminated the personal toll that the bloody Civil War took on families.
Since I was in town for Lynchburg Garden Day, it was possible to tour five private homes and gardens, filled with flower arrangements by members of the Hillside and Lynchburg Garden Clubs, one of them, on Rivermont Avenue, the home of Randolph College's President Bradley W. Bateman where works of art from The Maier Museum of Art at Randolph College were on display. Prominent among them was a lithograph by Thomas Hart Benton and works by Arthur Bowen Davies, one of the leaders of the landmark Armory Show of 1913. The ticket also included admission to Harlem Renaissance Poet Anne Spencer's garden behind her home on Pierce Street, the site of Edankraal, the garden cottage built as a writing studio for Spencer by her husband, Edward. Inside her home, Spencer's poem "Lines to a Nasturtium" was painted by an artist friend on her kitchen wall. Upstairs, her granddaughter, Shaun Spenser-Hester (one of 11 grandchildren) gave a moving tour of the bedrooms and the attic, pausing to remember personal anecdotes--her grandmother never washed a shirt or sewed a button-- and to identify figures in "The Cocktail Party" (1944), a mural painted on Spencer's bedroom wall by Dollie Allen Mason.
Founded in 1786, Lynchburg grew slowly in its early years, with tobacco as the main source of its economy. During the Civil War, the town served mainly as a supply and hospital center, sparing it from destruction. From 1880 on, though, Lynchburg experienced something of a boom as the city evolved from a tobacco-based economy to one driven by manufacturing. Among the many factories that opened was the Craddock-Terry Shoe Company in 1888, which became Lynchburg's largest industry and the largest shoe manufacturer in the south.
When shoe manufacturing declined in the south, Lynchburg was left with many neglected riverfront warehouses awaiting creative repurposing. Enter, a group of local activists, who were following in the tradition of the SoHo visionary George Maciunas, the man who helped buy and transform 16 manufacturing buildings into artist live/work facilities, thereby creating the SoHo artist community. Lynchburg visionaries formed a private non-profit organization in 1994 with the intent of purchasing and renovating one of the historic downtown riverfront warehouses to "provide living and studio spaces for artists and other people." They originally chose the Lukens building but it burned to the ground shortly before the closing. They then found the perfect building in the seven-story (ground floor and six floors above) Craddock-Terry Shoe Warehouse on Jefferson Street and hired the architect Hal Craddock, a great grandson of a founder, to reconfigure the interior, with spaces ranging from 340 square feet to 1200 square feet. In the beginning, many artists built walls using shoe boxes left in the building, a nod to the building's manufacturing history.
The idea for the conversion originated with Ann Hatfield, an artist who had lived in a similar space in Boston. The original vision was for Riverviews to be a privately funded artists' cooperative but, unable to receive funding for such a venture, the project was redefined as a condominium with Riverviews owning, renting and managing the three lower floors of the building which included commercial rental units and "public spaces."
When Riverviews subsequently learned that they could not obtain historic tax credits for a project with multiple owners of condominium units, the project was redefined again, with the board agreeing to convert the building back into a condominium project at the end of a five-year compliance period. The official conversion occurred in December 2008, with existing residential tenants on floors 3-6 and three commercial tenants on floors ground-2, being offered the option to purchase their units. The only commercial tenant to buy in was Harvey Design Land Architects (HDLA), now occupying a second-floor space in the building.
Although community organizations were engaged in the project since 1994 the building did not officially open until 2003. When Mary Ann Racin arrived as Riverviews' first Executive Director in 2005, a part-time position which she described as one with "with full-time responsibility," the building was very healthy. Almost all of the residential spaces were rented and the roster included many artists. One of the first things Racin did was to change the building's logo to make Riverviews "look cool," and to begin to develop relations with other organizations in town. "We needed more partners," she said. Working with her board, Racin hired an exhibitions manager/curator, a position that is now held by two staff members, Sylvia Noyes (exhibitions/programs) and Brooke Marcy (curator).
The building's transformation, according to Racin, was accomplished with funding from the City of Lynchburg and its Industrial Development Authority and with economic support in the form of historic tax credits, private donations, and loans. Technically, Riverviews could not get bank loans until the building was officially converted to a condo in 2009. At that time, Riverviews sold some spaces to artists at deep discounts. Smaller units were sold for $30,000 and larger ones for $85,000.
Rental income was fairly robust, but, unfortunately, it did not cover all of their expenses. Since Riverviews, a not for profit corporation, was the majority shareholder/partner in the building, it had to pay condo fees on most of the property, including the Coop Gallery, on the ground floor, and the Craddock-Terry Gallery on the first floor. To improve the building's finances, the board decided to sell off two more units. Riverviews currently owns 11 of the 36 residential spaces.
Recently, when they had trouble renting and selling spaces only to artists, they began to diversify, attracting more non-profits including the James River Council for the Arts and the WarmStreets Gallery (dedicated to helping the homeless). Determined to retain their identity as an art space, the board decided not to sell any more studios or commercial spaces. "We are trying to keep rents low in the studios," Racin said, "so that artists can afford them." Currently, larger spaces rent for $1 per sq. ft. a month, while those without windows rent for 85 cents per sq. ft. a month. Meanwhile, residential tenants have been alerted that their monthly rents will be going up.
Proctor S. Harvey, the landscape architect, explained that about eight or nine years ago the Lynchburg City Council decided to invest $5 million a year in downtown. "That development has multiplied five times," he said, adding that there are "600 new lofts or living spaces in downtown Lynchburg in the last four years."
The floors above, three through six, are residential, with a mixture of tenants and owners. One 6th floor space belongs to Larry Bassett who spent the 60s in Ann Arbor, Michigan and who moved to Riverview 12 years ago. Bassett collects the works of local artists whose art lines the hallway outside his loft.
As an artspace, Riverviews has succeeded in creating and running an ambitious cultural program. In 2014, their 10th anniversary year, their calendar included the Disposable Film Festival, the Bike Shorts Film Festival, BEAT BURG, the first annual poetry festival, Rebus, a five person exhibit of text and image based on art comics featuring Warren Craghead, Bianca Stone and Derik Badman followed by comic art workshops led by Warren Craghead, and the Small Theatre/Big Screen Film Series.
A gala tribute to Rosel Schewel in February 2015, Celebrating Rosel, in whose honor the 40-seat theater on the ground floor (with upholstered chairs donated from a Holiday Inn that was redecorating) is named, drew a crowd of over 100 at Lynchburg College. A professor of education at Lynchburg, Schewel served on the Riverviews board and was the creator of the CINEviews Annual Film Festival. She and her husband Elliot, a former Virginia State Senator, were founders of Riverviews and they remain strong supporters.
BEAT BURG April 2015, its second incarnation, proved to be a big hit with 18 local poets participating. Poetry banners hung from town buildings, poems decorated the side panels of downtown buses, and over 26,000 coasters with poems on them were distributed to local restaurants. Racin hopes to grow the event in future years.
Riverviews' audience is an eclectic one: drawing families with young kids who want to expose them to art, regulars who come to First Friday events, friends of artists in the building, and, recently, "lots of young people--college kids in their 20s. "Our goal," Racin said, is to do "more events with more community people--shopkeepers, restaurants, and other arts organizations like the Virginia Center for the Creative Arts (VCCA).
The worlds of Riverviews and VCCA converged on Thursday, April 30th when Sandell Morse, an essayist and writing fellow at VCCA, read from new work in the Riverviews theater. Morse's reading was the latest collaboration between VCCA and Riverviews. Over the years, many VCCA writers and artists have given readings and artists talks at Riverviews and they have also exhibited in the Craddock-Terry Gallery.
"VCCA and its artists, writers, and composers," said Director of Artists' Services Sheila Gulley Pleasants, "would very much like to work with Riverviews, along with other arts organizations, to bring the arts to the fore in Lynchburg." Currently, VCCA's Carol O'Brien is working with June Britt and others in Lynchburg to raise the profile of VCCA in Lynchburg. "We look forward to the synergy that this type of collaboration will produce," Pleasants said.
On the following evening, May 1st, a First Friday, a crowd of 300 showed up to tour the studios and see Double Vision, New York-based artist Alicia DeBrincat's new exhibit, investigating the dialogue between photography and painting, up in the Craddock-Terry Gallery until June 19th. Curator Brooke Marcy was pleasantly surprised to see people standing for several minutes in front of each piece, despite the similarities to the images on both sides. "We had a steady stream of people and plenty of positive feedback from loyal attendees and new faces," she said. Ultimately, Marcy wants to introduce the Lynchburg audience to new ideas and imagery. "We want the gallery accessible to everyone."
Although Riverviews has been a highly successful project, Rosel Schewel said that it is "still a work-in-progress."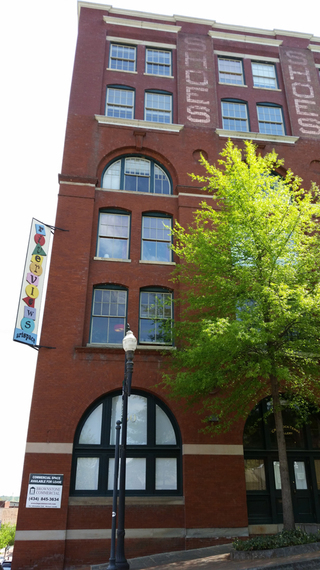 Riverviews Artspace Facade
Photo credit: Shael Shapiro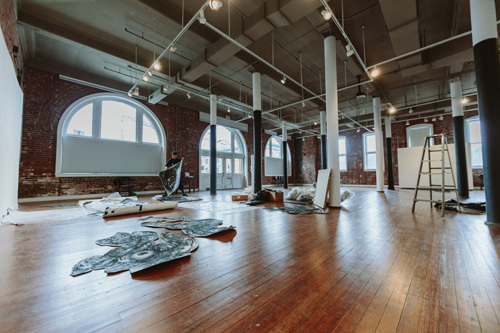 Artist Ankica Mitrovska installing her work in the Craddock-Terry Gallery
Photo credit: Foster & Asher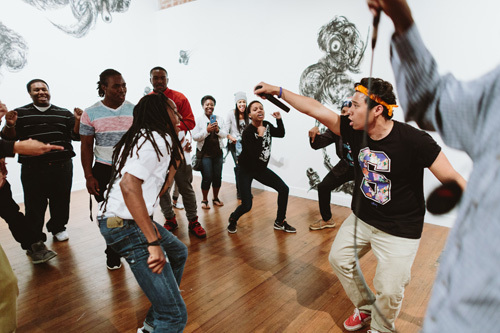 RIPE Hip Hop performers as part of Riverviews BEAT BURG annual poetry festival
Photo credit: Foster & Asher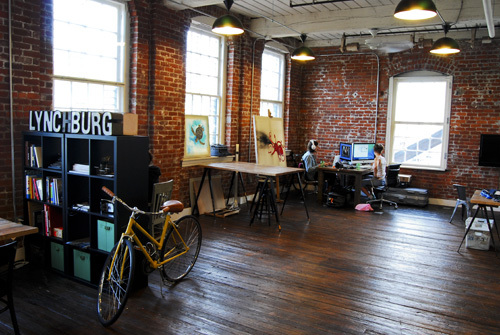 Toolry: Coworking space and studio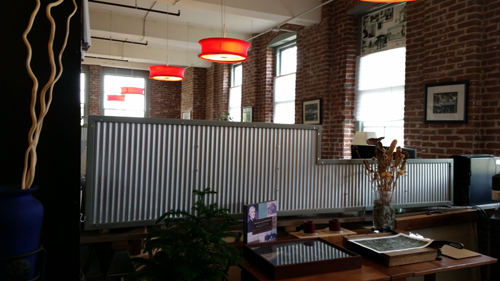 Harvey Design Land Architects
Photo credit: Shael Shapiro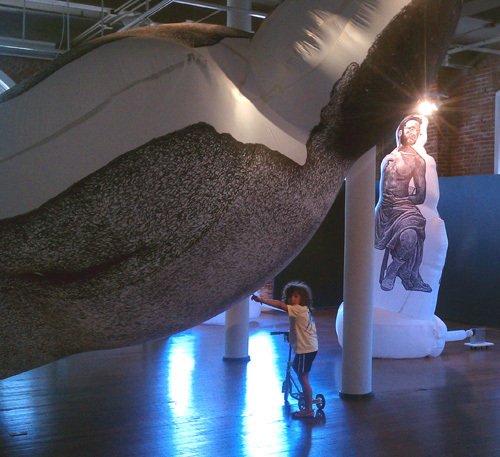 Ruby Stover Sickmen amidst the work of LA sculptor Benjamin Entner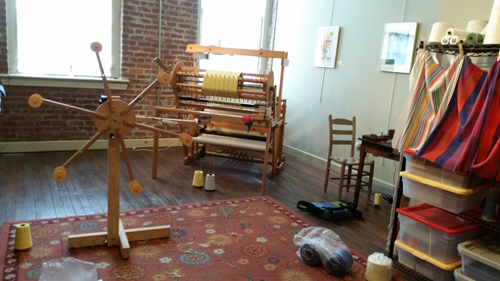 Janet T. Gray Horseshoe Neck Handweavers
Photo credit: Shael Shapiro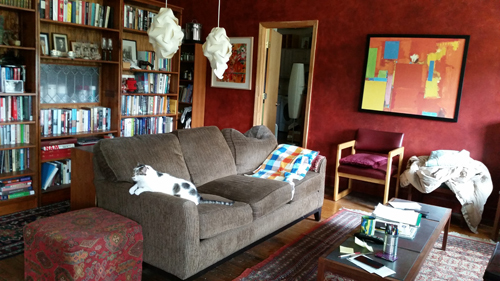 Larry Bassett Loft
Photo credit: Shael Shapiro
REAL LIFE. REAL NEWS. REAL VOICES.
Help us tell more of the stories that matter from voices that too often remain unheard.