When student caught president's attention at the NFTE Youth Business Plan competition
Paul LeBlanc had not planned to stop by the "MET" Metropolitan Regional School and Technical Center that April afternoon, or to catch the pitch of NFTE's final presenter, but he did. And he had not foreseen granting a $160,000 scholarship, automatic admission to Southern New Hampshire University, and a prestigious internship at the school's internal marketing company to an aspiring 17-year-old film producer, but he did that as well.
Laura is a the young CEO and founder of EHFAR "Everything Happens For A Reason" Films. Paul tells why he chose her: "I was quite struck by her talent -- quite struck by her poise, her intelligence, her conviction. She has some kind of perseverance and grit -- you can't teach that."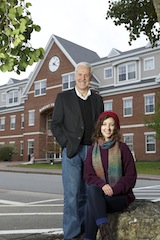 Paul LeBlanc and Laura Martinelli.
Laura had just completed NFTE's yearlong course and was presenting her business plan, establishing what is now a successful promotional film production company that caters to small businesses.
"When [Paul LeBlanc] approached me at the business plan competition, I was still really frazzled -- I had just won $900 [for camera equipment], and connections with Alex-Ani's media company, Seven Swords. I was floating on air, and he came up to me and all I heard was 'New Hampshire' and 'internship.'"
Then Paul walked away, and Laura stood there, confused, until Dennis "Doc" Littky, founder of her Alma Mater, MET in Rhode Island, explained what LeBlanc had said.
Laura and her family couldn't contain themselves.
"She said, 'you'll cover everything?' And I said, 'yes, we'd cover everything.' She got teary, her mother got teary, and next thing you knew, it was a cry fest," Paul remembers.
Laura recalls their emotion:
"We could not afford the school I was accepted to and planning on attending. I was going to be $200,000 in debt by the time I was to graduate. I was heartbroken and about to come to grips with the idea of attending a state school. The next week Paul offered me a full scholarship to SNHU."
"Right now, I'm a one-man band," Laura tells us. "I do the shooting, I do the editing -- headphones on, monitoring the audio, controlling the audio."
Laura also creates promotional videos for startups within MassChallenge, the largest accelerator in the world.
How did she get here? A lot of hard work, some luck, and an insurmountable passion and talent for film. But, in addition to those qualities, NFTE's entrepreneurship course taught her a few key lessons. Because of NFTE, Laura knows the importance of finding out what the next guy is making, and not doing it. She is the youngest one in her area who specifically caters to small businesses, producing competitively low-cost, high-quality marketing videos.
Laura's now taking six classes and is still an A-student. In addition to her own company, she's doing the web videos for Mill Yard Creative, a unique marketing company that is entirely run internally by Southern New Hampshire University. She's now paying it forward -- helping small companies gain the voice and the publicity they need to succeed.
"There are so many other Lauras out there, talented young women who aren't finding the money to go to college. Laura and I were just in the right place at the right time. There is an element of pure luck in this."
Paul LeBlanc explains how a MET student had just graduated, and he knew a full-ride scholarship was sitting dormant. He hadn't anticipated finding the perfect candidate for the opportunity, but he did.
And thanks to Laura, Paul has seen a high ROI.
Very special thanks to Maya Horgan, who provided research assistance on this article.
Popular in the Community