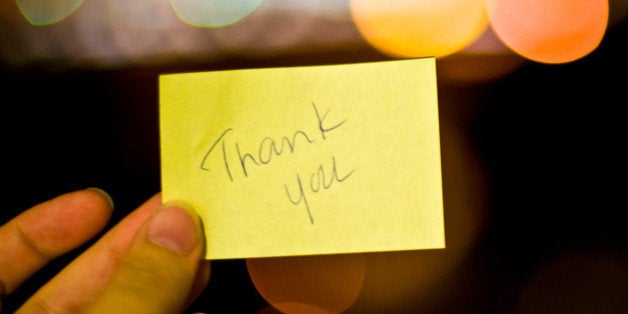 It was the end of week and we were having a Friday night "Shabbat" dinner at my synagogue. This was no ordinary dinner because we had special guests, four homeless families to whom we had given shelter that week. As one of the coordinators of the program, I was present with my kids on most nights. As is the tradition in our congregation, the Rabbi comes in and says a special prayer for our guests and welcomes them into our home. He then went around the room asking people to share what they were most grateful for that week. My son Josh took note of what others shared but stayed quiet, which was unusual for him.
He continued to be quiet on the car ride home, so I asked him what was on his mind. He told me that he was thinking about for what he was grateful. I asked him what that was, fully expecting him to name me as "the greatest mom ever " or, in light of where we had just come, express gratitude for the roof over his head. But surprisingly, I never would have guessed correctly at his answer.
My son, who has an anaphylactic peanut allergy, told me he is grateful for three things in his life. First, the people who invented the peanut patch (an experimental treatment for peanut allergy), as he is in a clinical trial and he wears it every day in the hopes that it will enable him to be less sensitive to his allergen. Secondly, he said he was grateful for Dr. Hugh Sampson of Mount Sinai Medical Center in New York, who has been his longtime allergist. And finally, he said for the Epi-Pen because it saved my life and will do so again if I need it.
When we all think about what we are grateful in life, we think of things that we know that affect us directly on a personal and daily basis, like our lives, our situations, our parents, our friends, etc. But for the food allergic child, the list is completely different. Josh is thankful for the technological innovations, the researchers, and the all of the people who have been advocating for food allergic children in years past. I thought about how for the most part, Josh doesn't know any of these people personally. He hasn't met too many advocates, or any of the people who manufacture the Epi Pen, or any the scientists and doctors who give countless hours of their time to help people that they themselves don't even know. But Josh is grateful for all of these unknown people. But he can't ever personally thank them since he doesn't know who they are. While most people are thankful for things that they can qualify as tangible to themselves, Josh cannot, and we will make a special effort to try to acknowledge and thank those people to whom we will never know, or ever be able to directly thank ourselves.