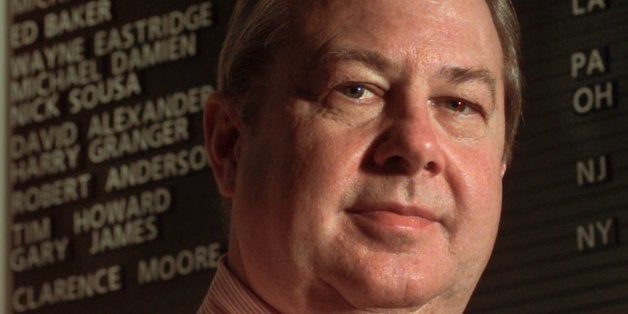 Once in a great while as we meander through our unremarkable lives, selling stocks, tending bar, writing about dating, watching pointless "Mad Men" episodes, we may, if we are lucky, encounter a truly heroic individual.
Jim McCloskey, founder and head of the crusading group Centurion Ministries, the first organization dedicated to fighting for the wrongfully convicted, is the real deal.
Humble -- genuinely so (the man doesn't know how to boast, though unlike most of us, he has reason to) -- single-minded, serious yet affable, Jim is the driving force that has freed 54 human beings who served a collective 1,116 years in prison for crimes they did not commit.
Jim -- a friend for 20 years and a collaborator on a compelling screenplay (but a tough subject to sell) -- "retired" the other day after 35 years of relentless focus on people whose lives were nearly wrecked by false testimony, coerced witnesses, ambitious and/or corrupt law enforcement, and sometimes just incredibly bad luck (one enduring lesson from Centurion: this could happen to any of us.)
At 73, Jim is too energetic and determined to retire, and as long as he has active cases -- there are currently seven he is managing -- he will stay with those until they are resolved. He will also write a book that everyone should read.
But he will leave the "heavy lifting" to his partner of 28 years, the talented and equally determined Kate Germond, and her few paid staffers and small army of volunteers. (Centurion isn't a religious organization, and as Jim often says, they don't care if you have a religious bone in your body. The name comes from Jim's seminary training and from the Roman centurion who, seeing Jesus on the cross, said, "Surely, this one is innocent.")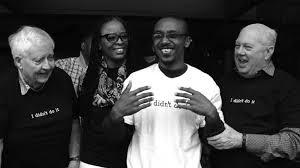 Hundreds of admirers filled a hotel ballroom recently in Centurion's home town (and mine) of Princeton, NJ, to honor Jim.
Benefactors, family, board members, friends. And most importantly, about 20 "exonorees" -- people Jim has gotten out of prison since Jorge "Chiefie" De Los Santos in 1983, to Richard Lapointe, the 69-year old former dishwasher released in April 2015 from a Connecticut prison after 26 years.
I've been to a dozen or so Centurion events over the years, and talked at some length with 15 or 20 of those wrongly convicted folks, who average more than 20 years in prison before they are "lucky" enough to have Jim get them out (which almost always takes many years after they are also lucky enough to have Centurion agree to take their case. Most who contact Centurion aren't so fortunate, even if they are innocent. There just aren't enough resources to help the tens if not hundreds of thousands in prison who didn't commit the crimes.)
Every time I go to a Centurion event, I know many of the stories I will hear -- I've heard many of them before. And every time, I cry. Every time.
I've heard Richard Miles, imprisoned in Texas at 19, and released in 2009 after 15 years, many times. Heard his mother, Thelma Lloyd, tell of her hope and anguish. I've spoken often to the remarkable Willie Green, who spent 25 years in a California prison, and asked him how he could stand it, and have him tell me, "I woke up every day knowing I didn't do it, and that kept me going," and the amazing Frank O'Connell, 27 years in prison, tell me how he asked his parents one fateful day from behind bars if they thought he committed the murder that put him in San Quentin and have them say, "Yes." But Frank never gave up, always wanting to be on the outside to be with his son, Nick, four years old when Frank went away. Frank has been out since 2012. Nick now works for Centurion.
I marveled at the optimism of Walter Lomax, who spent 39 years in prison. As unimaginable as 39 years might be, I have the same reaction to those who spent any time behind bars for something they didn't do. (I spent two nights in county jail in 1995 in Ventura, California for something I didn't do, which led me to Jim when I moved back to Princeton. Two nights. Not 27 or 39 years.)
I watched a few years ago when Johnny Briscoe, 24 years in a Missouri prison, walked over to a tree on Jim McCloskey's property and rubbed a leaf between two fingers as if to say, I haven't touched a leaf since I was a young man.
I spoke at length a couple of years ago with Barry Beach, released after 27 years in a Montana prison, talking about his new life, his new business. Then, they sent Barry back to prison, where he is today.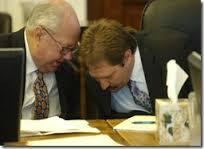 I laughed with Darryl Burton, another 24-year inmate, whose humor and energy are impossible to explain.
I grinned as I watched the just-released Richard Lapointe dance at Jim's party.
And I sat on many occasions with Joyce Ann Brown, the subject of our screenplay, whose nine years behind bars ended in 1989 after Jim persuaded "60 Minutes" to do a piece on her.
It is all terribly tragic and soaringly inspirational and at once a testament to the worst and best of human beings.
But mostly, I am in awe of Jim. This modest man who gave up a successful business career at 37 to go to the seminary because his life was just "vapor," and became the unwitting father of the "innocence movement" and the savior of 54 lives -- and many more family members and friends -- is something that doesn't come along often.
In an era of Kardashians and "Duck Dynasty "and inflated pundits, he is an authentic hero.
Calling all HuffPost superfans!
Sign up for membership to become a founding member and help shape HuffPost's next chapter