When it comes to teaching our kids Civil Rights history, I've seemed to have done most of it so far. So I was amused when I overheard a conversation about MLK Day between my white husband and our 5-year-old biracial daughter.
He told her she needed to get ready for bed because she had school in the morning.
"No I don't!" She insisted. "It's Martin Looser King Day!"
"It's what?" My husband asked trying to suppress a laugh.
My daughter paused for a moment while she struggled to get the name right. "Martin Luther King Day!"
"Oh, ok, and who was that?" My husband asked, wondering how much she understood.
"Martin Luther King Jr," Our daughter replied, in a matter-of-fact tone.
"No, I mean what did he do," he persisted.
Then our 5-year-old spatted off. "He helped make the world a better place. He helped everyone to get a long, and to be more fair."
"Oh yea?" My husband responded, a little surprised. But she wasn't finished.
"Yea, because there were signs that said only brown people.--No, I mean only white people could go in. So we couldn't go in. Only YOU!"
After peering an impressive smirk my direction my husband looked back at our little girl and said: "Yea, and that wasn't fair was it?"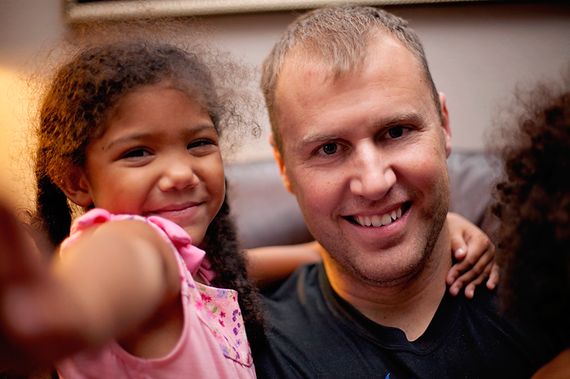 I think my husband handled the sudden jab well, considering. To be honest I didn't even really know that she put it all together as well as she had. We talked a lot about Martin Luther King Jr Day last year, and continued to read some children's books about him through the year. But I'm so impressed that she still remembers, and even asked about eating "Peace Pie" again--A tradition we started last year decorating an apple pie, and an excuse to eat dessert.
I think it's important we talk about these topics at an age-appropriate level to help our kids know what our country has been through, how people have--and continue-- to change, hopefully for the better.
All week we will be reading more stories, having more discussions, and sharing our thoughts on the holiday. We may even work on a craft like we did last year. But most of all we're enjoying extra time together off of work and out of school, and grateful for the people who worked so hard so that our family can even exist as we do today.