Thanksgiving is not for another four or five days, so I realize that I am a little early with this Thanksgiving message, or plea.
But there is a reason for such an "early warning": It may take some extra time and planning to shop for, cook for and set the table for the one or two extra people your family may want to share this year's Thanksgiving meal with.
I am talking about inviting one or two -- or more -- of our troops to your home this Thanksgiving, especially if you are at an overseas location and fortunate enough to have your loved ones with you.
Wherever you are, there are plenty of lonely soldiers, sailors and airmen who would love to spend a few hours with you and your family sharing not only a home-cooked meal, but also enjoying the warmth, amity and, yes, the bitter-sweet memories of home, that such an occasion will bring.
Because, more than 50 years later, I still remember as if it were yesterday how much I appreciated and relished when my commander and his wife invited me to share Thanksgiving dinner with them at their home during an overseas assignment.
I was then just a 19-year-old "two-striper" (the equivalent of an Airman First Class today), first time away from home, thousands of miles away and in a foreign country.
Yes, our "chow-hall" would have turkey and all the trimmings -- although not as fancy or as abundant as military dining halls cater today -- but it would never be the same as home.
Of course, Thanksgiving, even at my commander's cozy home in England wasn't the same as it would have been back home in Texas with my parents and sisters, but for me, on that day, it was as close to heaven as it could get.
That is why I still remember that Thanksgiving so clearly and fondly some 50 years later. That is why I will never forget my detachment and aircraft commander, Major Edwin P. Leonard, and his lovely wife, Joan, who were so kind to me.
So, this Thanksgiving, please consider sharing your home, your hospitality and the treasure of your family with our troops who are away from home, especially with those overseas.
Here at home, there are numerous opportunities to share the spirit of Thanksgiving with our troops.
For example, commanders at Joint Base San Antonio-Lackland are looking for local families to take in young airmen for Thanksgiving as part of "Operation Home Cooking." Just as I was more than 50 years ago, many of these young troops will be away from home during this holiday period for the first time.
Thus far, about 3,700 recruits and technical school students have signed up for Lackland's 38th annual "Operation Home Cooking," but only 1,400 families have volunteered to host them. About 500 airmen are without sponsors, according to MySanAntonio.com.
If you live in the San Antonio area and wish to share your home with and express your appreciation to these young airmen, please contact Lackland at 210-671-5453, 671-5454 or 671-3701 from 8 a.m. to 3 p.m. weekdays until Wednesday or "until there are enough sponsors."
If you live near any military installation, please check with the installation's public information office for similar programs.
A Happy Thanksgiving to all, but especially to our troops in harm's way in Afghanistan and elsewhere.
While they will hopefully enjoy a Thanksgiving meal with most of the trimmings, those trimmings will sadly not include the company of their loved ones and the joys and comforts of home.
Lead image: U.S. Army Capt. Jefferson Mason, left, serves Thanksgiving dinner to soldiers on Joint Combat Outpost Mushan, Afghanistan, Thanksgiving 2012. U.S. Army photo by Sgt. Kimberly Hackbarth, released to the public.
I have been trying for many years to locate my former commander, Major Edwin P. Leonard. Finally, during the writing of this story, I was able to contact his son, Richard J. Leonard, a retired U.S. Air Force Senior Master Sergeant living in Virginia, who gave me the sad news that his father, then a retired U.S. Air Force Colonel with 34 years of service, had passed away in 2001 and was laid to rest in Quantico, Va.
Richard also told me about his father's continuing and distinguished service to our country, service that included a tour of duty in Vietnam for which he was highly decorated -- more about that in a separate story.
Very related to this story and so typical of this man whom I came to be so fond of and admire so much, is what Richard wrote to me about his father:
I remember growing up that my father always had a young enlisted single troop at our home for holiday dinners. Not just Thanksgiving and Christmas but every holiday. He did that throughout his career even when he was at the Pentagon. Just one of the things my father always did.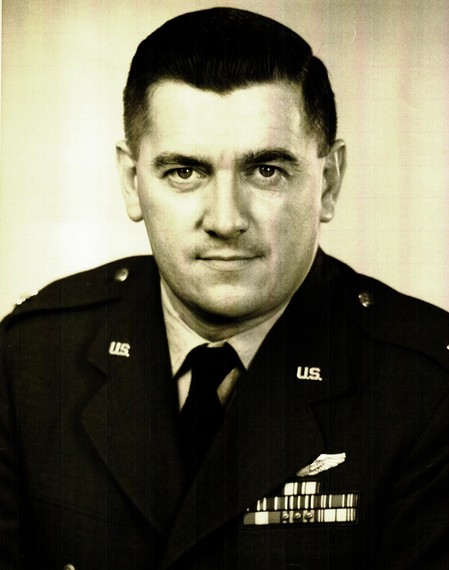 Col. Edwin Patrick Leonard, as I remember him around 1959-1960. Photo courtesy of his son, Richard Leonard.

God bless you, "Major Leonard."
Popular in the Community