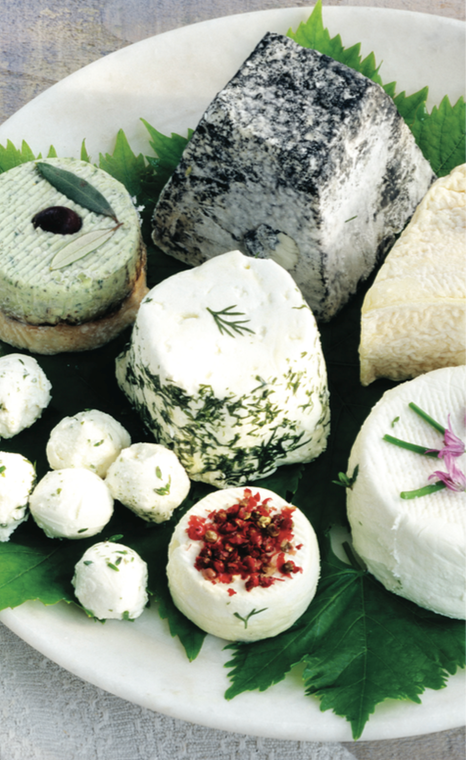 Cheese is Italy's the third most important export to the United States after wine and olive oil. The top ones are Grana Padano, Parmigiano Reggiano and Pecorino Romano, and fresh one like mozzarella, ricotta and mascarpone. However, they are also the main victims of the "Italian- sounding" phenomenon currently being battled by the Italian Ministry for Economic Development, as many producers use an Italian name to sell products that are not actually Italian at all. One of the measures designed to protect quality is the introduction of a special European logo granted to 52 authentic Italian cheeses and dairy products that are PDO (Protected Designation of Origin) and PGI (Protected Geographical Indication), respectively DOP and IPG on Italian labels. Here are some of the most famous cheeses, along with a few new ones to discover, with suggestions on how to enjoy them, as well as food and beverages to pair them with.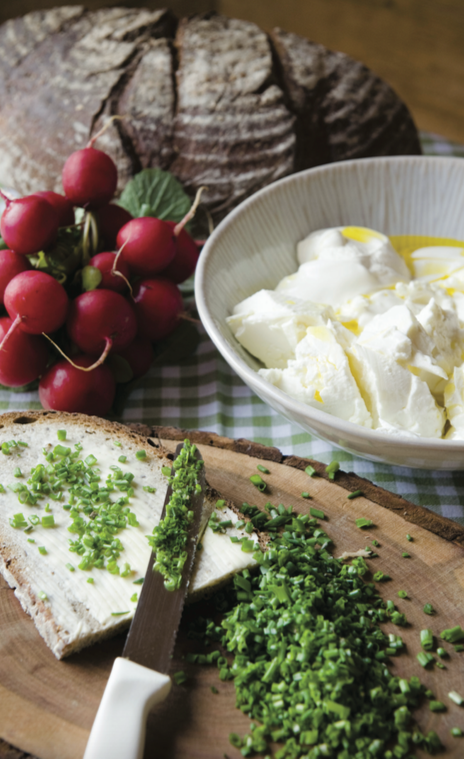 CRESCENZA
Soft and creamy with an irresistible milky flavor, Crescenza is a Lombard cheese made from pasteurized whole milk.This creamy, dense white cheese, which does not have a rind, melts in your mouth. It belongs to the "stracchino" family, cheeses that, according to tradition, were made when the cows returned in the fall from the Alps to the valley and were thus tired: in the Lombard dialect the word for tired is "strach"—hence stracchino.It is aged for a very short time, ranging from 7 to 10 days. There are also new versions with a lower lactose content, or enriched with probiotics or yogurt.
Consumption
If served with other cheeses, Crescenza must be eaten ahead of sharper ones, as they would overwhelm its delicacy.
Pairings
Bread: Baguette or brioche Beverages
Wine: white Franciacorta, Chiaretto del Garda, Pecorino
Beer: pale ale, non-alcoholic beer VARIOUS PAIRINGS
Evergreen: mandarin orange marmalade, acacia honey
Sophisticated: Mostarda di Cremona, onion jam
Unusual: pesto, hand-minced raw beef, violet blossom gelatin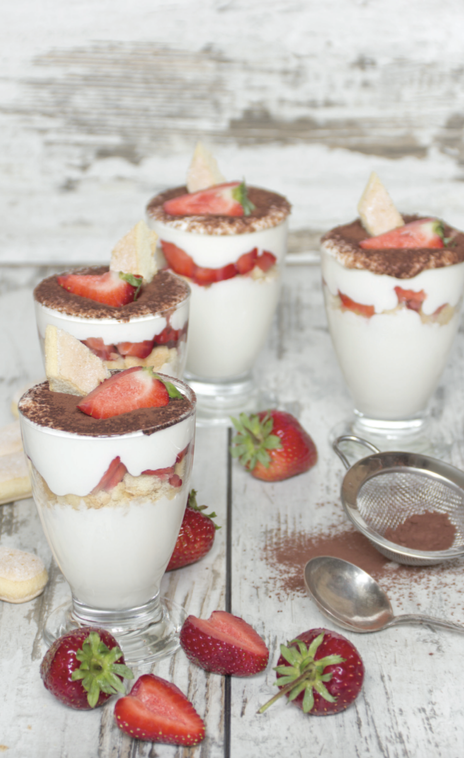 MASCARPONE
This cheese originated in Lombardy, where it was already known as far back as the 12th century. Made from cream that is acidified, it is soft, creamy and smooth. Because of these characteristics, it is often classified as a dairy product rather than a cheese. It has no rind and is not aged. It ranges in color from white to straw yellow, and has a delicate, sweet and buttery flavor, with an aftertaste reminiscent of cream. Driven by the immense worldwide popularity of tiramisu, in which it is the main ingredient, Mascarpone is one of the most highly appreciated Italian cheeses internationally.
Consumption
It is a very delicate cheese and must be refrigerated at a maximum temperature of 39°F. Once the package is open, it must be eaten within a few days.
Pairings
Bread: It is excellent spread on sliced bread and lends itself to many combinations: mixed with diced jellied quince or with Mostarda di Cremona, but also with arugula
Wine: dry, light and fresh, such as a Bardolino or a Dolcetto
Beer: blonde, double malt
Fresh: persimmons, strawberries
Unusual: orange blossom honey, anchovy paste
Low cost: jam, roasted almonds, dark chocolate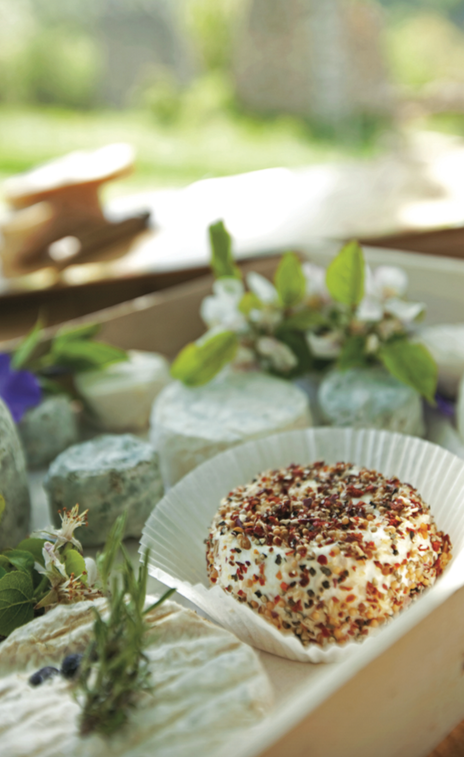 CAPRINO
This type of cheese is produced all over Italy from goat's or cow's milk,
or a blend of the two. There are many different types: from very fresh, which must be eaten within a few days of production, to fresh caprino made with unpasteurized milk and eaten after 20–35 days, and aged caprino made from semi-cooked curd and enjoyed after 2–3 months. Fresh caprino is soft, milky and creamy, while the aged types are smoother and straw-colored. Young caprino has a delicate aroma and flavor that is lightly acidic and buttery. The aged types are tangy and have a slight mushroomy aroma.
Consumption
Fresh caprino must be consumed almost immediately, while the aged kinds can be kept for 15–20 days. In any case, they must be taken out of the refrigerator about an hour in advance for optimum flavor and consistency.
Pairings
Wine: whites such as Soave DOC, Orvieto DOC or Greco di Tufo DOC. Also excellent with sparkling wine.
Beer: wheat and Trappist beer
Sophisticated: sun-dried tomatoes, anchovies
Fresh: radishes, tarragon, endive
Low cost: chives, bell peppers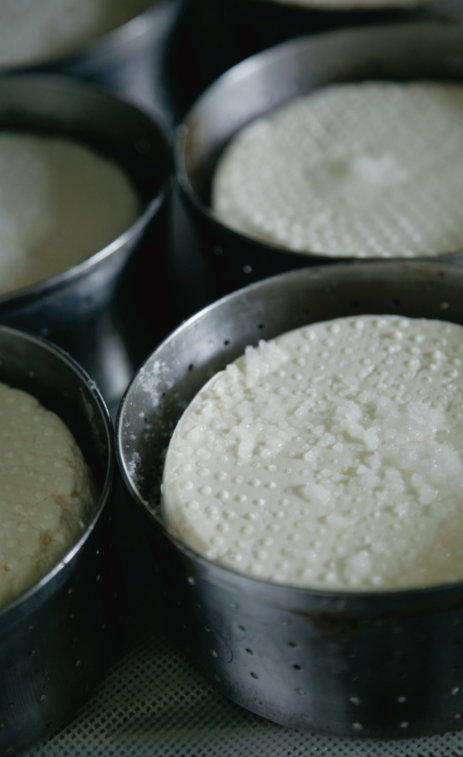 GIUNCATA
A traditional soft fresh cheese from southern Italy, named for the basket— made of rush, or giunco—in which it is placed to drain the curds. It is fresh and delicate, with a distinctive milky scent with acidic nuances. It is eaten very fresh.
Consumption
Giuncata is very perishable. Therefore, it must be stored in the refrigerator and eaten within a couple of days after opening.
Pairings
Wine: a delicate and fruity wine with a fresh, persistent palate such as Cirò rosé.
Beer: lager
Sophisticated: spinach mouse, Jerusalem artichokes, crushed Bronte pistachios
Fresh: lettuce, tomatoes, artichokes
Unusual: watermelon, berries, pine nuts, polenta