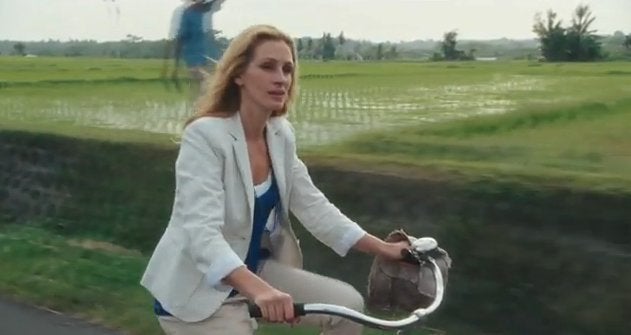 I've always wanted an Eat Pray Love adventure of my own. Author Elizabeth Gilbert once told Oprah that your journey can happen right in your own backyard -- you don't have to go far. Although there's much to be desired about traveling to Italy, India and Indonesia for a year -- that's a dream come true really -- let's get real here... Some of us have jobs, obligations and financial constraints.
But the reality is, I've been in a funk and desperately needed a change of scenery. I didn't care where I went, I just wanted to go somewhere and all I had was a long weekend. So for my personal journey, I traveled to an unlikely place: Gloucester, MA, a quaint fishing town on Cape Ann in Essex Count, MA where films like The Perfect Storm, Mermaids and Grown Ups were once shot. I've never been there. I had no expectations. It was the perfect place to regroup, revive and rediscover (myself). Although I didn't pray (that's never been my style), I ate, I loved and I found my spirit in four days.
There's something empowering about indulging without all of the guilt. Although I've never been the healthiest of eaters, I've always watched my consumption in order to maintain my petite figure. Some people eat to live. Forget the calorie-counting and weight watching, this weekend, it's time for me to live. I ate everything under the Gloucester sun -- crispy calamari and the best New England clam chowder I've ever had at The Gloucester House, a restaurant that specializes in the finest seafood, and a delicious sushi roll and the freshest sashimi at Latitude 43 Restaurant, which appeared to be the place to be in town on any given night.
But by far, my favorite dishes were the mussels (pictured) and the duck at The Rudder, a casual restaurant frequented by locals -- that's how you know the food's really good. Don't let the small-town feel of the joint fool you. From fresh catches to classic dishes, families dined in style inside and on the pier. Although waterfront dining was graced with an awning, windows were rolled up and welcomed a wonderful breeze. It's the type of restaurant you'd want to spend hours at.
There's more to shopping than just buying (err) stuff. The most important reason: buying things provides a rewarding sense of self. It's not so much the idea of spending money, it's really about how you express yourself through style.
Continuing on with my journey, I hit the shops. Gloucester boasts some fabulous stores in a setting that's like no other. There are no crazy crowds, long lines or rude cashiers. Instead, I found friendly folks who wanted to help me find what I needed and were amused by my excitement to find things under a certain price tag.
I opted to shop consignment first, and discovered dresses from the '70s, '80s, even '90s -- thanks to Bananas and Dress Code, two fun thrift stores on Gloucester's Main Street. When it came to fashion jewelry, I have Seasons on Main, Beth Williams Studio and Village Silversmith to thank. My wardrobe thanks you, too, as I now have cocktail rings and fashion jewelry to jazz up my outfits all year long.
No question, healing the soul starts from within. My first visit of every day while in Gloucester: the swimming pool at my hotel (Bass Rocks Ocean Inn). It was right by the water, which provided its own set of soothing effects. At night after dinner, I'd sit on my second-floor balcony, watch the waves and reflect.
As if that wasn't enough, I took the spiritual cleanse to the next level: acupuncture. When I walked into The Well of Integrative Medicine, I didn't know what to expect. I've never experienced acupuncture before, let alone a facial acupuncture. Supposedly it has aesthetic benefits. But I had no idea, it would also have a de-stressing effect on my psyche. After medi-spa co-owner Rebecca Wallace gently applied tiny little needles to various points in my body and face, I felt as if I was lifted from the bed and was floating on a cloud. Post-treatment, I looked in the mirror and noticed fewer lines and less-tired eyes.
Anti-aging results aside, there was more discover at Wallace's haven. She encourages patients to write something on a rock to put out into the world and/or take one that he or she needs. At the time, I couldn't think of anything to put out into the world, but I did spot a stone that inspired me. I didn't want to be selfish and steal it from the lot -- it's one that everyone should share: Purpose. I let my heart absorb it instead. It's fuel for my next journey. Stay tuned.

Related